Louisiana transfer DB Mekhi Garner ready to put LSU back on top with Brian Kelly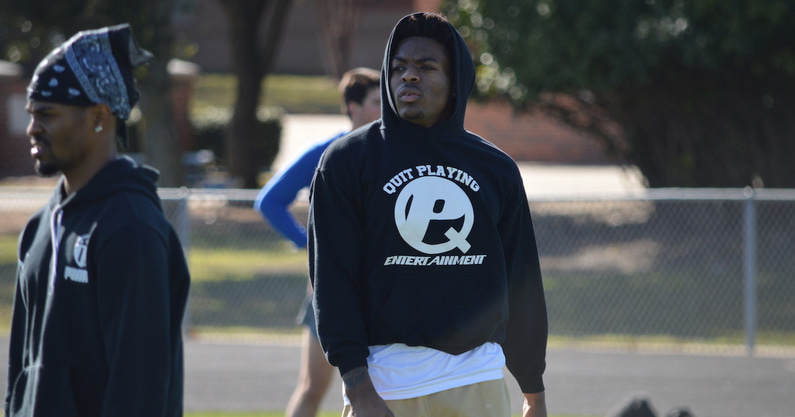 Louisiana defensive back transfer Mekhi Garner committed to the LSU Tigers on Tuesday, his birthday, he announced on Twitter. Garner looked into new head coach Brian Kelly and sees his vision coming together for the future.
"I think it was Brian Kelly," Garner told On3Sports. "I feel like Brian Kelly is finna come in and change that whole program back to where it has always been, one of the top programs in college football. I know what he's going to do. He's been in the college playoff and that's something I want to reach. I want to play at that big stage because I know that I'm ready for it."
Assistant Kerry Cooks and defensive coordinator Matt House also stood out in the process as the Poteet, Texas native looked into the coaching staff.
"I did my research on him and he's a phenomenal coach," Garner said. "I've seen his corners were No. 4 in the nation at one period in time. The DC, Matt House, I heard he was pretty good and then I saw what Tyrann (Mathieu) said about him so it'll be a big change around LSU and I'm glad to be a part of that."
Like what you're reading? Subscribe to The Bengal Tiger to get the latest on the Tigers for just $10 for your first year!
Being close to Baton Rouge the last three years, Garner got a chance to see Tiger Stadium and watched LSU highlights as he mulled his decision.
"That fan base goes crazy," he said. "Every time I drive in BR, I see the big stadium on the side of the highway, I know it's packed. Last night, I was up until 2 o'clock in the morning watching the highlights at home. Fan base goes crazy and I'm ready to play there."
The 6-2, 217-pound defensive back compared his physicality and size to one of the best corners to come through LSU, Derek Stingley.
"I'm a different corner like Stingley," Garner said. "Me and Stingley are probably like similar. Big bodied corners. Ready to get into the fit if we got to. I'm very versatile, too. They're going to put me at corner, but I can play other positions too just like Stingley. I think I'm going to roll into this program head on."
Former LSU linebacker Damone Clark also worked out with Garner over the summer. Getting a chance to see Clark's work ethic told him he needed to head to Baton Rouge for his final two seasons.
"I know he's leaving, but just looking at him and how he was working out, LSU is the real deal," Garner explained. "That's the only reason why I left Lafayette and it was a hard decision leaving, super hard. To be No. 1, you have to step up to the plate and the competition is the SEC. That's where everybody gets drafted at so I got to show my skills that I can play up there with all those guys up there.
"I'm just excited to play in the SEC, especially at Tiger Stadium when it's loud. Super excited."
Garner was a Third Team All-Sun Belt selection in 2021 after he totaled 31 total tackles and 2.5 tackles for loss. In 2020, he played in 11 games, earning eight starts. He was credited with 27 tackles, a tackle-for-loss and a sack en route to earning a Honorable Mention All-Sun Belt Conference nod.