Notre Dame punter Jay Bramblett commits to LSU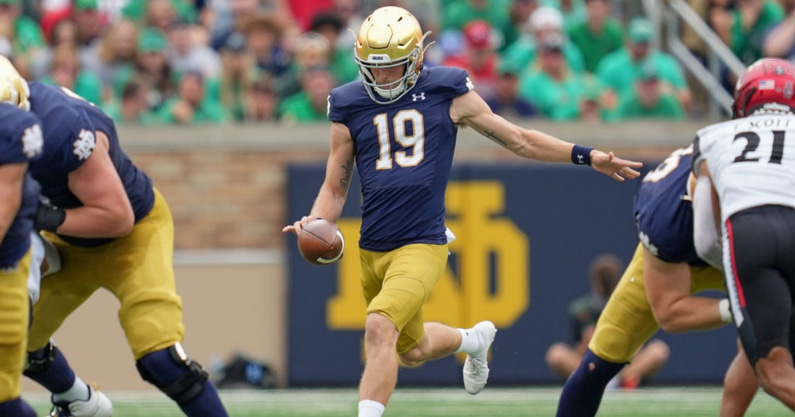 Notre Dame transfer punter Jay Bramblett committed to LSU on Monday, he announced. "Heading down to the bayou! Couldn't be more excited for this opportunity! Geaux Tigers!," he said on Twitter.
In his final game for the Irish, Bramblett punted seven times for 291 yards (41.6 average) in the Fiesta Bowl. Oklahoma State did not return any of them.
Bramblett ranked 31st nationally in punting average this year heading into the bowl game. He averaged 43.8 yards per punt this year and 41.9 for his career. His average improved in each of his three years at Notre Dame, and he kicked a career-long 72-yarder this year.
This season, Bramblett placed 21 of his 58 punts inside the 20-yard line. Just 14 of them were returned and for an average of 5.86 yards. In 2020, returners averaged just 3.67 yards when running back Bramblett's punts. In 2019, that figure was 3.89. Through three years, only one return of a Bramblett punt went for longer than 20 yards.
Bramblett joins a specialist room that includes punter Peyton Todd, who redshirted this past season as Avery Atkins emerged at punter in his final season for the Tigers. Todd was the No. 1 punter in the country in 2021, according to the On3 Consensus, a complete and equally weighted industry-generated average that utilizes all four major recruiting media companies.
Jay Bramblett reunites with Brian Polian at LSU
When he opted to transfer from South Bend after the season, he penned a letter to Notre Dame fans. He thanked the football team and looked ahead to earning a Masters degree at his next stop.
"First and foremost, I would like to thank the coaches and staff for the opportunity to come to Notre Dame to play football and earn a degree from this prestigious university," he wrote.
"As I continue on my journey, I will be entering my name in the transfer portal," Bramblett continued. "I look forward to pursuing both football and a Masters degree at my next stop. While I am excited for my future, Notre Dame has helped me become the man I am today, and I will always carry Notre Dame with me."
Bramblett, a Tuscaloosa, Ala. native, will reunite with LSU special teams coordinator Brian Polian, who coached him at Notre Dame.
"Brian Polian brings a wealth of experience and knowledge to our staff," Kelly said when he hired Polian. "He is a relentless recruiter whose special teams units routinely rank at the top of the country, and his work ethic, attention to detail, and ability to connect and communicate with student-athletes are unmatched.
"I know he will hit the ground running in Baton Rouge and make an immediate impact on our program."
Stick with The Bengal Tiger as we monitor LSU's constant activity in the NCAA Transfer Portal. Click here to subscribe for just $10 and get an entire year of LSU coverage!