Virginia transfer linebacker West Weeks commits to LSU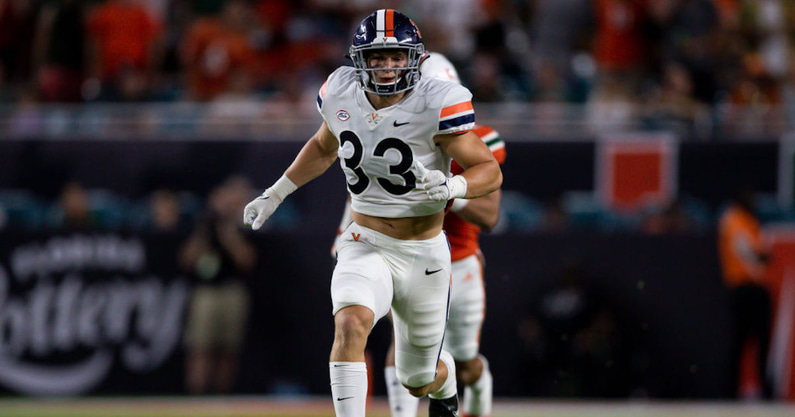 Virginia transfer linebacker West Weeks committed to LSU on Saturday, he announced on Twitter. Weeks is fresh off an LSU official visit then officially visited South Carolina this weekend as well.
"Thankful! Let's work! #GeauxTigers," Weeks wrote on Twitter.
A 6-2, 220-pound backer, West played in 11 games as a true freshman for the Wahoos. He notched 31 total tackles, one tackle for loss, a sack and five pass breakups in 2021.
The Watkinsville, Ga. native attended the same high school as former LSU quarterback Max Johnson and former 2022 commit Jake Johnson, who played at Oconee County together.
After Max departed for LSU, Weeks helped Oconee County to the semifinals of the Class AAA playoffs, playing quarterback. He had 91 total tackles, including 36 solo stops in 2020 as a senior. He also caused one fumble and intercepted one pass.
LSU head coach Brian Kelly is looking to turn over the roster that went 6-7 in 2021 and the key will be changing the culture to instill a sense of discipline. The Tigers will have plenty of new faces in the mix that'll be held to a high standard.
"Our discipline will be self-discipline," Kelly said at his introductory press conference. "Our players will be self-disciplined, and that will be the backbone of this program. They'll be accountable. The players will hold each other to a high standard, and that will be pervasive within the program. If I've got to lead them around by the hand every day, we'll have good days and we'll have bad days, and that might be a little bit of it as we get going here.
"This football team will have self-discipline and they'll have accountability, they'll have trust in each other, and that will be what you'll see from this football team as we continue to build."