5 Takeaways from Monday's Mario Cristobal and Coordinators sessions with the media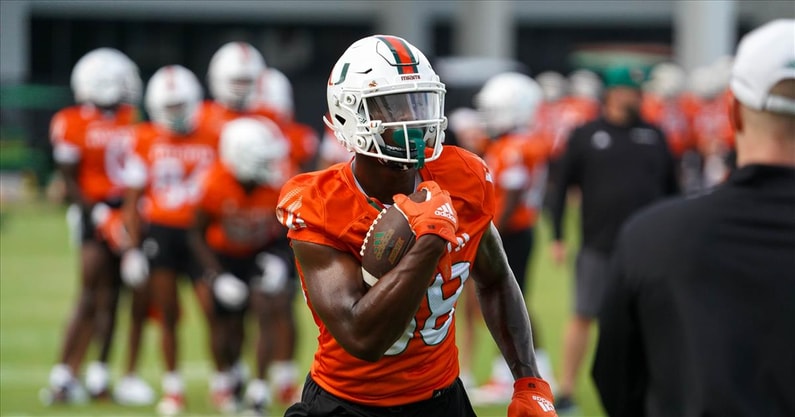 Miami Hurricanes Head Coach Mario Cristobal and coordinatprs Josh Gattis and Kevin Steele met with the media Monday. Here are five takeaways from what they had to say:
5. Colbie Young and freshmen have earned playing time
Colbie Young, a 6-foot-5, 215-pound junior college transfer, made the most of his first appearance of the regular season. Three straight catches, 43 yards, and a touchdown later, Young has proven why he deserves to be a part of the Canes' receiver rotation.
In his 14 snaps Saturday, Young was the highest-graded offensive player for the Hurricanes, grading out with an 82.0 according to Pro Football Focus. 
"To see him go out there and make an attempt on the ball and provide us something there created a little bit of a spark for us," Josh Gattis said. "That bit of confidence that he displayed is going to increase his role. I'm excited about what Colbie can bring us." 
Along with Young, true freshmen Jaleel Skinner, Wesley Bissainthe, and Nyjalik Kelly should see increased playing time for the Hurricanes, as they have made a strong impression.
"You'd wish they were here for a couple of years, these guys are really talented," Mario Cristobal said of Kelly and Bissainthe. "Their roles will continue to increase and they're playing faster, they're playing better. You're starting to see some of the things they're showing in practice starting to show up on the field on game day as well. "
4. Mario Cristobal's take on where Miami stands in recruiting 
The Miami recruiting section on Saturday hosted what was by far the most talented group of prospects this season, with some of the top players from the 2023 and 2024 cycles in attendance.
The outcome on the field was not what Miami had hoped for, as the Hurricanes fell to the Tar Heels in the final seconds, losing their third straight game. But the message and pitch to recruits remained the same, according to Cristobal.
"Our message is never anything but the truth and honesty," Cristobal said. "We came here to be part of the best program in the country, and certain things we have to build will take time. We're very real, very passionate about the University of Miami. There's a reason things are going well in recruiting. "
That honesty and truth has resonated with the recruits, who have, for the most part, maintained their faith in Cristobal despite the slow start and expressed an understanding that things will not happen overnight in Coral Gables.
3.  Josh Gattis says red zone issues are on him 
In a continuing trend that has plagued the Hurricanes' offensive attack yet again, Miami simply cannot find a way to punch the ball across the goal line when they get inside the red zone. 
It hurt them against Texas A&M and continued to do so against North Carolina as they could not score from the one-yard line, which led to a 14-point swing as the Tar Heels drove down the field and scored on a 99-yard drive.
"I take full credit and responsibility," Gattis said of the red zone struggles. "That's three games in a row that we've got stopped at the goal line. That's not who we are and that can't be who we are. We've got to develop an identity and mindset that once we're on the goal line, we can't be denied. "
2. Rushing struggles are evident and need to be addressed 
With the revitalization of Miami's passing attack, the Hurricanes' rushing game has suffered and appears to be a shadow of what it once was just a few weeks ago.
Miami's rushing attack regression began following the team's loss against Texas A&M after they rushed for 175 yards with a near five-yard per carry average. Since then, they have rushed for 102 yards on 62 carries in their last two matchups against Middle Tennessee State and North Carolina, just a 1.65 yard average. 
The Hurricanes were battered and bruised after that physical matchup at Kyle Field, and they have not been the same since, as three offensive linemen, Jakai Clark, Justice Oluwaseun, and Zion Nelson, have bowed out with injuries, and running backs Jaylon Knighton and Henry Parrish have dealt with their own wounds as well.
"We obviously have to get a little bit healthy there," Gattis said. "We've had some injuries take place at the running back position and at the offensive line position that have kind of impacted our ability to run the ball. But we've just got to continue to improve. We've got to cater it to our personnel, we've got to figure what our guys can do at this point, and we've got to get the production most out of it."
1. Has the Miami secondary found a solution to limit big plays?
North Carolina needed only a few minutes in the first quarter to torch the Miami secondary for another big play, as Drake Maye connected with J.J. Jones for a 74-yard touchdown on their first drive, which was eerily similar to what Middle Tennessee State did to the Hurricanes four times just two weeks ago. This time it was just basic Cover 2 coverage and Tyrique Stevenson thought he had deep help from Kam Kinchens. Kinchens bit on a route over the middle and Jones was left all alone.
"Just a simple eye violation, base coverage, no adjustments to it," Steele said.
Maye entered the game as one of the top statistical quarterbacks in the country, but after a shaky start, the Hurricanes' defense held the Tar Heels quarterback to a season-low passer rating (89.6) and intercepted him twice as he entered the game with one all season. Later in the first half, Maye hit a 52-yard deep post to Antoine Green, who beat Stevenson and Kinchens again.
"I think our guys did settle in," Steele added. "We made a few tweaks in the second half in terms of what we did rush wise. We affected the quarterback better in the second half, and coverage wise we had no miscues. "
The Hurricanes did fall short in the end, but Steele sees progress and believes the issues will be resolved. 
"Like I've said before, we've just got to coach it better, have a better understanding of it," Steele said. "You see a lot of things out there. No plays look the same there's a lot of different routes. It's almost strange how it's happened, but it's real. We've got to own it and it's my job to get it fixed and I do believe we will."