ANALYSIS: 5 things Miami Hurricanes fans have to be thankful for this Thanksgiving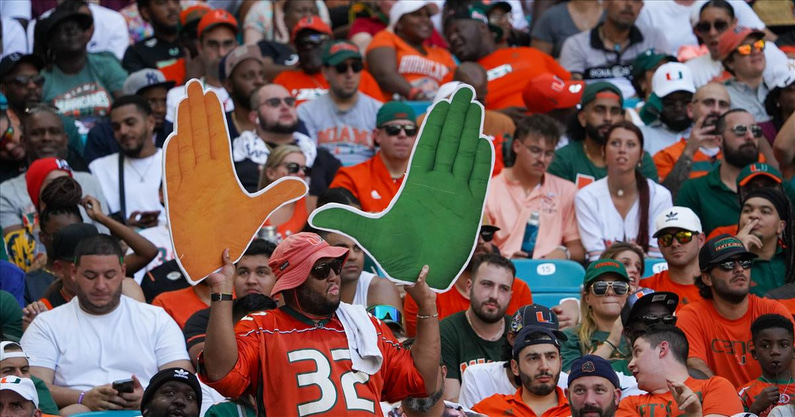 On this Thanksgiving we bring you our five biggest things that Miami Hurricanes fans should be thankful for:
5. THE BASKETBALL TEAM
Okay, football didn't go as planned. But isn't it nice having a basketball program under Jim Larranaga that we feel pretty good about going to the Big Dance coming off its Elite 8 run and adding two key transfers? It's an exciting team to watch, and once football season ends you will get a few more months to enjoy watching this team that has fun out there and is easy to root for. So far the Canes are off to a 4-1 start, with the most recent game vs. Maryland the first loss and exposing some size issues that need to be overcome. But it should be a really good season ahead for this group.
4. THE HISTORY
Everyone is so focused on the current team and getting the Miami Hurricanes "back." But today is a day to be thankful and reflect. If you're with your family, why not talk about the good old days? How many other programs can cite a history like that of The U? 5 national championships. A 58-game home winning streak. Legends that went on to star in the league and became Hall of Famers. The first-rounders year after year after year. Yes, it's what Miami is striving to get back to. But why not just spend some time today reliving those glory days and maybe even pop a tape into the VCR and watch that Rose Bowl game again. Or maybe just stream it?
3. EVERY FOOTBALL PLAYER ON THE ROSTER
You think this season's been tough on fans? Well think about the players  who worked so hard this offseason. The players, many of them local, who really gave their all to try and get this Miami team to a place where Mario Cristobal wanted it. Was the success there? No. But if you're a Hurricane fan and you see a player today, tell them you are thankful for their effort. Trust us, they put a lot into this season even if it didn't always look that way on gameday. Also keep in mind, of course, that many of these guys may not be invited back with Mario Cristobal expected to do a thorough talent overhaul of this roster.
2. THE TRANSFER PORTAL
Love it or hate it, the transfer portal is here to stay. And you know what? Miami fans should love it right about now. Because with the Canes sitting at a 5-6 record and very much rebuilding there is no better way to do it than with top recruits coming on board and then cherry picking some top young talent off other teams with the portal and NIL money. In the past you'd look at this roster and think three-year turnaround because it would have to pretty much only be done through recruiting. Well, not anymore. If Miami plays its cards right this can be a 1-2 year process to be right at the top of the ACC. The portal opens Dec. 5, so it's going to be a wild ride to high school signing day and beyond.
1. MARIO CRISTOBAL AND THE FUTURE
Okay, year 1 has not gone as planned. But he has the track record and is putting his entire being into getting this thing right. The NIL situation is in place. The recruiting class is top 10 and going to add more pieces. The portal is open for business starting Dec. 5. The future remains very bright, even if you can't quite see the sun through the 5-6 clouds right now. But yes, we are thankful for a head coach who has turned programs around before and bleeds orange and green. We remain confident he will get it done here at Miami.