Despite slow start, Miami Hurricanes QB Tyler Van Dyke still projected a first round pick by Mel Kiper, Jr.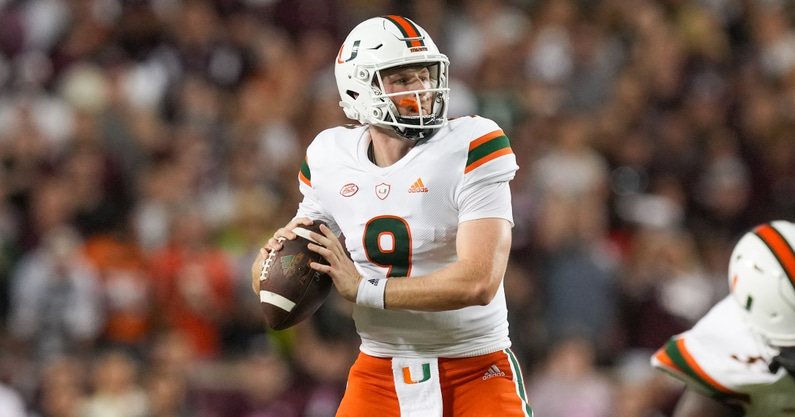 QB Tyler Van Dyke perhaps hasn't ingratiated himself to Miami Hurricanes fans with a slow start out of the gate on the field this season, with three TD passes and an INT in three games, and several throws off the mark. Some CaneSport message board posters have even taken to calling for Jake Garcia to get a chance, despite Van Dyke throwing 20 TD passes over his final six games last season and passing for more than 300 yards in each.
But there is no disputing Van Dyke's raw on-field talent. And that was further on display with new NFL Draft projections courtesy of ESPN analyst Mel Kiper, Jr.
Kiper's newest list has Van Dyke going No. 21 in the first round in next year's draft.
"I wrote about Van Dyke earlier this week, after a so-so outing at Texas A&M," Kiper writes. "He was missing his best wideout (Xavier Restrepo) and he and Miami never could get into a rhythm. Like (Florida's Anthony) Richardson, he's young and doesn't have to enter the 2023 draft; if he keeps improving, gathering starts and experience along the way, he could compete to be the No. 1 quarterback in 2024. Still, he's fun to watch when he gets going, and he threw 25 touchdown passes with just six interceptions last season. He's agile and can throw on the run, and he has the arm to make every throw. He has to get more consistent, though."
Kiper has Van Dyke listed as his fifth-best QB in the draft, behind the aforementioned Richardson, No. 3 Bryce Young of Alabama, No. 2 Will Levis of Kentucky and No. 1 C.J. Stroud of Ohio State.
Oh, and the last time Miami had a quarterback go in the first round of the draft?
That was 1987, when Vinny Testaverde was the top pick. Since then no Hurricanes quarterback has gone higher than the fourth round (Craig Erickson in 1992).
So maybe fans should let this offense get things sorted out. With a new coaching staff and top receiver Xavier Restrepo out, this might just as much be a case of receivers needing to do a better job getting open/route running as it is on Van Dyke to put up big numbers.
This weekend against Middle Tennessee State will be the next opportunity for the passing game to take a step forward.
Stay tuned.