Good Morning CaneSport 1.24.23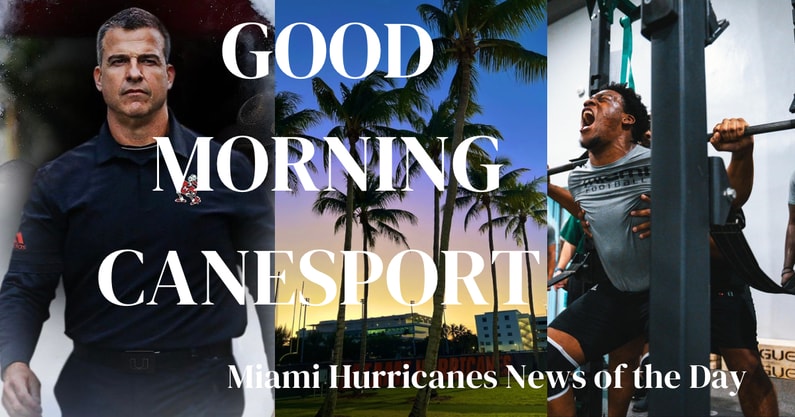 FOLLOW BREAKING MIAMI HURRICANES NEWS: SIGN UP FOR THE CANESPORT NEWSLETTER
WHAT'S UP TODAY
First up this morning in your Miami Hurricanes news?
There was the announcement by Iowa CB transfer Terry Roberts yesterday evening that he will be playing for the Miami Hurricanes this season – he's already enrolled and will participate in spring ball. So we break that down for you with the news as well as an analysis of his level of play. There's also an inside look at how it all happened, with Roberts sharing his thoughts and goals.
Then you want to make sure to check out our story this morning on Jamel Howard, Jr., a Chicago DT the Canes started chasing two weeks ago in this year's class who is taking an official visit this weekend and will announce on signing day next Wednesday. His thoughts?
We also have plenty of recruiting new for you off the weekend, which had Battle Miami and over 1,000 campus visitors as a result (with entire teams coming down from the 7 on 7 tournament). With stories we will be writing all week on the top targets from the weekend, today we have updates with several.
Don't miss what 4-star Hollywood Chaminade-Madonna S Zaquan Patterson had to say at the tournament over the weekend regarding his Miami recruitment.
There's a status check in with Vincent Shavers, who is set to announce a decision next month. Ft. Lauderdale Dillard 2025 DT Anthony Smith also lists a Miami offer and updates where the Canes stand – he was a weekend visitor as well.
There's also the continuation of our CaneSport 30 for 30 series ranking the top 30 Miami Hurricanes with 30 or more reps of experience. We have your update and analysis of No. 10 on our list, TE Elijah Arroyo.
Plus the baseball team picked up another top 25 preseason ranking, and we break that down for you. And we catch up with Jim Larranaga for his thoughts.
We also have an updated Miami Hurricanes portal tracker as the team continues to look to upgrade its roster not just through recruiting but also by adding transfers.
And, as always, stay tuned today for any news that may come up.
TODAY'S MIAMI HURRICANES TOP HEADLINES
Miami Hurricanes not done with Class of 2023 just yet: Chicago DT sets official visit for this weekend, getting UM visit today
Miami firmly in mix for three-star LB Vincent Shavers; says commitment is coming in 3 weeks
The Inside Story: How Iowa CB transfer Terry Roberts wound up a Miami Hurricane … "It feels good to be a Hurricane"
Dillard High's sent 3 signees to Miami hurricanes in 2 years; Elite Prospect Day visitor from school has offer and UM No. 1
The CaneSport 30 for 30: Ranking top 30 Miami Hurricanes with 30 or more reps of experience … No. 10 Elijah Arroyo
ANALYSIS: Miami gets a veteran DB in Roberts who adds great value to Miami Hurricanes – if he can stay healthy
Miami picks up transfer addition Terry Roberts; Iowa CB has experience and when healthy has performed well
Four-star 2024 safety Zaquan Patterson talks Miami culture, knows he can fit in with Hurricanes
Miami Hurricanes Debut at No. 8 in Baseball America Top 25
Larranaga gives Miami Hurricanes hoops update Monday: Wong was "sick as a dog" during Duke loss
Miami Hurricanes Portal Tracker
MESSAGE BOARD POST OF THE DAY
Thoughts on Gattis and timing … Posted by 3rd Cane
I believe that Mario has shown that he would rather not fire someone and would like to give them the opportunity to find a soft landing. I think that he has told Josh that he is outsky and has given him a deadline to find another job. If he does not, I think he's going to get the axe. That time is quickly approaching as spring ball is eminent. I also believe that he has another person ready to roll…
I could be completely off this is just what I think.
MIAMI HURRICANES QUOTE OF THE DAY
• Click here for a limited time, register and get 12 months for only $10.00
• Talk about stuff inside Gary Ferman's War Room
• Watch our videos and subscribe to our You Tube Channel
• Listen to our podcasts at Apple Podcasts
• Follow us on Twitter @CaneSport
Advertise with us. Email [email protected]
Lastly, Have a great day!