Good Morning CaneSport 5.25.23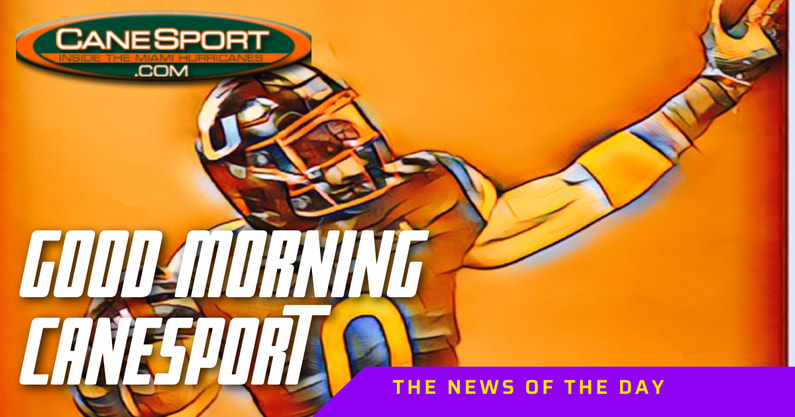 Not a subscriber? Get all of your Miami Hurricanes breaking news and in-depth analysis with a 6-month CaneSport subscription for just $29.99
FOLLOW BREAKING MIAMI HURRICANES NEWS: SIGN UP FOR THE CANESPORT NEWSLETTER
WHAT'S UP TODAY
First up this morning in your Miami Hurricanes news?
We continue to take a closer look at Miami's baseball situation with the ACC Championships starting for Miami today, this time catching up with Zach Levenson for his take and also giving you the thoughts of star closer Andrew Walters.
Football-wise we take a closer look at interesting odds that were released on Miami's chances to win the conference title this year. So don't miss that. Plus check out our item on Shannon Dawson, who has been tabbed as one of top coordinators in the country.
In recruiting Hoschton (Ga.) Mill Creek 2024 four-star EDGE KingJoseph Edwards is looking at taking an official visit to Miami this fall. He updates CaneSport on the latest with his situation.
And CaneSport continues to count down the top 50 post-spring players on the roster, a list that doesn't include any post-spring roster additions. Today we break down No. 29 Don Chaney.
And, as always, stay tuned today for any news that may come up.
TODAY'S MIAMI HURRICANES TOP HEADLINES
ANALYSIS: Miami Hurricanes picked with 6th-best odds to win ACC
Miami's Zach Levenson ready to prove doubters wrong at ACC Baseball Championship
4-star EDGE KingJoseph Edwards looking at Miami fall official visit
Miami's Shannon Dawson tabbed as one of top coordinators in the country
Miami Hurricanes 50-1 Countdown: Ranking the top 50 post-spring players … No. 29 Don Chaney
Miami's Andrew Walters discusses Hurricanes baseball heading into ACC postseason play
MESSAGE BOARD POST OF THE DAY
Transfers out: Who has the most impact? … posted by Klbcec
19 players in the portal. Which player has the most positive impact on their new team? Any guys besides Jackson you prefer had not left?
Cleveland Reed Undecided
Jabari Ismael Marshall
Thomas Davis Undecided
Kahlil Brantley Undecided
Darrell Jackson FSU
Jakai Clark SMU
John Campbell Tennessee
Jake Garcia Mizzou
Jordan Miller SMU
Jaylan Knighton SMU
Key'Shawn Smith SMU
Elijah Roberts SMU
Romello Brinson SMU
Jalen Harrell UMass
Avery Huff FIU
Isaiah Dunson Baylor
Thad Franklin Louisiana Munroe
Avantae Williams Maryland
Allan Haye FAU
MIAMI HURRICANES QUOTE OF THE DAY
• Click here for a limited time, register and get 12 months for only $10.00
• Talk about stuff inside Gary Ferman's War Room
• Watch our videos and subscribe to our You Tube Channel
• Listen to our podcasts at Apple Podcasts
• Follow us on Twitter @CaneSport
Advertise with us. Email [email protected]
Lastly, Have a great day!