Good Morning CaneSport 8.4.22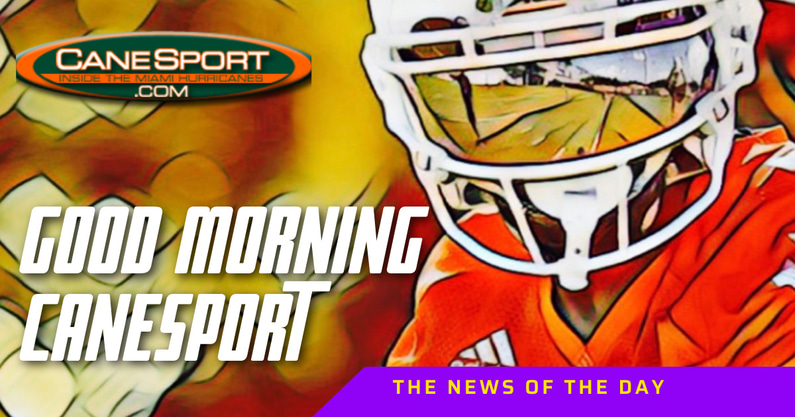 Presented by LifeWallet
WHAT'S UP TODAY
First up this morning in your Miami Hurricanes news? In recruiting we catch up with a key area 2024 target, Chance Robinson. Where does Miami fit in with him? Then we also have an update with Kam Kinchens and his expectations after missing the spring, and we also catch up with Mitchell Agude, who should have a huge impact on the D line. So don't miss those.
From yesterday afternoon we also had plenty of news for you. There was the news that the Miami Hurricanes made Amani Hansberry's top 5 cut after a great weekend visit to Coral Gables. So don't miss that. Plus there was an inside look at what's going on with key recruiting target Damari Brown's recruitment. Might he choose Miami? Check that out.
And we catch up with Miami Hurricanes TE Will Mallory, who shares his excitement at how Josh Gattis might use the tight ends room. Plus we have a great interview with John Campbell, who will start out fall drills as the first team left tackle with Zion Nelson out. Can he be an asset on this Miami O line this season? Signs are pointing up for him.
And, as always, stay tuned today for any news that may come up.
TODAY'S MIAMI HURRICANES TOP HEADLINES
Kam Kinchens: Miami Hurricanes safety eyes starting role, says "This year we're just together"
Road has been long and winding but Mitchell Agude is ready to finally be a Miami Hurricane
Chance Robinson: St. Thomas to Miami pipeline possible … "The perception has definitely changed"
Miami Hurricanes make Amani Hansberry's top 5 cut after great weekend visit to Coral Gables
Will Mallory a veteran TE with renewed excitement under coordinator Josh Gattis: "Everyone's done a great job of buying in"
Miami Hurricanes need OT John Campbell to step up, and Campbell ready to tackle the challenge: "I will play my heart out"
Damari Brown may choose Miami Hurricanes but it won't be because dad Selwyn played for the Canes

MESSAGE BOARD POST OF THE DAY
Gattis got me HYPED … Posted by MIA6CANE
Obviously we don't have an Alpha receiver but he is creative and has enough buttons to press
can't wait to see how our OL TE and RBs act more physical
MIAMI HURRICANES QUOTE OF THE DAY
"Over our time here, we want to develop the fastest team in the league. … that's what allows you to win championships."

Josh Gattis
• Click here for a limited time, register and get an unprecedented 12 months for only $1.00
• Talk about stuff inside Gary Ferman's War Room
• Watch our videos and subscribe to our You Tube Channel
• Listen to our podcasts at Apple Podcasts
• Follow us on Twitter @CaneSport
Advertise with us. Email [email protected]
Lastly, Have a great day!