Good Morning CaneSport 9.22.22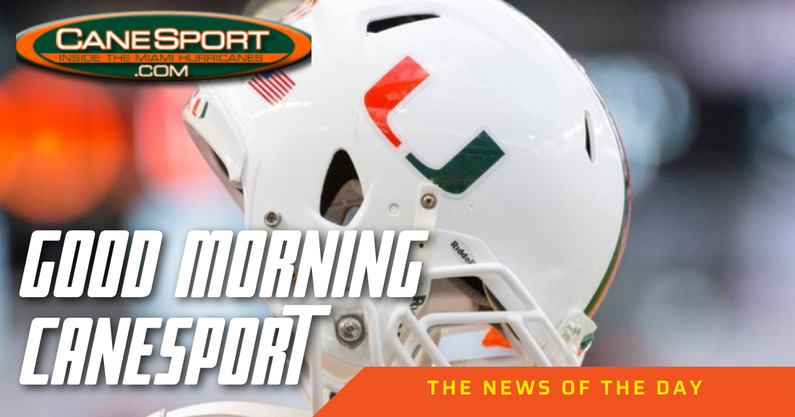 CaneSport weekly Xavier Restrepo and Tyrique Stevenson blogs presented by Gonzalez & Cartwright personal injury attorneys
WHAT'S UP TODAY
First up this morning in your Miami Hurricanes news?
Well, from last night be sure to tune in to The Lamar Thomas Show – yes, you can watch the replay. Also from yesterday during the day we had an update with Mario Cristobal as his team continues to work to put the Texas A&M loss behind it. So don't miss what he was talking about.
This morning?
We have an interesting update with a former prominent Miami Hurricanes offensive player who shares his honest assessment of what is going on with Tyler Van Dyke. And in recruiting we catch up with a pair of the key commitments in this year's class – Raul Aguirre and Robert Stafford. What are their thoughts on the play of Miami so far this season and what other schools are chasing them/how solid are they to the Canes? Be sure to check those out, too.
Also yesterday we had the Tracking the Commits item with stats and highlights of the Miami commits.
And, as always, stay tuned today for any news that may come up.
TODAY'S MIAMI HURRICANES TOP HEADLINES
Prominent former Miami Hurricane weighs in on Tyler Van Dyke's struggles, UM offense
Commitment off to fast start this season has set his Miami Hurricanes OV date, but it may not be his only one
Miami Hurricanes commit starring for 4-0 team, others pushing to get his final OV and he'll be at UM for FSU game
Watch the replay of last night's The Lamar Thomas Show
Miami Hurricanes coach Mario Cristobal talks team after Wed. practice
Tracking the Miami Hurricanes commits: Results and statistics

MESSAGE BOARD POST OF THE DAY
Leonard Taylor and Kevin Steele … Posted by HJ Cane
Steele praised him in his post A&M interview. He said that LT was still trying to grasp the concept of tying up blockers ( something like that) on certain play calls. This is what I said to guys on here who talk about his stat line. When they say he only made 2 plays I said sometimes D-lineman are asked to do things that don't show up on the stat line.
But my question is this: He is clearly one of our quickest DT's into the backfield but I noticed on 3rd and long passing downs he isn't on the field so often. I would think he would be in getting pressure up the middle??
MIAMI HURRICANES QUOTE OF THE DAY
"With Tyler it may be a case of when you have a strong arm it's inherently natural for you to sometimes get lazy with your footwork, because you've been able to get away with that for such a long time. It takes a lot to fix, has to be after practice or in between weeks because when you're in-season the forefront of it all is game plan, how many plays they can get repped in practices."

A prominent former Miami Hurricanes offensive player, on Tyler Van Dyke's struggles
• Click here for a limited time, register and get an unprecedented 12 months for only $1.00
• Talk about stuff inside Gary Ferman's War Room
• Watch our videos and subscribe to our You Tube Channel
• Listen to our podcasts at Apple Podcasts
• Follow us on Twitter @CaneSport
Advertise with us. Email [email protected]
Lastly, Have a great day!