Miami DE Jahfari Harvey: Steele putting everyone in position to make the defense great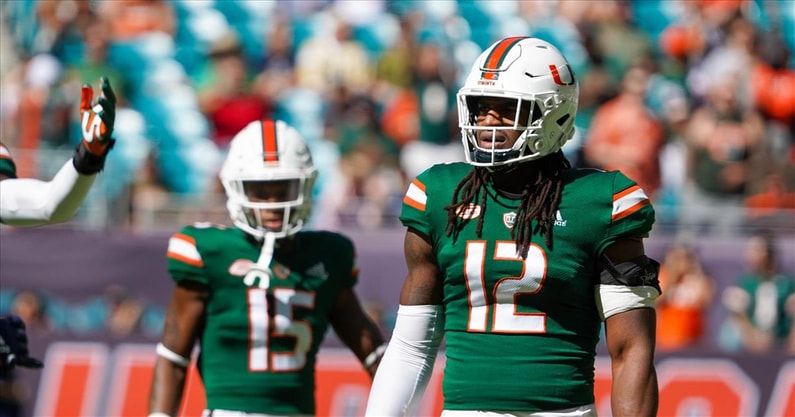 Defensive coordinator Kevin Steele's emphasized all fall that he feels Miami's line is deep and talented to the point he can roll 8-10 players in and out of the game, keeping everyone fresh. He stresses that there won't really be any starters and that it's more a case of "co-starters."
One of those co-starters?
Jahfari Harvey.
Harvey's taken on a leadership role on the entire defense, and he's got a pretty good idea what's coming for the defense with the season kicking off on Saturday.
"I feel pretty good going into the season, feel like coach Steele is putting everyone in the right position to make the defense great," Harvey said.

A 6-4, 252-pound fourth-year redshirt sophomore, Harvey has started six games in his career. He arrived at UM in 2019 and played in four games off the bench, then in 2020 played in 10 games and had one start, ending with 18 tackles, five for losses and 1.5 sacks. This past season he played in all 12 games, starting five, and had 26 tackles, 6.5 tackles for loss and 2.5 sacks as well as an interception return for a touchdown against North Carolina.
With UM adding DE transfers Akheem Mesidor and Mitchell Agude, competition for reps this year is fierce.
"Everyone on the D line is fighting for a position, everybody is not just given a starting job," Harvey said. "Everybody has to fight every day, that's how teams stay good. Competition is going to raise the bar. Every day you're out there fighting for your job, it's going to make the whole team better."
Steele has said there could six or ends that rotate into games.
"It'll keep my legs fresh," Harvey says.
While the tools are all there, Harvey got plenty of chances last season and just never really made a consistent splash. Last year's Pro Football Focus grades also show he needs to make a jump from good to elite – he graded out last year at 65.2 percent as a pass rusher and 66.9 for run defense (70 is considered very good).
Now Harvey wants to make the next jump in his game.
"I just will be locked in, focused," he said.
Entering Game 1, Harvey says the Miami defense is "confident."
"We'll be making a lot of plays," he says. "Practice is supposed to be harder than games. We feel very confident in how we practice every day, really hard in that Florida sun. Gametime we'll be confident, ready to play."
*Asked about DT Leonard Taylor and his play, Harvey said, "The coaches are always trying to get the best out of you. I've seen elevation, a little more locked in now. You have to be."