Josh Gattis breaks down offense: "We're excited about all the talent we have"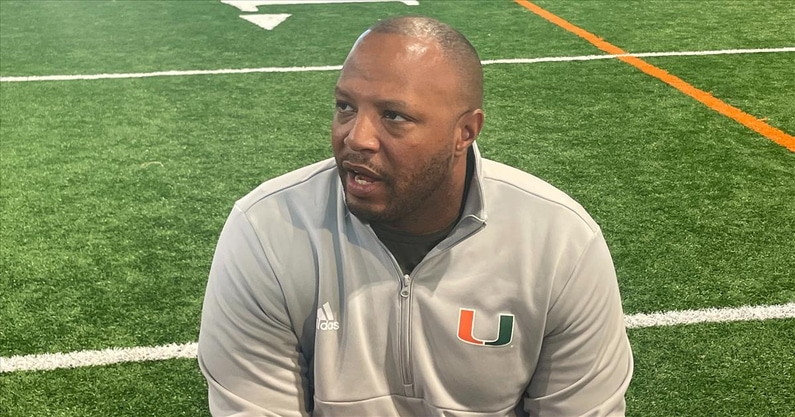 When fall drills kick off on Friday, new coordinator Josh Gattis will be hyper-focused on improving an offense that already was pretty good these past two seasons under Rhett Lashlee, whose hurry-up spread attack averaged 34.1 points and 448.8 yards per game.
The centerpiece of it all?
QB Tyler Van Dyke, who is earning Heisman mention off his 25 TD passes in 10 games last year (averaging 293.1 passing yards per game).
"The thing that's exciting about Tyler is the mature approach that he takes to everything," Gattis said. "He's a great football player, but an even smarter football player. He learns from his mistakes relatively fast. And carrying over some of the freshman confidence, there's still so much m ore room to grow from a situational standpoint. That'll be the biggest growth for him – those learning experiences from his freshman year."
A big question on offense is if the team can make up for the losses of Charleston Rambo and Mike Harley, who combined for 136 catches and 1,715 yards. Someone has to step up out of Frank Ladson, Colbie Young, Xavier Restrepo, Jacolby George and Key'Shawn Smith, who we see as the top five receiving threats. A scary thought is that none have put up more than 405 yards in a season (that was Smith last year in a starting role). But Smith has been stepping up his game in off-season workouts in recent weeks, increasing our confidence that there will be sufficient production from the WR group.
Gattis says the key for him is to see consistency from that unit.
"Although there may not be some returning production, there are guys in that room that are eager to step up," Gattis said. "We are looking for production overall as an offensive unit."
Young could be a surprise in Year 1 coming in from junior college.
"Colbie has a great job coming in, getting acclimated," Gattis said. "A really good catch radius when you watch his tape. Big, physical body. I'm excited to get him."
The tight end position has Will Mallory returning in addition to Elijah Arroyo and newcomer Jaleel Skinner, who we think will have a impact in Year 1.
Gattis said he'd take "84 more" Will Mallory's on this team.
And perhaps the same can be said for the other tight ends as well.
"Jaleel – he's blessed with some tremendous tools athletically," Gattis said. "We'll find creative ways to use them as a part of our offense.
"That's a really good tight end room."
Gattis said the goal is to be creative with the receivers, running backs and tight ends. So there could be two or three tight ends in games at a time, four receivers, two running backs, six offensive linemen.
"We have a lot of personnel packages, and it's to create stress for opposing team's defenses," Gattis said, adding that "Over our time here, we want to develop the fastest team in the league. … that's what allows you to win championships."
The offensive line should be improved and have more depth, and this can be more of a power running front instead of the group that didn't really have an identity last season. The backs might not be spectacular individually, but when you lump returning starter Jaylan Knighton and transfer Henry Parrish with ultra-talented newcomer TreVonte' Citizen, this group should easily improve on last year's 3.7 yards rushing average.
Gattis says he can see as many as four backs playing in games. And two backs could be in games together at times.
"One of the things I've always been around in my past is playing multiple backs," Gattis said. "You've got to have a good stable, keep that group healthy, fresh. We do have some talent. I'm excited to get Jaylan and Don back out there (after they missed spring ball), we're adding in TreVonte'. We'll find creative ways to use those guys. The flexibility of them all will allow us to be as multiple as we need to because we have great runners, great pass catchers out of the backfield, really do have running backs that can do it all."
The backs will run behind a line that Gattis says "We believe can be really, really good."
"You have to be able to establish the line of scrimmage," Gattis says. "I think that's the biggest change you'll see in this team, is our ability to run the ball. I think what our guys are going to have the ability to do up front, I think they have  little bit of a chip ( on their shoulders), want to establish the physicality in games to be able to win, whether late in the game or set the tone for games early in the game. We may not be as deep as some teams (up front), but we are as talented."
The hidden underbelly of the previous hurry-up attack was that it put a lot of pressure on a defense that had to play an extra series or two a game. Gattis is expected to slow things down from that frenzied pace, although it will still be a spread base and will have hurry-up features to it. That can help a defense that allowed 28.4 points a game and had the third-worst tackling in the nation per Pro Football Focus.
It also will be interesting to see how Gattis calls his plays – based on statistics of their past stops, Lashlee was a more pass-happy coordinator. So might Gattis be more 50-50 run-pass?
"The whole key is to do what our players do best," Gattis said. "Every team is different. The key thing you have to do offensively is play to your offense's strengths."
A lot will be determined starting with Friday's opening fall practice.
"I'm really excited to work with them," Gattis said. "We're excited as a coaching staff picking up where we left off.
"There's going to be some learning with some of the newer players. The older players have been in the system which can give them confidence heading into the fall."
A final thought from Gattis?
"There's a lot of talent as a team," Gattis said. "A big part of camp will be figuring out what those guys do best and putting them in position to be successful. We're excited about all the talent we have."