Mario Cristobal at ACC Kickoff: Leadership, ability of Tyler Van Dyke is very special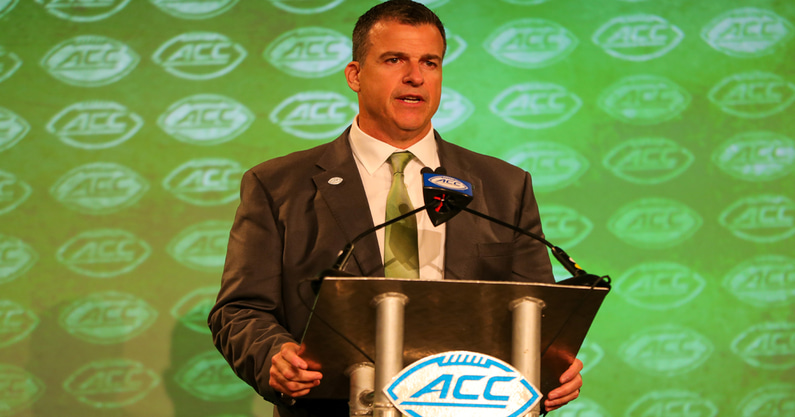 The unofficial kickoff to the 2022 football season took place Thursday morning when the Miami Hurricanes took center stage at the ACC Kickoff in Charlotte.
Mario Cristobal's enthusiasm for being at Miami and for the approach of his first season as coach at The U shined through in his media sessions all morning. Here is a sampling of what Cristobal had to say.
Q. I'm curious, for a new staff, what is the value of having a returning quarterback? What information can you get from him that you might not have access to otherwise?
MARIO CRISTOBAL: Well, good morning. Appreciate your question. Well, when you are a new staff, there comes — or change comes with it, and change isn't always the easiest thing to get accustomed to. So when you are in a program like Miami, and you get to have these unbelievable young men and you spoke about or asked about the quarterback in particular, being the most important position on the field in terms of operating an offense, it's a tremendous blessing. We made it no secret, we recognized instantly and from far away because, obviously, you watch college football at every chance you get, is that Tyler Van Dyke in that quarterback room is very special.
You have a natural leader that's one of your hardest workers and competing to be recognized as the hardest worker that demands as much of himself as he does of anybody else. That type of mentality and that work ethic he has also displayed in the classroom and the way he approaches community service and everything he does.
It's a tremendous benefit, a huge asset for the university and the program, and certainly makes the adjustment a lot more simple.
Q. Coach, as you came back to your alma mater in the offseason and assessed the program, what did you find lacking, and what did you feel good about?
MARIO CRISTOBAL: I don't know if we find stuff to be lacking. I think what I found really impressive was that we brought in a regimen that was very demanding, and these players attacked it and approached it with a no-nonsense mentality.
They'll tell you, it demands absolutely every ounce of what they have on a daily basis. Not only did they attack it, they excelled in several aspects of it, and we got better. That's critically important, right? Your season is going to be a direct reflection of your offseason.
It's a great start. We've come a long way, and there's a long way to go. Honestly I'm just very thankful that they allowed us as a coaching staff — whether I played here or not, it's still change, and there's a generational gap there that we're very blessed and thankful and honored that they allowed us to bring in a regimen that pushes the way it does and that all they did was approach it with a great mindset.
Q. Retirement of the turnover chain, a lot of fans, they're doing their stuff on social media. I'm sure you had a reason.
MARIO CRISTOBAL: The question?
Q. Why we retired the turnover chain?
MARIO CRISTOBAL: I think probably the media has put more thought into this than I have. We just really focus on getting better as a program and have focused on technique, fundamentals, regimentation, academics, strength and conditioning, sports science, community service, and that's what the focus has been on.
It is not a shot or form of disrespect to anybody or anyone. Certainly history is history, and whether it's positive, whether it's inconsequential, whatever it may be, it's still history and part of your program. We're just moving in a direction that right now doesn't involve it. That's really the best way to address it.
Let's put it this way. We've been working so hard and paying attention to so many other things that, in my opinion, are much more critical to winning football games and having success that it really hasn't been a subject or a topic. We won't be using it. You guys okay with that? We good now? Everybody got the chain stuff? Okay. All right. Thank you.
Q. Coach, given your background with offensive line, I wanted to ask you about your impressions of Zion Nelson. He has been a mainstay for this offensive line for years being to. Your thoughts on where he is at in his development?
MARIO CRISTOBAL: Explosive. Really impressive athlete. Great balance and body control. Heavy-handed, light feet. Great knowledge of the game. Great feel for the game. Understands leverage. You know, can get that second foot in the ground because he digs his heels in the ground and gets his hands inside and unlock those hips and go low to high. He is an impressive guy. He really is.
He has a very strong appetite to get better. He allows himself and wants to be pushed. He is always trying to find extra work, and he is joined by a lot of other guys on that offensive line that have the same mindset.
Between him and the rest of those guys, just really excited about that group and the team in general. He has a super, super bright future.
Q. To take a look at the fact that you are coming into a conference that's going to have this model of divisions for one more season and then switch to the 3-5-5, just what you can say about this season having divisions one more time around and what you think of that 3-5-5 model moving forward?
MARIO CRISTOBAL: It seems like an effective — potentially effective model. When they run the numbers, it seems like over the years there's not much difference of what would have been a division model versus a non-division model.
It's weird. I've just spent five years at a place where you had to win your division before you advanced. It meant a lot. It meant a lot to programs, so that adjustment and what it means, I'm not sure yet. It seems like the results for the most part end up being the same. I think that will have to run its course and take a couple-year cohort to figure out exactly, all right, how does that really impact what we're trying to do?
Q. Coach, we hear so much about culture, changing. Is culture merely habits? How long does it take to change a culture, and is a new coach arriving, isn't that the sign of the culture changing?
MARIO CRISTOBAL: We're real simple. I think these guys will echo that. We always hammer home how you do anything is how you do everything, and that early is on time. That's got to be the most important factor in being successful and being productive. You've got to show up and showing up early also shows a level of mental intensity that something is important to you.
What's more disrespectful than showing up late? What's more disrespectful than not paying attention to get ready to do your job? Something like that would show a lack of mental intensity.
For us there really are no little things. If it's a thing, it's a thing, and things are important. They're all big things. These guys, they're made of the right stuff. They really are. Our job is to provide a blueprint that demands every ounce of everything they have. As it relates to academics, football, community service. Just doing the right things. It comes with discipline. Discipline, I've yet to see a good football team that didn't have discipline.
There are so many things that are going on that are really, really positive with our program. You know, people have asked about challenges and change this and change that. I don't like to think of it that way. I like to think of it as opportunity.
Miami has been an unbelievable program for a long time. We have an opportunity this year to get better and start elevating things to a certain standard as well. That's the way we look at it. That's the best way to honor the past, and that's the best way to go forward.
All our focus is on us right now and getting ready for camp to have the best season we can.
Q. Commissioner Phillips and other coaches have called for a national standard for NIL. I wondered your experiences with NIL in this first year and what you would like to see moving forward.
MARIO CRISTOBAL: Well, I think that it seems pretty obvious that as a university, as an athletics program that our student-athletes have done really well with NIL. As a coach you're not really allowed to delve in it. You know what I mean? Since it is part of the changes in college football, and it is a constitutional right, we have a positive mindset towards that.
We're also very fortunate to be in arguably the best city in the world and one of the more prominent and growing cities in the entire world as well. That's just constantly ascending.
All that is helpful along with prominent alumni that could be supportive in a role where NIL is a real positive thing. I know our guys have learned a lot and have benefited a lot from it, and I think as we get to know more about it, and I think that's what everybody really desires, is just a little bit more clarity so that from a direction standpoint we can all understand it better to maximize it, but at the same time make sure that the educational aspect is real, that we're providing a better path for a better future. That's what it's about, right? All the other stuff and the noise around it, I don't really get into that. It's still about these guys and their future.
When I was a student-athlete, I would have loved to have had it. We didn't. I know that the experience as a Miami Hurricane was a game-changer for me, and it's a big reason why I'm blessed to have this opportunity to come back and why I jumped right at it.
Now I have to make sure that I do everything for them to have the same type of game-changing experience. NIL is part of that now. It is. And it's a big part of it right now. It's still about keeping the main thing the main thing. You just have got to make sure that that marriage of these different things is one that makes sense and one that is productive.
Q. When you talk about coming back and, like you said, it was something that you wanted to jump on and be a part of, this university again. What feels the same, and what's different? When you step back on campus and you look around, what are those similarities, and what to you is changing at Miami?
MARIO CRISTOBAL: Well, the first thing it still is a difficult choice because when you are a coach, you spend so much time trying to get to year four, five, six, right? That's when your first recruiting class becomes juniors, seniors, right, or move on. That's what we left behind. Well, arguably the best pool of talent that Oregon has seen in a long time. Awesome guys and I'm wishing them the best.
I don't get caught up in nostalgia theater, I don't, because times change and things change. What remains the same is that Greentree Practice Field, that the work done on there for decades, for decades, the best football players in college and professional football blood, sweat, and tears out there every single day.
The camaraderie of the alumni and the current players was something that was always really strong and was a big reason why I wanted to go to Miami. I did. I loved going to practice and watching all these former players come back. They looked like assistant coaches. They would be jumping in there and coaching up guys. Probably upsetting the coaches that they were teaching probably a little bit better than some of them, but the amount of passion and true brotherhood behind it was something I was really attracted to.
I was attracted to the level have competition on the field. That field looked like game day. Practice looked like an absolute knock-out, drag-out championship game. I loved that. I was attracted to that. We want to attract guys that are attracted to that as well and that understand the balance that comes with being a great student and being a great member of society as well.
In terms of — I don't need a GPS to get around Miami. It's the only place in the world where I can just know every shortcut street, every crack in every street, where the one-way, stop sign, all that stuff. I don't know. I haven't had much time to focus on anything else except doing what we can to get our players to their maximum potential.
After his main media session, Cristobal spent some time on the set at ACC Network, where they immediately asked him to draw parallels to when he played at Miami.
"Guys did whatever that took, a relentless approach to their process to be a championship program," Cristobal said. "So what can I say is that's what we want. That's what we strive to be. And that takes work. You can't proclaim it. You can't tweet it, or hashtag it, or put on a t shirt. You got to work at it. So that's what our focus is on right now."
Even though it has been known for six months that the Turnover Chain was being eliminated, the focus of the ACC Kickoff brought that fact back into the limelight. Cristobal was asked about it repeatedly.
"I think everything has its time and runs its course and we're just onto a different culture and went on to a different era," Cristobal said. "So I respect everything that went before us. It's time for The U to get back to work. We don't need to focus on anything except getting to work and getting better."
Cristobal also spoke of the passion he has for his new job.
"Well, I mean, when I was a player at Miami, Jimmy Johnson brought me in and asked me,` What do you want to do? You want to win?' I'm at Miami. I live and die by the University of Miami, being a Miami Hurricane. So this is not a job and a T shirt and a logo we put on our chest and go out and recruit. This is part of our life. This is part of the difference making impact of a place and what it did for myself, for some of our current coaches that are also alumni. So it just means more. It really does.
"Is it personal? Yeah, every ounce of it is. But you still got to separate that and, and stay passionate about your approach to help guys get better out of the equation. You know what I mean? Like it has nothing to do with me and it has everything to do with our players and the program and having the alumni be part of it. To generate that momentum is absolutely huge because I swear, I swear I would love coming to watch practice when I was in high school and grade school and watch those guys get after it. I want to bring that to our guys."
Part of that involves hard work and Cristobal makes  no secret of the difficulty of the daily workouts that are being asked of the players.
"We have a nice core and you know the regimen that we've brought in is really demanding. It's not for everybody," Cristobal said. "And these guys have taken to it and they know there's no slowing down. They've attacked it in a positive way. They've elevated the standards and we just got to keep going and getting better.
"Competition has become a welcome thing. I think the worst thing you could do as a coach and we've had those coaches, right that they pit you as rivals, you know, and all of a sudden instead of a brotherhood, you have more of a cutthroat room environment. And I don't think that jives and fits in college football. The competition has to be welcomed, because it's the only way to maximize your potential. You've got to stay on edge. We play an edgy game, right? And if you don't stay on that edge, you come off that edge, you're probably gonna get knocked down. So the best way to do that is to bring in great talent to make sure everybody's being coached. as hard and as good and as well as we possibly can. And give them the best chance for success because they'll make each other better."
Cristobal was asked if he ever thinks about the moment on September 3 when he will lead the Hurricanes onto the field against Bethune Cookman.
"There'll be a time for that," Cristobal said. "Right nowit's about our staff and our people, making sure we give our guys the best chance to be successful and to make sure that this thing applies to life way after football, from their internships to their community service to their life lessons. And we're teachers and this is a vocation. It just happens to be my vocation. That's the place that I live and die for. So yeah, it means the world. But there's just a lot of work to do."