Miami Hurricanes freshman Blake Cyr confident heading into ACC Baseball Championship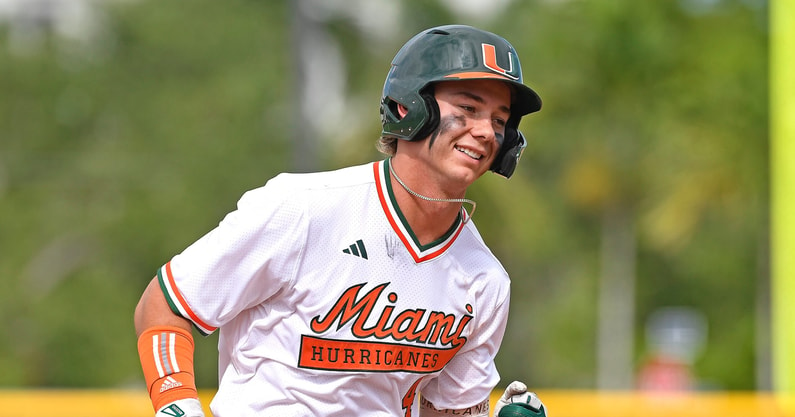 Why not us? That is the mindset of the No. 4 seeded Miami Hurricanes (38-17, 18-12 ACC) baseball team, according to 'Canes freshman second baseman Blake Cyr, as the team heads to Durham, North Carolina, Thursday for the ACC Baseball Championship.
"I think it's the best scenario you have because you go there and it's everyone against you, and we like that," Cyr said. "It's always kind of been 'why not us?' this whole season. We like going into that atmosphere and going over there and everyone being quiet… we feed a lot off of that as a team."
With a opening contest set with NC State (34-18, 13-16 ACC) and a Friday matchup on deck with Duke (35-19, 16-13 ACC) shortly thereafter, Cyr says he and his Hurricanes squad are solely focused on the Wolfpack heading into ACC postseason play.
"The mindset is just to get to North Carolina and play the best baseball," Cyr said. "We're focused on NC State and playing our best baseball when we get there. We know it's going to be a packed crowd because it's NC State, we're playing in Durham, and it's an in-state school, but we love those types of atmospheres, and we're ready for it." 
As of late, the Hurricanes have been rolling, winning their last six series, including their regular season finale three-gane set over Duke, which featured yet another come-from-behind walk-off win courtesy of catcher Carlos Perez in the second matchup.
This season, the Hurricanes have had four walk-off wins and have shown resilience throughout the year with multiple come-from-behind victories.
"Personally, I would say my source of it is the man up from above, my Lord and Savior, and my thanks, my credit, and everything I've done is to him," Cyr said when asked what was behind Miami's multiple come-from-behind victories this season. "But with the team, I just say it's because of how well we work together and how well we like to play for each other. We just want to do something for the next guy. Nobody on this team is selfish; we all play for each other."
While the team has found success as a group, Cyr has had an impressive debut campaign for Miami, to say the least, earning All-ACC honors. Cyr proved to be one of the top freshman hitters in the conference in his debut season with the Hurricanes. 
The 5-foot-11, 190-pound slugger paces the club with 16 homers and 57 RBI. His .636 slugging percentage checks in second, while his .312 average ranks third. His 16 round-trippers are tied for the fourth-most by a freshman in program history, trailing only Pat Burrell, Ryan Braun, and Phil Lane.
"My whole life, I've been working to get to this point," Cyr said. "I couldn't have done it without God and everything he's done for me and everything that I've been through. Now that I'm here, I'm just using the platform that I can to really reach out everything to him."
With the regular season concluded, postseason play upon us, and now the national spotlight on the Hurricanes, Cyr is ready to shine on the biggest stages and is excited for what lies ahead.
"That we're coming for a national championship," Cyr said when asked what the national media should know about the Hurricanes. "It's been far too long since we made it to Omaha. That's what we're coming to do, and that's what we're going to do."