Opinion: They are brash and fun but the Miami Hurricanes can also play ball with anyone as March Madness begins
ALBANY, NY — You might not have seen anything like this before, certainly not from the Miami Hurricanes.
It's so brash and cocky, a video that is so outside the box.
And it's so fun.
Miami forward Jordan Miller is on camera at the head of the driveway leading up to the Watsco Center, Miami's home arena.
"You want some advice for filling out your bracket," Miller asks.  Then the camera cuts to a scene of the entire Miami team huddled together at midcourt inside the arena.
"Don't pick us," they shout in unison.
Cut to the hallway outside the Miami locker room.
"We have 25 wins under our belt and counting," Miller says. "Last year, we went to the Elite Eight for the first time in program history.
"We got a living legend with 721 dubs running the show. "
And then the video cuts to Miami Coach Jim Larranaga sitting inside his office.
"But don't…..pick…..us," Larranaga says with his mean face in place.
Miami Guard Bensley Joseph delivers a monster dunk as the team screams in unison. Then guard Nigel Pack weighs in from the team weight room.
"This year, they picked us to finish fourth in the ACC," Pack says as he flips a basketball to Miller.
"We came in first," Miller says. "We're the regular season ACC co-champions."
"Don't pick us," center Norchad Omier says, swatting at the camera to direct it to guard Isaiah Wong, who is draining a three-pointer.
"He's the ACC Player of the Year and a finalist for the Wooden Award," Miller says of Wong.
Then a switch back to Larranaga. "We have the most underrated player in America," the coach says, referring to Miller.
"But don't pick us," Miller says with a wide smile on his face.
"Our fans, passionate.  Our team, electric. Our chemistry. Special."
"You didn't pick us before, so why start now," Miller asks as he turns and drains a jump shot.
The video was the idea of the sports entertainment website Players Tribune.
"That video was, I think, really well done," Larranaga said. "The guys liked it, so we did it. It was pretty good, though, wasn't it?"
These are the loosey-goosey Miami Hurricanes who have come here to fulfill their destiny, which was somewhat derailed by the sprained ankle suffered by Omier at last week's ACC Tournament. Miami very likely would have won the tournament trophy to stack next to the regular season co-champion hardware which the ACC didn't have the wisdom to separate the Hurricanes from Virginia with a tiebreaker.
But all those what ifs are history now. This is the NCAA Tournament and like everyone else Miami is down to its final loss of the season. They can joke about not being picked, which some people out there are obliging. But the fact is that the most knowledgeable basketball pundits out there, people like Dick Vitale and former Duke Coach Mike Krzyzewski, are predicting Miami to go as far as the Elite Eight for the second consecutive season.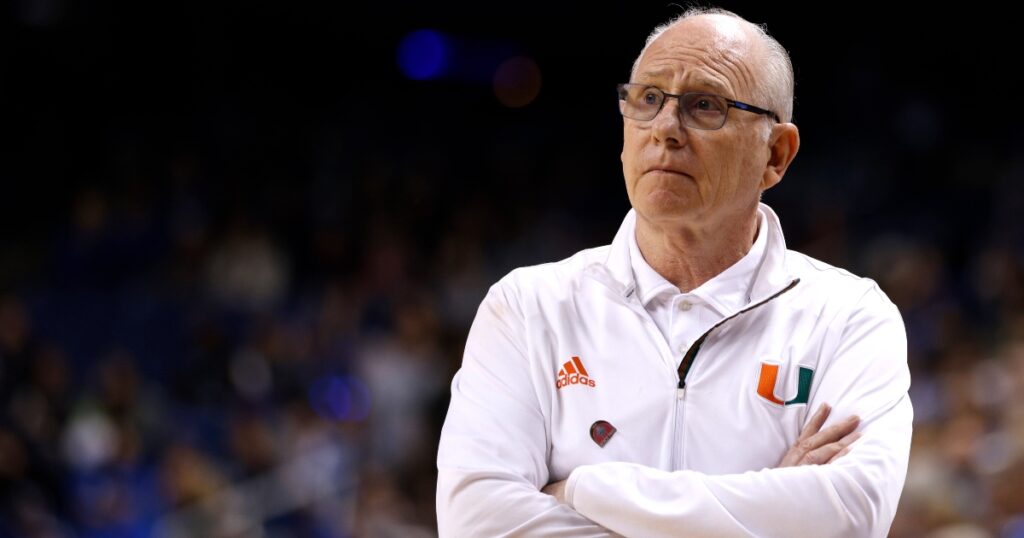 That's heady stuff, but flat legit. There is a common belief that quality guards rule in March Madness and few teams in the country can match Miami from the perimeter with Wong and Miller and sharp-shooter Pack. With forward Wooga Poplar exploding a bit himself the second half of the season, Miami will have the capability to score from all directions. The only thing likely to derail this team other than a propensity for lapses during games is Omier's gimpy ankle, but he has been walking the past few days without a limp.
Duke killed Miami on the boards in the ACC Tournament after Omier went down and first-round opponent Drake of the Missouri Valley Conference is one of the best rebounding teams in the country. Drake also  is a sneaky first-round matchup because Tucker DeVries, a 6-6 perimeter player who is the head coach's son, has an NBA game with a worthy three-point stroke. The sophomore won the conference MVP award after averaging a team-high 19.0 points along with 5.6 rebounds. He's attempted a team-high 225 threes, making 38.7 percent  of them, enough that he was branded with the nickname,  "DeThrees."
"Super excited just to be a part of it," Coach  Darian DeVries said. "Playing a very good Miami team that won the ACC, so we know we have a big challenge in front of us."
Drake ended the season with a 27-7 overall record and was 15-5 in the Missouri Valley Conference, a game behind first-place Bradley. The Bulldogs have won 13 of the last 14 games (including 2OT wins vs. UNI and at Valparaiso), with the lone loss in the regular season finale at Bradley, 73-61. But Drake avenged that loss in the tournament title game, beating Bradley in a 77-51 blowout, the momentum from which it brings into its game against Miami. Oddsmakers have made Miami just a 1 1/2-point favorite.
"They have a consistent winning culture, have won over 20 games five years in a row," Larranaga said. "This is a heck of a matchup for us."
If Miami can keep DeVries under control it will likely be on to the second round against likely opponent Indiana, which would present a different kind of challenge. The Hoosiers were the pre-season favorite to win the Big 10, but were passed by No. 1 seeded Purdue and finished second in the regular season with a 22-11 record marked by inconsistency.
But Indiana is built around Trayce Jackson-Davis, a big who averages 20.8 points and 10.9 rebounds and who has blocked 82 shots this season. You will see him picked in the first round of this year's NBA Draft.
Jalen Hood-Schifino is another guy that can cause Miami fits and has NBA potential. A combo guard who the team's using at point guard, he averages 13.5 points and 3.7 assists, but can explode at any moment. He had 35 points on 14 of 24 shooting in Indiana's win over Purdue this season.  Race Thompson is a big 4 who averages 5.0 rebounds and has blocked 26 shots.
But there is no looking ahead in March Madness, the ultimate high stakes game.
"This is a once in a lifetime experience," Larranaga said. "Different players, experiences, matchups. You really want to enjoy this. … So enjoy it."
But then the coach admitted there really is just one road to that enjoyment and happiness.
"The most fun is when you win," he said as he enters a fray where  just one team really wins.
Miami was on the cusp of the Final Four last season, up six at the half against eventual national champ Kansas. That lead disappeared very quickly after intermission and Miami never recovered from the punch.
Houston is the consensus favorite to be this year's Kansas, and Miami would meet up with the Cougars in the Sweet 16 if both teams get that far. You can get +4500 odds if you want to bet on Miami to win it all.
Talent typically rises to the top in a tournament setting. The Hurricanes score almost 80 points per game and shoot 48.5% from the field, ranking in the top 25 in the nation in both categories. UM has scored more than 80 points seven times in its past 11 games.  
But doubters will point to the fact that the Hurricanes went just 5-5 against teams in the field of 68, with the wins coming against Providence, Virginia, NC State, Duke and Pittsburgh.
"I feel like we're still an underdog and still got to earn respect this March," Wong said. "I feel like with all we've been through this whole season, they've still got us coming in losing some games.  For the team we're very focused right now. On the stage we're on right now, we have a lot of great players on this team, and we're all focused on the main goal, and that's winning a title at the end of March."
Larranaga is calm as can be as tipoff approaches, promoting a stress-free atmosphere.
"I think what we care about is playing great basketball, being the best that we can be each and every game," Larranaga said. "I think the guys feel very, very confident in their abilities. We've won the regular season. We've been ranked in the Top 25 or 20 almost all season long. We believe in ourselves.
"We don't care where we're seeded. We don't care where our opponent is seeded. What we care about is not who we play or where we play, but it's how we play. We need to play really well. We know that. We need to execute our game plan better than our opponent executes their game plan because everybody you face is very, very capable of beating you, and we feel very confident that no matter who we get matched up with, we feel very, very good about our chances as well."