Tyler Van Dyke, Miami Hurricanes opening practice player takes, 1st day of camp notes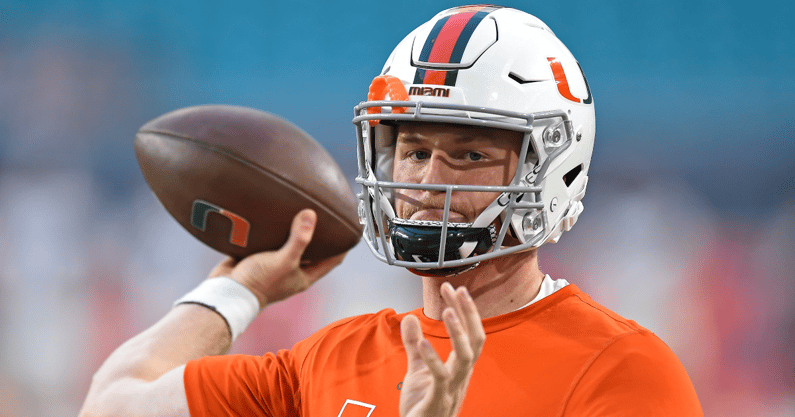 The Miami Hurricanes held their first fall practice of the Mario Cristobal era today. You can find your first day of camp notes here.
As for player feedback off Day 1?
Well, QB Tyler Van Dyke (who went in depth at media day on Tuesday), says that "there was some rust today" but that "it was a decent day."
"A lot of stuff to improve on, especially on our side of the ball," Van Dyke said. "The defense had a good day today."
The D ran base packages today but also disguised coverages and blitzed as Kevin Steele looks to get his group on point.
"It looks a lot different, disguising – it's good for me and the other quarterbacks to recognize what they're trying to do to practice against other opponents we're going to play later," Van Dyke said.
The goal for this offense is to have some receivers emerge as playmakers as fall drills go forward. There really wasn't a wideout that stood out in spring ball after Mike Harley and Charleston Rambo departed last season.
"Someone is going to do it, I'm not worried about who it is going to be," Van Dyke said. "You have Key'shawn (Smith), Mello (Brinson), Frank (Ladson), Mike Redding, Colbie (Young) coming in, a bunch of guys that have the capability of doing it. It's knowing the plays, lining up too, it's not `He's a freak.' You have to have every little detail in knowing what to do."
Of Young, who arrived this summer from junior college, Van Dyke said "He's a big, freak athlete. Has great ball skills for a big guy like that and can move too."
Of Isaiah Horton, another new face as a true freshman, Van Dyke said, "He's good, he's a freshman. I think he's going to have a lot of potential, just has a lot of stuff to work on."
Van Dyke, who is earning Heisman talk after a huge first season, says the difference for him this year is he's taking on a leadership role and has a full year as the first-teamer as opposed to backing up D'Eriq King last spring and fall.
"29 days, it's pretty close (to the season)," Van Dyke said. "It's moving fast."
With about 80 percent of the offense put in during the spring, Van Dyke says the focus is still on getting the base plays "down perfect" before putting in more.
"I'm excited to see what he has in the extra 20 percent," Van Dyke said.
While Van Dyke addressed his receivers today, he didn't talk much about the tight ends, which promise to be a huge part of this Miami offense.
Doing the talking for that tight end group after practice No. 1 wrapped up? Veteran Will Mallory, who also shared his thoughts with CaneSport at Miami's media day on Tuesday.
Mallory says he wakes up at 5:30 a.m. to get ready for Miami's 9 a.m. practice.
After today's opening fall practice Mallory – sporting a new buzzcut – said today "Was good, good to get out there with the guys, start this year off. I was excited to get out there and run around."
"First day, everyone's excited. We have to keep that excitement all throughout camp, and I think we will."
It was Mallory's first practice since he missed the last half of spring ball due to injury.
"It's been really good (with the recovery)," Mallory said. "I fee good to be out there, will just keep progressing."
Mallory said that fellow tight end Elijah Arroyo is "a rare talent," and of course Jaleel Skinner is a freshman who is highly regarded and should have an immediate role.
"Coach Gattis' offense is highly involved with the tight ends," Mallory said. "We have the room, the talent to do it. The tight ends will go out there and do what we can do."
-With cooling rooms being used to help players recover quickly after practice, Mallory said he appreciates it and that "We're fortunate to have that for sure."
Then there was the take today of DE Jahfari Harvey, who has started six games in his career. He arrived at UM in 2019 and played in four games off the bench, then in 2020 played in 10 games and had one start, ending with 18 tackles, five for losses and 1.5 sacks. This past season he played in all 12 games, starting five, and had 26 tackles, 6.5 tackles for loss and 2.5 sacks as well as an interception return for a touchdown against North Carolina.
His Pro Football Focus grades also show he needs to make a jump from good to elite – he graded out last year at 65.2 percent as a pass rusher and 66.9 for run defense (70 is considered very good).
This fall Harvey is battling a couple of highly touted transfers for a starting end role: Akheem Mesidor and Mitchell Agude.
"(The competition) is great, pushes everybody to get better," Harvey said. "It's fun to get out there and compete. Everybody is competing, everybody is going 100 percent. That's what it forces you to do.
"I like what I saw from the D line today."
Harvey also said after Miami's practice No.1 that "It was great. Everyone was out there competing, getting after it. I like to see all the new people that came in that weren't here in the spring putting in work. It was great just seeing everyone out there today."
As far as his offseason strides, Harvey said he's "gotten stronger as a whole."
That includes a jump from 315 to 345 pounds in the power clean.
"You put in the work every day – look in the mirror, you feel good about yourself," he said.
-Harvey said John Campbell "is good out there, big and athletic," and he called freshman DL Nyjalik Kelly "a freak."