Best and worst from Michigan's Big Ten championship win over Iowa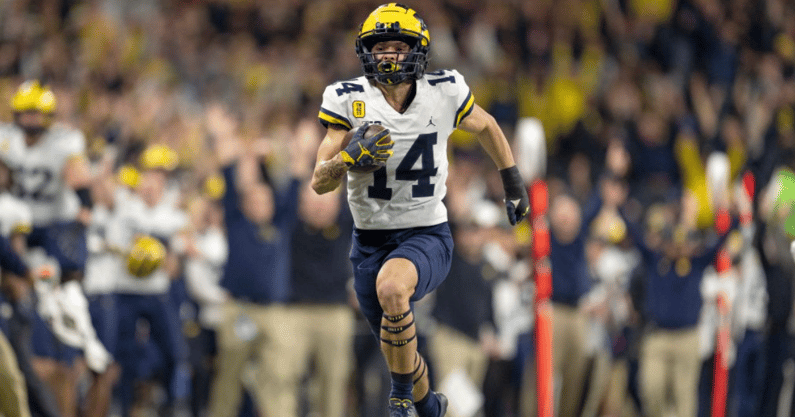 INDIANAPOLIS, Ind. — Michigan Wolverines football destroyed Iowa in the Big Ten championship game, 42-3. Here are the best and worst from the dominant victory.
RELATED
• Offense notes: Halftime adjustments lead to big second half for Michigan in Big Ten championship
• Defense / ST notes: Michigan puts the clamps on Iowa in Big Ten title game
• Michigan 42, Iowa 3, Big Ten Championship: Notes, quotes & observations
MVP?
Media members were asked to submit their votes for the game's most valuable player by the four-minute mark in the fourth quarter. There was a lot of chatter and debate as to who we should've picked, because there wasn't one dominant player, but we — and quite a few others — settled on redshirt freshman quarterback Cade McNamara.
He didn't have his best game, and struggled a bit in the first half, but he completed 16 of his 24 passes for 169 yards and a score with one interception. He hit some big throws that set up touchdowns, and if he wasn't out there, the game could have gone differently.
However, junior defensive end Aidan Hutchinson, who actually took home the hardware, was more than deserving. He had a sack, four tackles and two quarterback hurries, and affected the play on numerous other occasions. He should be invited to New York for the Heisman Trophy ceremony later this month.
Unsung Hero
Sophomore safety Daxton Hill quietly had a nice game, even with a Hawkeye making a tough catch against him in coverage. He generated five tackles, one tackle for loss and one quarterback hurry on a safety blitz. Hill was in position all night long.
Key Stats
• Michigan has won 40 straight games when leading by 10 or more points at halftime, and that's crucial against this Iowa team. The Hawkeyes lean on their run game, but U-M got them out of their comfort zone while playing catch up.
• The Hawkeyes came up with points on just one of their three red-zone trips, with one missed field goal, a turnover on downs and one made kick. Iowa strung a few drives together, but wasn't able to finish, put points on the board and hang around.
• Iowa had allowed just two plays of 50 yards or more entering Saturday, but Michigan was able to notch two in the game. Both resulted in long touchdowns, and the Maize and Blue were able to take an early lead.
• Michigan lost the turnover battle, 2-1, but still came out on top against a Hawkeye team that has now forced 30 takeaways for the season. The Wolverines dominated enough of the other facets of the game that the turnovers weren't killer.
Best Throw
No, McNamara didn't make the best throw of the day, even though he had some pretty ones. Freshman running back Donovan Edwards caught a backwards swing pass, pulled up and hit second-year freshman wide receiver Roman Wilson in stride for a 75-yard touchdown. We saw Edwards complete a pass while he was a high school recruit, knew he had it in him and saw it once again Saturday.
Best Run
Second-year freshman running back Blake Corum got some great blocking down field — including by freshman quarterback J.J. McCarthy and sophomore wideout Mike Sainristil — on his 67-yard touchdown run in the first quarter. He made a juke, turned on the jets and found his way to pay dirt.
Most Surreal Stat
Oxford High School star player Tate Myre, who was killed in the deadly shooting last week while saving numerous lives, wore No. 42 on the gridiron. Michigan honored him and the four others who lost their lives with a jersey patch, which will be worn throughout the rest of the season as well. It was fitting that the Maize and Blue put up 42 points on Iowa, after some of Myre's family members served as honorary captains and the team dedicated its performance to his memory.
Best Quote
The top quote of the game comes from head coach Jim Harbaugh, who became the fifth person to win a Big Ten championship as both a player and head coach at his alma mater.
"There's no team I love more than this team," Harbaugh said. "But it's the same qualities. I think back to the [University of San Diego] team we had in 2005 and 2006; and the Stanford team in 2009, 2010; and the 49er team, '11, '12 and '13. It's just the way they approach it. They give it their best every day.
"Just that simple thing. Nobody ever thinks it's that simple, but it's that simple. There are a thousand other little things that go into it, but when you're around a group of guys and you watch them making sure that they give it their best, their very best, you know, every single day."