Blake Corum announces his return to Michigan on the Rich Eisen Show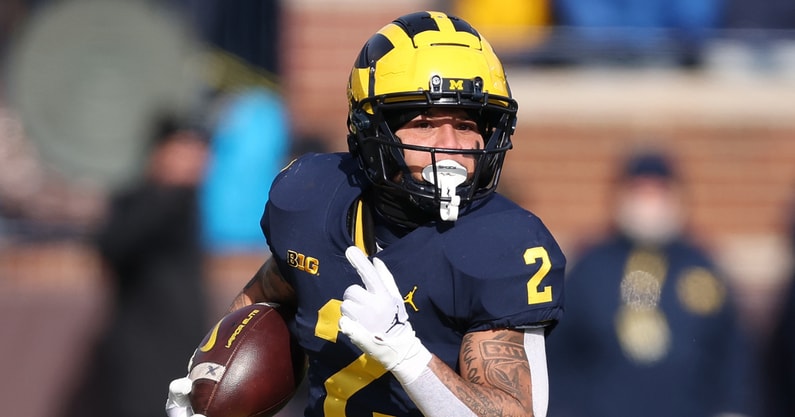 Sunday, Michigan collective Valiant Management launched a "one more year" initiative to get several U-M players, including running back Blake Corum, back for another season. Coincidentally, Corum announced on the Rich Eisen Show Monday he'd return to U-M next season for his senior year.
"It was a tough decision. A lot of nights I was coming back, a lot of nights I was going to the [NFL] draft. A lot of prayer. But I'm a Michigan man through and through. I love playing for the University of Michigan … I think I have unfinished business," he said. … "I will be coming back for it all next year."
RELATED: Monday Musings: The latest on Michigan and Jim Harbaugh
RELATED: Thoughts on Jim Harbaugh and the NCAA, the Michigan response – what we know
A Heisman Trophy candidate this year after rushing for 1,463 yards and 18 rushing touchdowns, Corum might have won it if not for an injury suffered just before halftime against Illinois. He'd finish 7th, but won the Chicago Tribune's Silver Football Trophy as the Big Ten's MVP, and should be a favorite to win the Heisman.
"I'm still trying to figure that out, honestly," he told NFL insider Adam Schefter on his Dec. 20. "A lot has been happening recently with the injury. I've thought about it a little bit, but right now, I'm just trying to figure some things out, get my knee right. 
"I have a couple weeks before I have to decide on what's best for me and what I should do. I'm going to try to put some puzzle pieces together and see what's best."
He said he was 50-50 and called it a "hard decision."
"When I say that … I've got to think about what's best for Blake Corum," he said.
And now we know he'll be back.
Name, Image, and likeness (NIL) likely factored into his decision, and we know there some from collectives visiting with him in California while he was rehabbing.
Corum had knee surgery Dec. 2 in California after playing sparingly in the Ohio State game. He carried twice for 6 yards before being sidelined and missed the Big Ten Championship game with Purdue. Sources have said the timetable for full recovery was longer than anticipated, which also might have factored into his decision.
At the same time, he's a warrior. He came back sooner than expected from an ankle injury last year to make a huge impact against both Ohio State and Iowa in the title game, and he's ready to make more of an impact this year.
Corum won the Bo Schembechler Most Valuable Player Award this year in addition to the team's toughest player award. He acknowledged he had a torn meniscus and sprained MCL.
"I'm feeling great, honestly," he said. … "I was actually out in California for 2 weeks doing rehab. I'm still on the crutches, but I'll be off them this week and ready to attack everything."
Watch for more on this development in the hours to come …