CHAT: Answering your Michigan football and basketball questions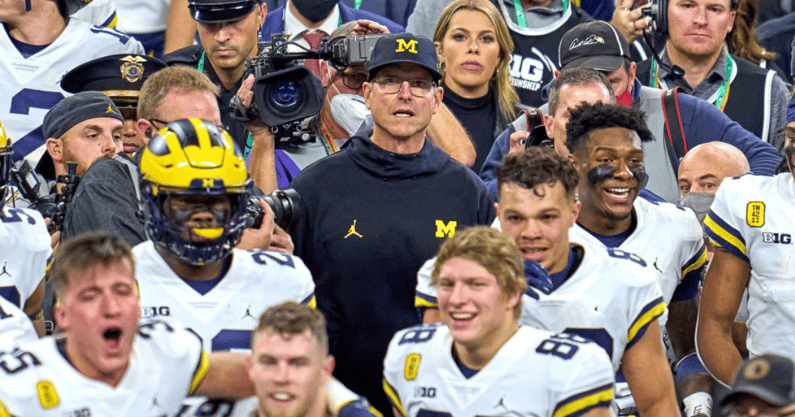 TheWolverine.com staff is on hand to answer your Michigan Wolverines football, basketball and recruiting questions this afternoon. We're discussing the Jim Harbaugh contract re-negotiation, potential assistant coach movement and more.
Topics include:
• Harbaugh and the Las Vegas Raiders. Is the Michigan coach set on listening to what owner Mark Davis has to say? The Raiders play at Cincinnati in a playoff game Saturday, and there are rumblings Davis wants Harbaugh to wait until that game ends to sign any deal with Michigan.
That's only fueled speculation that Harbaugh is, indeed, open to listening to what Davis might offer.
• Juwan Howard and Michigan basketball. Can the Wolverines turn the season around, starting with a game tomorrow night at Illinois?
Michigan has struggled in the early going, off to a 1-2 Big Ten start, and games with Michigan State and Purdue have been postponed due to COVID. U-M needs to start winning games soon to have a shot at the NCAA Tournament.
"Right now, we've had some improvement health-wise with our staff members," Michigan coach Howard said today. "We had one guy from the staff return, another guy still out. We also have a couple players that have returned to practice, which is good to see.
"We've also had some guys come out of quarantine; it was good to see some beautiful faces, some smiles on some guys' faces.
• Potential attrition and portal movement. A big defensive tackle will visit this weekend. Several players, too, have left the team, and others are still considering it, including Michigan kicker Jake Moody.
CLICK HERE to join the discussion with our team and thousands of Michigan fans on The Fort, TheWolverine.com's premium message board.
****
TheWolverine.com is available on a number of mediums. All of our Michigan-related shows and podcasts on The Wolverine are available on Apple Podcasts, Spotify, Google and Podbean. Be sure to subscribe and leave us a five-star review!
Subscribe to our YouTube channel for live podcasts, In The Trenches with Chris Balas and Doug Skene, Michigan football and recruiting content and more.