Colston Loveland on identity of Michigan offense: 'We're going to sling it around the yard a little more'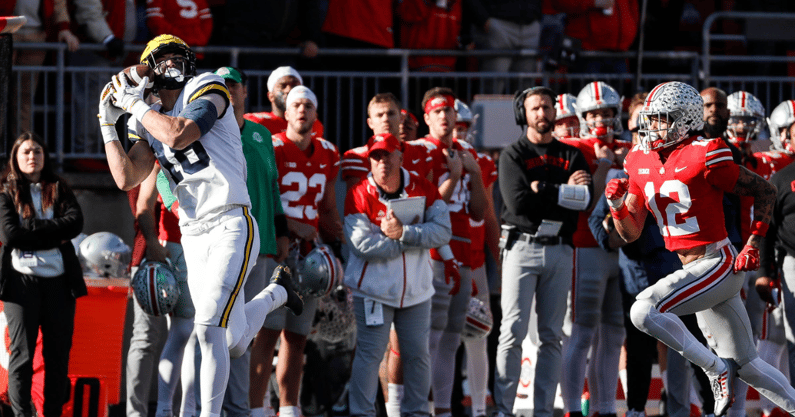 Michigan Wolverines football ranked 14th nationally and second in the Big Ten with 42.9 rush attempts per contest last season. That "smash fest" identity was successful, with the Wolverines racking up 238.9 rushing yards per game (fifth), winning 13 games for the first time in program history and advancing to the College Football Playoff for a second straight year.
The Wolverines have a returning starting quarterback in J.J. McCarthy, who has a full offseason to build off what he did last season, when he threw for 2,719 yards and 22 touchdowns with 5 interceptions. Appearing on the In The Trenches podcast with host Jon Jansen, sophomore tight end Colston Loveland revealed that he believes Michigan will air it out a bit more this fall, despite the team returning two potential All-American running backs in senior Blake Corum and junior Donovan Edwards.
"It's Michigan football, and we're going to keep playing how we've been playing," Loveland began. "We're definitely going to run the rock. We've got a great O-line, great running backs, great receivers for blocking on the perimeter.
"But I think we're definitely going to spark a little more in the pass game this year, especially building the chemistry. We got J.J. all offseason. I think we're going to sling it around the yard a little more."
RELATED
• 'Big Rod' Moore discusses weight gain, injury recovery, young Michigan safeties, 'personal' Ohio State rivalry
• Michigan football intel: On the culture change, Ben Herbert, Jim Harbaugh's metamorphosis, and more
Loveland is set to be one of Michigan's top pass-catching targets. He flashed as a freshman, scoring a touchdown against Ohio State and one the following week in the Big Ten championship game against Purdue. All told, he accumulated 235 receiving yards on 16 catches.
A former four-star prospect in the 2022 class, Loveland committed to Michigan out of Gooding, Idaho, due in large part to the culture and relationships he built during the recruiting process. He's enjoyed continuing to grow those bonds during his time in Ann Arbor, on and off the field.
"Off the field, everyone here is just so tight," Loveland explained when asked about building chemistry with the quarterbacks. "The relationships flow smoothly. On the field, it's just reps, just keep getting reps. Offseason, having throwing sessions, really just lock in [to] timing with all the quarterbacks and just the chemistry. Having J.J. for this offseason — we didn't have him last offseason — that'll be huge for us."
Numerous Michigan players have spoken this offseason about how its lone blemish of the 2022 season — a 51-45 loss to TCU in the CFP semifinal — has been a motivating factor. Loveland has used the mistakes the Wolverines made in that game as a guide for how to attack training in preparation for the 2023 campaign.
"I think we just beat ourselves, and we all know that," Loveland said. "We all know coming in that we've got to work even harder this offseason, grind even more — longer hours — to be where we want to be. We all know that, and everyone in our program is doing a good job of leading us that way.
"Just keep attacking the little things every day and really lock in on the details, because that's one thing that we lock in on, the details. The little things will help us lock in on the bigger things."
Colston Loveland up double-digit pounds from freshman season
Loveland, who was named preseason third-team All-Big Ten by Athlon Sports, was listed at 6-5, 237 pounds as a freshman last season. He's already up over 10 pounds, he revealed, and wants to add even more weight before fall camp in late July.
"Right now, I weigh like 248," Loveland said. "I want to get to between 250, 253 by the start of camp. The weight I've put on has been really good weight, and it hasn't affected my running at all, or my agility. That's just part of our weight program, our strength coaches. They get us right, and Abigail [O'Connor], the nutritionist. They're doing a good job taking care of me and making sure I'm putting on good weight."
Loveland was named a freshman All-American by On3 and began to rack up accolades at the end of the 2022 season. He's trying to stay humble ahead of his second collegiate campaign, though.
"A big focus, really, is just getting better, keep getting better and not get complacent, because having a good year as a freshman, I could see some people getting complacent," he explained. "I just gotta keep my head on straight and keep playing the ball that I know how to play, keep getting developed here. Everything is right in front of me; I just gotta take advantage of it."
Two of the NFL players he and the Michigan tight ends watch the most: George Kittle of the San Francisco 49ers and Travis Kelce of the Kansas City Chiefs, both All-Pro selections during their careers.
"In the run game, specifically, we watch a lot of George Kittle's film," Loveland explained. "He's just a beast in the run game, so dominant in his techniques. I'm trying to match his technique and learn a lot of things from him. In the pass game, as well.
"But I like to watch two big-time guys — him and then Kelce. Just the way he finds space and knows the defense, that's where I'm trying to get to."
Blocking, specifically, has been an emphasis for the Michigan tight end this offseason, he said during spring ball. It helps to have strong cohesiveness with the offensive line.
"I love those guys, the O-line," Loveland said. "Those are some of the funniest guys on the team. And we've got a great O-line, too, so they make our job a lot easier. Communication, very good at that. I've just loved being able to work with those guys, and they've made me a lot better."
***
Preorder The Wolverine's 2023 Michigan Football Preview magazine before June 19 and get free shipping!!! On3 subscribers should go to The Fort message board for discounted pricing.