Michigan coach Juwan Howard's most underrated recruit? Maybe ...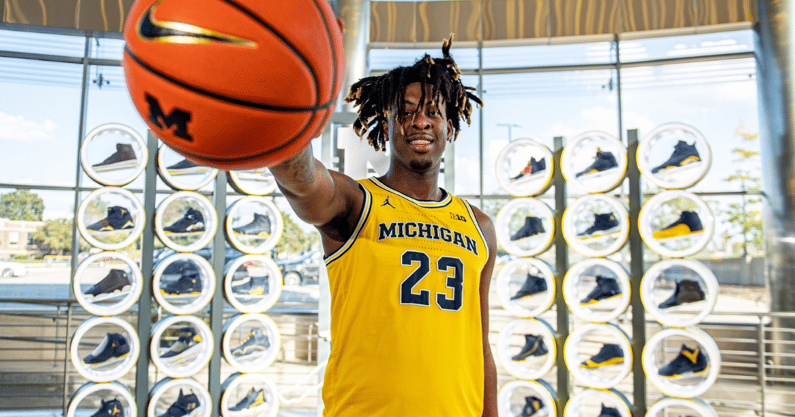 Michigan coach Juwan Howard has recruited extremely well since he arrived in Ann Arbor, building on the foundation former coach John Beilein poured. From Franz Wagner to Hunter Dickinson, last year's highly ranked class, he's shown he can land the big ones.
RELATED: Michigan basketball – Could package deal get 2023 recruiting rolling?
But Howard has also taken some kids that were more under the radar. Freshman Will Tschetter comes to mind, and he'll have a chance to play this year. So will Chicago native Isaiah Barnes, who has improved dramatically.
But Fort Lauderdale (Fla.) Calvary Christian's Gregg Glenn might be the most intriguing of all. An early bloomer, Glenn isn't the most athletic player in his class. In fact, there's not one thing he does so well you can say, "that's his strength."
The 2022 signee does everything well enough, however, to have earned a scholarship from Howard. He'll come in with something to prove, but he's already shown the U-M coaches plenty.
"Gregg, to me, is a bit of a wildcard. He had a great year on a really good team, and he showed me some things I really didn't know," Michigan assistant Phil Martelli said. "I didn't see him as much on the high school circuit. He was banged up.
"He's another one of those guys with multiple skills. He's not going to be pigeonholed, like [Michigan junior] Terrance Williams as we're sitting today. Is Terrance Williams a four? I guess. Is he a three? I guess. But I know he's a player. So, I was happy to see that Gregg had success this year."
The Michigan frosh to be is versatile, Martelli said, noting, "he can really pass." But like most, he's not sure about his shooting.
On3.com's Jamie Shaw is among those anxious to see more.
"He'll be an interesting one. He's got some unique pieces to his game," Shaw said. "He's big at 6-8, 230 pounds … big frame. And he's a great passer … a good rebounder and a great passer. Offensively, I don't know how he scores at Michigan, but he's got some unique abilities to his game which kind of makes him intriguing. 
"I don't know how or where he defends, how he scores. But the passing and rebounding is something where if Juwan wants to play small, he might be able to go with Glenn at four or five … run some mixed action type stuff."
There's one more thing Martelli really likes about him that could be an 'X' factor at Michigan, the coach added. He's known him and been a family friend for a long time, and there's a bond.
"His connection with Juwan," the Michigan assistant said. "That's one of the things you say, 'yeah. Hes not going to let Juwan down.'"