Wolverine Watch: Jim Harbaugh and his crew could turn tears to triumph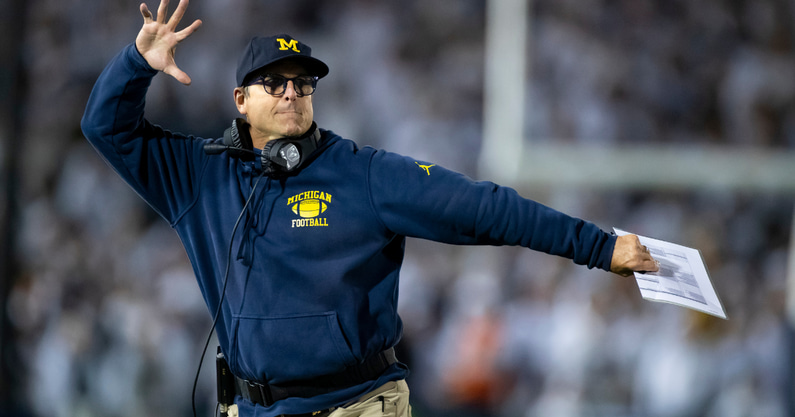 In the season's most eviscerating, excruciating moment, Jim Harbaugh spoke of the most exhilarating ending.
And here we are.
Ohio State-Michigan, for all the marbles (or Skoal tins, for those south of the border). High noon, with the whole nation looking on.
A chance for the home team to end the seemingly endless suffering versus the Mongol hordes of the 21st century. An opportunity to crack Brutus' skull and let out a little stuffing.
Harbaugh saw it coming, even while his team appeared too deep in despair to grasp thoughts of tomorrow.
Michigan radio sideline reporter Doug Karsch overheard it, while readying for postgame interviews in a bleak, steel and concrete edifice in East Lansing. The Michigan State Spartans, and their co-conspirators in the Big Ten, delivered what felt like a death blow, the 37-33 defeat to their most-hated rival.
While many mourned, Harbaugh exhorted.
"I'm setting up to do postgame," Karsch recalled. "The locker room is dead silent, and I'm plugging in all the wires and getting everything ready for [Jon] Jansen's interview with Coach, and nobody's saying anything.
"You could hear the tears coming, from outside. Nobody is saying a word. Then Jim Harbaugh said: 'Guys, we've got to move on. We've got to focus on winning. We'll get right back in this championship hunt.'
"Several players said in the postgame locker room that those words meant something at that time. It helped them at the time, because they were so disappointed about losing that game. That was just Coach addressing his team.
"They've done exactly that. They've gotten themselves right back where they want to be. If they keep winning, they can get everything they wanted."
The Wolverines wiped off the remaining green slime and conference incompetence dust, and did precisely what their coach instructed. They beat Indiana. They survived on the road at Penn State. They crushed Maryland.
Now, they get to play for all they dreamed about in the preseason, while the rest of the world laughed at the notion.
"This is everything they've been working for, playing for, to put themselves in this position," Harbaugh said.
They put themselves in this position twice before, in Harbaugh's time back in Michigan. Both times, they ventured to Columbus, and came away with nothing but tobacco spit stains and the memories of 80-year-old women with middle fingers thrust skyward.
They get to stay home this time. Here are three boxes to check, to pull off what the experts — who have been wrong all year about them — insist they cannot do.
1. Shorten the game
Ryan Day and his cast of offensive superstars — quarterback C.J. Stroud, wideouts Chris Olave and Jaxon Smith-Njigba, and running back TreVeyon Henderson — thrive on opportunity. They love shootouts more than Clint Eastwood at his spaghetti western peak.
If they get one, they win.
Ohio State's defense — despite its dominant effort against the finally exposed frauds from the northwest — remains its weak point. If redshirt freshman quarterback Cade McNamara, along with his crew of talented backs and receivers, can pick away, keep moving the chains and score, Michigan has a legitimate shot. This plan also involves an offensive line channeling its inner '95-'97.
The best defense against OSU? Make Stroud stand, hands on hips, and watch.
2. Minimize mistakes
Michigan turned the football over eight times in 11 games so far this season. That's tied for sixth-best in the nation, a ridiculously amazing achievement with a rookie starting quarterback.
No reason to smudge that mark now.
But it's more than that. Given 115,000 mostly friendly fans, the Wolverines ought to see the Buckeyes nicked far more by penalties. Here's where the crowd comes in, but here's also where Michigan's discipline must kick in. When the big plays and big moments arrive, as Harbaugh would say, don't flinch.
3. Unleash havoc off the edges
If Stroud sits in the pocket, untouched, unruffled and unassailable, it's over. This can be the day edge rushers Aidan Hutchinson and David Ojabo dreamed of since they first arrived on campus.
They can become Stroud's worst nightmare, and fulfill Michigan's greatest dream.
It's a full-package plan, to be sure — recognition, coverage, run stopping, big-play thwarting, etc. But if Hutchinson and Ojabo get loose, the Wolverines can make the Buckeyes' afternoon longer than a Jim Tressel show-cause hearing.
Hutchinson hasn't backed down all season. He's not about to now, and he's taking everybody with him.
"A lot of teams play them scared," Hutchinson said this week. "I don't think you're going to be seeing a lot of scared or fearful play from us on Saturday."
If the Wolverines finish, there will be more tears in the Michigan locker room. But they'll be far different than what they cried a month earlier, when Harbaugh challenged them to championship hopes.
•••
Related Stories