Jim Harbaugh on Michigan defense: 'Just phenomenal'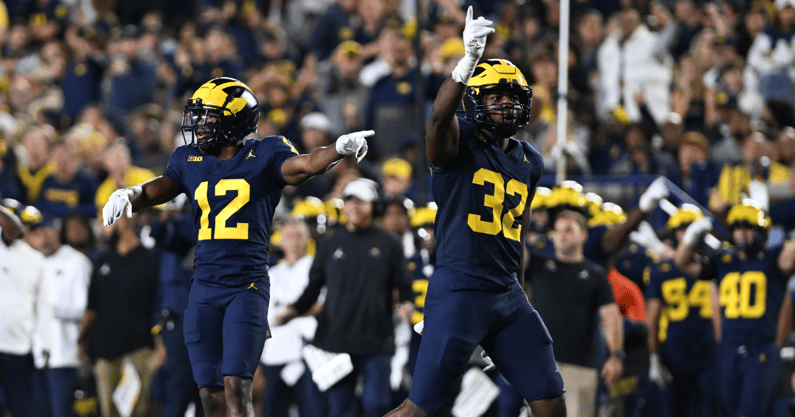 The Michigan offense sputtered in a 31-6 win over Bowling Green, but the defense had it working — for the most part. BGSU quarterback Camden Orth did some good things in the first quarter, completing 8-of-11 passes for 91 yards, including a few on the money. The Falcons had no shot when scout team quarterback Hayden Timosciek entered the game, and barely even tried to throw. 
RELATED: Michigan, Big Ten thoughts after week three — who is the conference favorite?
Regardless, the Michigan defense gets credit for holding them to two field goals, even if an overthrown ball on a broken coverage should have gone for six. And though there's been lousy competition in the first three games, the Wolverines have done what they're supposed to do — stifled weaker opponents.
"I'm happy for the shining light that our defense was in this game," Harbaugh said Sept. 18 after watching the Sept. 16 Bowling Green game from home, serving the third of his three-game school-imposed suspension. "Tremendous performance. Some of the numbers, it's got to be—I think it is — the number one scoring defense in the country right now. It's not hard to figure out. We've given up 16 points in three games, that's 5.3 points per game. 
"You dive into it a little bit deeper … 33 possessions, one touchdown, three field goals. That's some good division. You go there, it's .45 per drive. Just phenomenal. Guys being the difference makers, guys stepping up … calling it guardians of victory now. [Senior tackle] Kris Jenkins, the interception he made [to set up a touchdown]. The way [senior edge] Jaylen Harrell is playing. Again, another week where he's the tone-setter that caused a fumble, made tackles, had the rush, had the pressure that led to an interception. Tremendous."
Michigan veteran safety Quinten Johnson made a big play before the half, he added, to keep momentum with the Wolverines — "had a rep against their best player, remarkable. One of the best reps that we have ever seen," Harbaugh continued. "[Graduate tackle] Cam Goode, three tackles, one sack. [Junior] Rayshaun Benny … great to see his performance. Three tackles, one assist and one TFL. Really good."
Overall, though, it's the starters that have really been excelling in the front seven. Bowling Green coach Scot Loeffler called the Michigan defense "arguably the best I've ever seen," saying they have "two first round NFL Draft picks" up front. Jenkins' interception of a screen pass, returned to the Bowling Green two-yard line, led to a 21-6 lead and eased the tension against his team, his latest big play. Sophomores Mason Graham and Kenneth Grant have been loads in the middle of the defense, and the edges have been very good. Harrell leads the team in sacks with 2.5, while the three linebackers — junior Junior Colson, grad Michael Barrett, and sophomore Ernest Hausmann — are the top three tacklers, led by Colson's 16 and 2.0 TFLs.
"Scoring defense, number one [nationally]. Total defense, number two (222.3 yards per game]," Harbaugh continued. "Other cool stats, a bunch of them …10 tackles for loss in the past two games. Seventeen players have contributed to 24 tackles for loss, and 8 guys part of the 9 sacks. And less than 250 yards in all three games. Continued, really, great, great play."
And of the yardage accumulated by opponents, much of it has come in the fourth quarter when Michigan coaches went deep into the bench. Additionally, elite sophomore corner Will Johnson and junior safety Rod Moore hadn't played, Johnson only for a few snaps in game two vs. UNLV. 
Add it up, Harbaugh said, and there's a lot to like, even after a lackluster win over Bowling Green.
"When I was walking through the building yesterday, we have a quote of the day every day by a player, sometimes by a staff member but mostly by players," the Michigan coach said. "[Defensive tackle] Ike Iwunnah was up there. It said, 'I never lose. I either win or I learn.' There we go. We got the win and we got to learn."