Juwan Howard has work to do with his third Michigan basketball team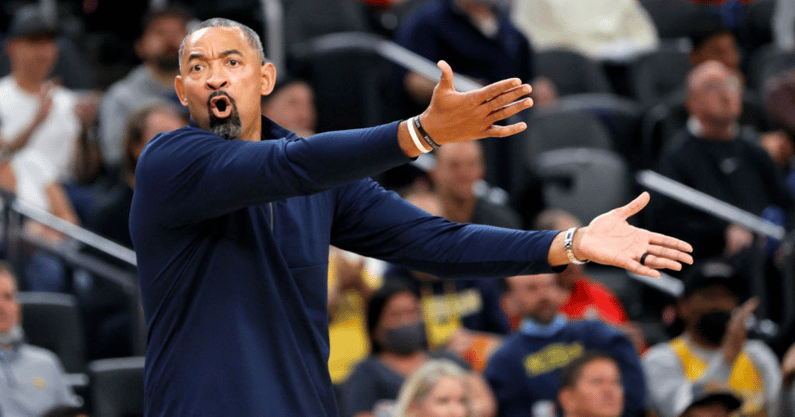 Headed down the stretch of Wednesday night's 65-54 Michigan basketball win over Tarleton State, the Wolverines led by only three points. U-M had struggled its way to 20 turnovers with no flow on offense, bad body language (at times) and poor, second half point guard play against a team without a starter over 6-6.
But a win's a win, and it's better to learn lessons in victory than defeat. This game, though, was more proof that head coach Juwan Howard faces his toughest coaching job yet at Michigan.
RELATED: Postgame video interviews, Juwan Howard and more
There are pieces here — very talented pieces — but this puzzle is complex.
It starts at point guard, where transfer DeVante' Jones continues to struggle. Michigan finished with 21 turnovers, and Jones had five against only one assist.
"Tarleton is very good at getting into passing lanes, being active with their hands and feet and their energy," Howard said. "We were … mindless when it wasn't available. Some of the passes we were making we put too much time in to allow a player to release or deflect it and steal it."
At other times, his players forced passes when they weren't there and were generally sloppy with the ball.
It's going to make him take a hard look at his lineups, most likely, starting up top. Freshman guard Frankie Collins came in and was a stabilizing force, providing six points, four assists and a triple in his 15 minutes.
He was a big reason the Wolverines were up nine at the break after struggling to get into the offense most of the first half.
"Huge. When D.J. went out with foul trouble, I didn't think twice," Howard said. "Frankie's been working hard in the gym, film sessions, practice, film sessions. He's trying to grasp and understand what we want from him at that position.
"It was great tonight to see him against a team that's very quick, athletic, tough. Frankie was able to come in and control the game in the first half in those 15 minutes that we needed him."
He didn't play in the second half when Jones struggled, but he will in the future if Jones doesn't turn it around. It was surprising, in fact, that he saw no minutes in the second half.
"Keep doing what he's doing," Howard said when asked what it would take. "His role is always there whenever his name is called.
That's one potential solution to the struggles of the last several games. But Michigan has other issues, too.
At this point, the veterans seem to have lost some confidence. Jones, a guy we saw put up nice numbers in G-League Combine play this summer, is struggling just to get the ball up the floor against quicker guards.
Michigan sophomore big man Hunter Dickinson took over down the stretch, but they're struggling to get him the ball. He seems to be having a hard time with that (at times).
Eli Brooks played all 40 minutes — think where this team would be without him — and led the team with 15 points. He made only three of nine triples, though, despite getting good looks.
But there were positives, too. Michigan freshman Caleb Houstan looked better, making two of his five three-pointers and notching 14 points and 10 rebounds. His fellow frosh, big man Moussa Diabate, provided great energy and finished with 14 and seven.
Expect Diabate to see more and more time, especially if veteran Brandon Johns continues to struggle. He had five points and three turnovers in 15 minutes.
Howard and his staff have a week now before their next game to figure things out, and they'll need it. Games at North Carolina and with San Diego State will be tough. Michigan can't afford to drop a pair before starting Big Ten play.
There's plenty of time to improve, but a lot to work on over the next several days … and beyond.