Keys to the game: Michigan football vs. Ohio State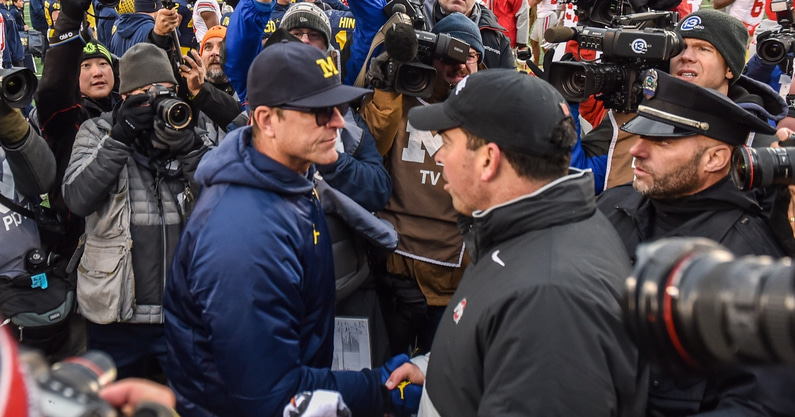 Things are back to normal at Michigan — for the most part. The Wolverines still aren't beating Michigan State regularly enough, but head coach Jim Harbaugh has his team playing Ohio State with everything on the line.
Contrary to popular belief, it's not the first time. Under Harbaugh, Michigan has faced the Buckeyes two times before in a similar scenario, in both 2016 and 2018. The Wolverines deserved a better fate in the former, were blown out in the latter. 
RELATED
• Aidan Hutchinson on The Game: 'I really think we are ready for this'
• A Look At Five Ohio Recruits Michigan Fans Need To Know
Both, though, were in Columbus. This time, U-M gets its biggest rival at home, and Harbaugh had a twinkle in his eye talking about it Monday. 
"I think that's a great thing for us," he said. "I'm looking forward to playing in front of a wildly supportive Michigan crowd."
There will be plenty of red in the stands, too. There always is for this game, though it's been more in recent years given lower expectations among the Michigan fan base.
The Buckeyes are solid favorites in this one, too — by as many as 8.5 points last we checked — though most believe the Wolverines have more than a puncher's chance. If they play their best game, limit mistakes and big plays, control the ball and get the breaks that haven't gone their way in this series over the last 15 years or so, they can win. 
Here's what they need to do to pull out a victory Saturday. If they do, they'll earn their first trip to the Big Ten Championship Game in Indianapolis the following week:
Make Ohio State score from the red zone — and with field goals, not touchdowns
Ohio State is 12th nationally in red-zone conversion percentage — one spot behind Michigan, believe it or not — having scored 92 percent of the time inside the opponent's 20. 
On the flip side, they're only 30th in touchdown percentage. Two teams in particular — Nebraska and Penn State (whose defense is similar to U-M's) — did a good job keeping quarterback C.J. Stroud and company out of the end zone and holding them to field goals. 
Barring a blizzard (not predicted) or terrible weather (supposed to be cold, but not wet), OSU is going to move the ball Saturday. Even Harbaugh knows it, admitting it to WXYZ's Brad Galli in a recent interview.
"We have to cover … to get to the passer when it comes to the passing game," he said. "We've got to get some stops. You're not going to stop them every series. They're going to score points. They're going to move the football."
But you can't allow the big chunks they have in the past. This Michigan defense seems better equipped to deal with the Buckeyes' attack, led by Stroud and elite receivers Chris Olave, Garrett Wilson and Jaxon Smith-Njigba, but that trio is so potent. 
OSU is fourth nationally in completions over 10 yards (57) and fifth in 50-plus yarders. U-M can give some of the underneath stuff with coordinator Mike Macdonald's bend-but-don't-break approach, and probably will. The defense simply can't let the ball over its head or give up easy scores on broken plays as it has too often in the past. 
Win the running game battle
On defense, that means wrapping up on first contact and at least a stalemate at the line of scrimmage. Running back TreVeyon Henderson is averaging a whopping 7.3 yards per carry — backup Miyan Williams is even better at 7.6 — and Henderson is more than capable of ripping off a long run. His long this season is 68, and he's scored 14 touchdowns. 
"The weapons they have in the running game are good, too," Harbaugh noted after praising the Buckeyes' passing game. "We have to get off blocks. We've got to tackle."
Easier said than done. You can't stack the box with the variety of weapons OSU rolls out on the edges, so it's going to be up to the front seven to play its best game. 
On the flip side, the Michigan offense needs to do its part by controlling the game and keeping the Ohio State offense off the field. Redshirt sophomore Hassan Haskins has made a living picking up yardage after contact this year — 102 at Penn State alone against the Nittany Lions' physical defense — and he'll need to come up big again Saturday. 
Third-down conversions are going to be massive in this game. 
Michigan redshirt freshman quarterback Cade McNamara has done a great job protecting the ball this year — only two interceptions — and that will need to continue. OSU is right behind Michigan (ninth and fifth, respectively) in total giveaways, but U-M will probably need to be on the plus side Saturday to win. 
U-M's return defense has been outstanding — kicker Jake Moody and punter Brad Robbins have helped with their high, long kicks — and will need to be again. And it would help if the Wolverines could get more in the return games themselves. 
All of that can factor into countering OSU's potent offense. 
"That's going to be the offense's job — drive the ball, get points of our own," Harbaugh said. "But special teams play a key role in determining field position and can maybe chip in with a score, too. Maybe the defense chips in with a score. 
"We're going to have to answer their ability to put points on the board [by doing it] ourselves."
First and foremost, though, returner A.J. Henning needs to protect the ball. He's put it on the ground a few times this year. 
And while touchdowns are preferred and necessary in this game, Moody needs to continue his outstanding field goal kicking when called upon.
The Breakdown: Michigan Wolverines football vs. Ohio State
A 24-12 Michigan win over Ohio State in 1969 was billed the 'upset of the century' by some, a game in which the Wolverines were much bigger underdogs. 
This game, though, might be an even bigger challenge, even if the spread isn't as large.
OSU is arguably the most potent offense in the country, able to stress defenses in so many ways. Analysts like to point to the numbers when breaking down the Buckeyes' defense — they're 98th in passing yards allowed per game — but they have elite athletes on that side of the ball, too, and they usually play their best against Michigan.
The defensive line is big and long, Harbaugh noted, and tough to run on — plus, the pass defense rating is much better at 37th nationally. Teams generally throw because they can't run on this squad. 
It's going to take a great performance by the Wolverines to break an eight-game losing streak in the series … and even that might not be enough. It could take some breaks, too, and perhaps a key play on defense or special teams, like Harbaugh noted this week. 
But there's a chance, and as former coach John Beilein used to say, they put themselves in position to be in position. It's past time Michigan won a title (2004 was the last) — if the Wolverines get this one, they will well have earned it.