Matt Weiss on Michigan – OSU: 'We were ready for everything'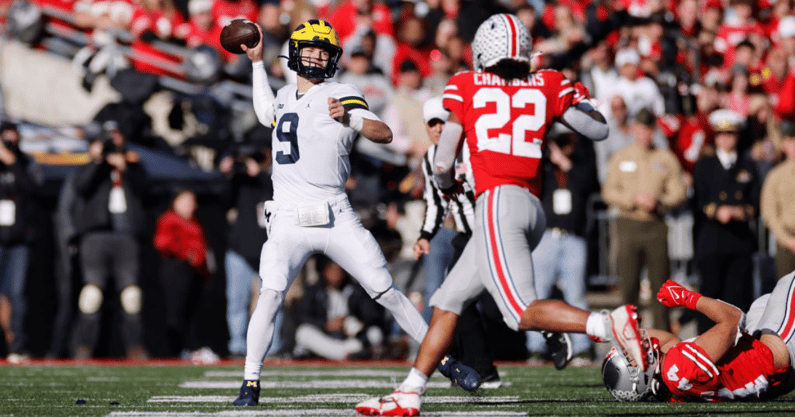 Michigan coaches prepared for Ohio State like it was the Super Bowl, head coach Jim Harbaugh said Monday, with incredible precision and detail. It showed on both sides of the ball, though it took a while for the offense to get going.
When it did … the floodgates opened, showing a side we hadn't seen since the Wolverines handled Hawai'i. 
RELATED: Film review … Final thoughts on Michigan defense against OSU – standouts and underrated plays
RELATED: Michigan – OSU film review, a closer look at the offense: Second half dominance
Receivers were open deep, and consistently. Once that happened, the running game started to work even without junior Blake Corum. Sophomores Donovan Edwards and J.J. McCarthy started finding holes, forcing OSU to back off — and when the Buckeyes got aggressive again late, Edwards made them pay with two long touchdown runs. 
"We were surprised a little bit the way they initially played in the game," offensive coordinator and quarterbacks coach Matt Weiss said. "Certainly, going into the game, they played a little more access, a little more 'off' coverage on tape. I don't know if it was something they planned to do all along for us, or if it was something they saw.  Illinois played a lot of man, but not much press as Ohio State did. Whatever the reason, they played us a little different, and we just adjusted. 
"It was really basic stuff that made the plays … it was two things. One was just the way they played us. No one had really tried to do that. There were a few teams that came up and played with no depth in the defense. They sold out to stop the run … it's not something we had seen. So, the way they played created a little opportunity."
In other words, they didn't have to go deep into the playbook on a lot of the successful plays. Sure, the halfback pass from Kalel Mullings to Luke Schoonmaker on third and one was a wrinkle (and a half). Other than that, it was just the players making the most of opportunities. 
That included McCarthy's legs in the third quarter. The Wolverines started to carve the Buckeyes up, and the Michigan sophomore showed his toughness in running through and around the OSU defenders.
"That's definitely a weapon we can go to at any time. Just the threat of being able to go to it any time forces people to play you a little bit different, which opens up more in the pass game, more in the run game. But yeah — it's something we use when we feel like we need it. The second half there, we felt like we needed it. 
"It was great…  productive. Also, when J.J. was running through three guys on the sideline, I think it fires up the team to see their quarterback do that. In many ways, it was helpful for us."
They also relied on McCarthy to make the checks at the line, a huge plus. Rather than look to the coaches on the sideline, he knew what to do when the defense showed certain looks. 
The first touchdown to Johnson, in fact, was a check. McCarthy saw the zero blitz coming and called the senior's number. He did the rest, slipping a tackle and changing the game. 
"He is so smart, so well prepared that we were able to put most of the most checks on him," he said. "A lot of college teams kind of look to the sideline, but he correctly identified zero blitz, did the check we discussed. He made a great play to drift away from the free rusher and throw a hitch. C.J. did the rest. But it was really just basic stuff. 
"We had a lot of great stuff ready to go. We were ready for everything — overtime, two-point shootout, whatever came up. As it turned out, the big plays made it, so we didn't really need to use a lot of the stuff we had saved up that was ready. A lot of big plays hit, and that was training camp stuff from the first day."
It was more than enough to put up 45 points and capture a second straight win over the Buckeyes.