Meet five-star recruit Nyckoles Harbor, the world's most impressive high school senior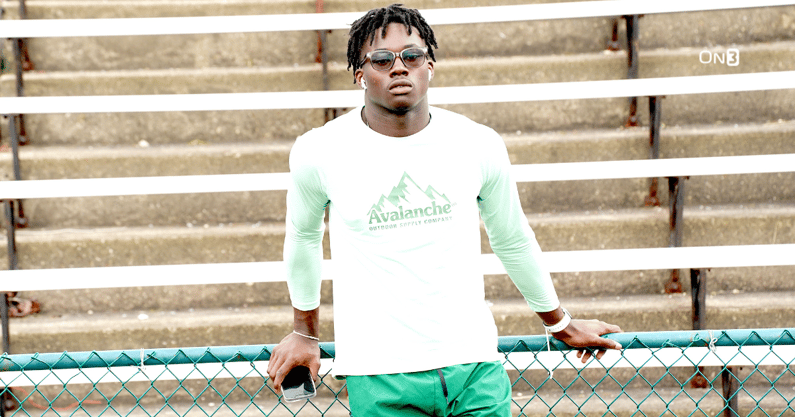 It's hard to miss Nyckoes Harbor.
Despite a uniform dress code at Washington (D.C.) Archbishop Carroll, Harbor stands out from the student body population with his fashionable sweater and high-end dress shoes.
And oh yeah, the dude also happens to be 6-foot-5, 225 pounds with 10.22 100-meter speed.
No football prospect in the recruiting service era has ever been as captivating as Harbor. To be that size and that fast is a downright anomaly. Even national college football insider Bruce Feldman is already keeping a close eye on the prized five-star recruit for his renowned freaks list.  
"The feeling I have coaching Nyck is probably equivalent to the feeling LeBron James' coach had when he coached him in high school," said Carroll head football coach Robert Harris. "You don't see this type of kid too often. He's my Halley's Comet. When it comes around, everybody notices it. He's 6-foot-5, 225 pounds and runs a 10.2 100m. I've never seen that. He's also a 4.0 student and National Honor Society member."
When asked if he could go anywhere in the world for a vacation, Harbor quickly answered the North Pole. Harbor, who just celebrated his 17th birthday last month, doesn't think like most high school seniors. He's straight out of Dreamville and ready to go toe-to-toe with the giants.
And that means doing what very few have ever done.
Sure, names like Jim Thorpe and Bob Hayes come to mind when you think of Olympians that also played in the NFL. But Harbor is much taller and bigger in stature. The only real comparison for Harbor on the track side might be the best to ever do it — 6-foot-5, 205-pound Usain Bolt, an eight-time Olympic gold medalist.
Many pundits and fans want to see Harbor stick with one sport. Yes, he's thought about it. The monetary benefits of being a first round NFL draft pick certainly outweigh being an Olympic sprinter.
"Nyck talked to me about his comparison as a track star and as a football player, and the comparison he used was Usain Bolt and Chase Young," Harris said. "He understands the difference between being a first round draft pick as opposed to the fastest man in the world. He did a financial comparison, and what it took Chase Young to make in a year or two, it probably took Usain Bolt 10-12 years."
But Harbor isn't in athletics for just the dollars. He truly loves both football and track and intends on participating in both at the collegiate level and beyond.
"I'm hard on myself," Harbor said. "I want to be the greatest at both sports. Track and field is a great individual sport. You have to count on yourself because it's only you and your training. I have amazing coaches that help me. My body is bigger that everyone else, so it's more maintenance. You don't really see people my size. Because of football, I have to stay around 220. I'm trying to get to the 2024 Olympics. I have big dreams, and I have to fulfill them."
A versatile star on the gridiron
On the football front, Harbor is rated as the No. 1 athlete and No. 10 overall prospect nationally, per the On3 Consensus, with offers from almost every major program you can think of. Right now, his focus is on Maryland, Michigan, LSU, South Carolina and a few others.
Harbor oozes talent and can play anywhere on the field. At Carroll, Harbor comes off the edge on defense and spends time at tight end and wide receiver on offense. His athletic traits alone make him a candidate to be an early impact player on either side of the ball.
"The sky is the limit for Nyck," Harris said. "If I were a college coach, and I had to play him right now, I would line him up as a defensive end and edge rusher depending on scheme. But I wouldn't rule out wide receiver or tight end. Shucks, even a safety. I've talked to several programs, and the coaches are fighting over what room he's going to be in." 
Carroll assistant head coach and defensive coordinator Derian Quick shared similar sentiments.
"We didn't know where to put him when he came in," Quick said. "We had a whole debate. Is he safety? Is he a linebacker? Is he a defensive end? I argued that he was a defensive end. Let's just let him go after the quarterback. I think he's at the bare minimum of where he can be. He's killing kids right now with two moves. His speed rush is always going to be his No. 1 move, but when he starts adding counter moves to that, it's not going to be fair.                                    
"I went to high school with Shawne Merriman, and he ended up getting to 260 and was still running a 4.5. I know Nyck is twice as fast as Shawne. His ceiling is freaky high." 
If you ask Harbor, though, offense may be his best bet long-term. If truly wants to be a Super Bowl champion AND an Olympian, then he has to preserve his body. Football is a violent sport by nature but lining up at tight end or wide receiver may be more beneficial than being a pass rusher.
"The safer position for my body would be tight end," Harbor said. "I can be like Kyle Pitts and used all over the field. In our offense, I play out wide, in the slot and at tight end. It's not just one spot. I'm comfortable moving around. I can do that on the defensive side. When I get 1-on-1's at the edge spot, I make the most of it."
Track is simply never going to take a backseat to football, though. He's always had a love for sprinting — even before he turned into one of the most ballyhooed football recruits in America. As Harbor put it, a car has two front seats.
Whichever school lands Harbor is getting a Lamborghini in both sports.
Harbor the sprinter
On a dark, overcast spring day in Washington D.C., Harbor begins to stretch in preparation for track practice. Here, he's not Harbor the football player or even Harbor the two-sport star. He's simply Harbor the sprinter.
Carroll head track and field coach Rafiu Bakare says they try to stay away from words like 'freak' and 'anomaly.'
"He's just a really good sprinter," Bakare quips.
Really good might be a bit modest. Harbor ran a blazing 10.31 100m NSAF Nationals presented by Nike in July and followed that up with an even better time of 10.22 at the AAU Junior Olympics in August. Harbor, however, finished second on both occasions.
And that means there is still plenty of work to do.
"There would have been a time where we thought 10.2 would have him in the finals of the NCAA championships," said assistant Carroll track coach Victor Blackett. "Now, you're seeing that time in high school nationals. The times are going to get faster. But we're taking it one step at a time and remaining optimistic. But I do think he can get there. What Nyck and a few others are running are outliers for high school. Usually, if you break 10.5, you've shattered the ceiling."
So just how fast does Harbor need to be to make his Olympic wish come true?
"You have to be under 10," Bakare said. "Is it possible? Yes, with work and progression and real focus."
For now, the goal is to keep getting better. The Olympics can wait.
"I think people fail to realize that he's still a child going through this," Blackett said. "He's having a fun time. That's helped him to progress at an accelerated level. 10.2 is fast no matter how you look at it — age, grade, classification. We're taking it one step at a time."
A model student-athlete
When Harbor isn't chasing medals or scoring touchdowns, you can probably find him in the hospital. No, he's not there for rehab. His mother, Saundra, is a pharmacist, and Harbor tries his best to tag along with her to work when he can.
After all, Harbor has big aspirations away from the sports world.
"The goal is to be a neurosurgeon," Harbor said. "I just want to help people. I'm always in the hospital with my mom. She's always teaching me every time I'm there. She has a lot of friends that are doctors and surgeons, and they tell me all the cool stuff about it and the bad stuff about it. You have to be prepared for it. Doing something you love and helping people out is one of the best things you can do."
Harbor's father, Azuka, is no slouch, either. He currently works as a contamination control engineer at the NASA Goddard Space Flight Center. Simply put, Harbor has a strong academic foundation. Being as successful in the classroom as he is on the field and on the track is something Harbor takes pride in.
"He cringes when he gets a B," Harris said. "We do a great job of promoting academics here. The team GPA is a 3.2. These kids are competitive on the field, and that translates to the classroom as well. Nyck is so competitive. He wants to compete at anything he does."
When Harbor does interviews with recruiting reporters and says he's taking a closer look at education, he means it. As Harbor really gets into the meat of his official visit schedule, he plans to do as much research about a school's academic prestige as possible.
No program will land Harbor without a strong pitch away from the field.
"I want to go to a school that's going to prepare me for life after football. That's one thing (Michigan head coach) Jim Harbaugh has really stamped on with his players. There is something after football. I know football is a career for 10 years. I want to have a long career, but if something were to happen or if my body decides it's time, I want to have something to fall back on."
If all else fails, Harbor could turn to fashion.  
"I picked him up to go to a game, and he was wearing this all-white outfit with shoes out of the box," Quick said. "I'm like, where the hell are we going? I thought we were going to a football game. His style is immaculate. I have to step up because he's going to have all eyes on him. He's already the tall, dark-skinned guy. I have to make sure my wife doesn't look that way (laughs)."
Seriously, though, Harbor is the total package and may be the most well-rounded 17-year-old in the world.
"Let me put it like this, the girl crying in the background is my first child, and I would be honored if a guy like Nyck wanted to date her," Quick said. "Nyck consistently has a 4.0. It's rare for the top-level athlete to also be in contention for Valedictorian. He's an athletic nerd. Some people expect him to be an a-hole with all the accolades he has, but he's not. He's worked for everything and earned it."
You would think staying motivated would be difficult for a kid like Harbor. But that's definitely not the case.
He won't be satisfied until he takes down the goliath challenges ahead of him.
"I have a chip on my shoulder, and it makes me work harder," Harbor said. "A lot of people had struggles and have a story they can tell. I can't tell that story. My story is different. But I still have that same drive and passion. I just want to be the greatest what I do."