Mel Pearson out as Michigan hockey coach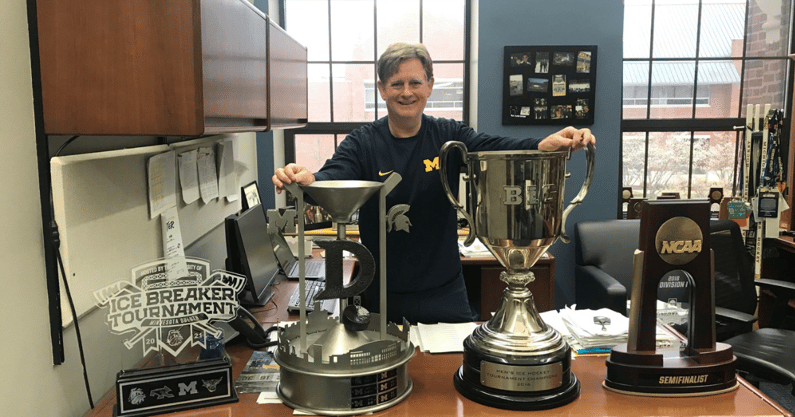 Michigan hockey coach Mel Pearson will not be extended and has been let go effective immediately, sources have informed TheWolverine.com. Pearson's contract expired in April, and allegations that surfaced in the months prior proved to be his undoing.
Specifically, Pearson was accused of telling players to provide false information on COVID contact-tracing forms, of misleading recruits about how much scholarship money they would receive, and of allegedly calling one player a "Jew."
Scrutiny dates back to fall 2021 after a complaint was filed against him and former director of hockey operations Rick Bancroft. Multiple allegations were made about them, including discrimination and retaliation. The University hired firm WilmerHale to investigate, a task that took months.
Pearson had remained in his position as an at-will employee pending a lengthy review of the program.
"It has been determined that Mel Pearson will not return as our ice hockey coach," A.D. Warde Manuel said in a statement. "This decision has been weighed heavily and for some time. We welcomed an independent third-party review into the climate and culture of our program before furthering our assessment in lockstep with campus leadership.
"Our student-athletes having a positive and meaningful experience is of paramount importance, and a clear expectation within our department is that all employees and staff are valued and supported. I deeply appreciate and value the many individuals who came forward throughout this review."
"Today's announcement reflects the seriousness with what we've heard and the values we hold dear at Michigan."
Pearson recently completed his fifth season at the program's helm, compiling a 99-64-16 (.598) record, including a 31-10-1 campaign this past season.
RELATED: Michigan Regent Jordan Acker … it's time to embrace NIL
In the report, it was alleged that Pearson displayed an "inability or unwillingness" to hold Bancroft accountable for conduct that included the "mistreatment of female staff members." The report also detailed why Michigan goalie Strauss Mann to leave the team last summer after his junior season.
Among the other allegations in the 70-page report — Pearson instructed students to lie on their COVID-19 tracing forms" ahead of the 2021 NCAA Tournament opener in North Dakota. The Wolverines were forced to pull out after several positive tests.
Pearson and Bancroft also allegedly discriminated against female staffers and created "a toxic work environment for female support staff." He allegedly also retaliated against Mann for "raising concerns" about the hockey team's culture, and Bancroft allegedly knew of sexual misconduct committed by late UM athletic Dr. Robert Anderson.
WilmerHale determined the "issues facing the hockey program require attention" and "despite prior efforts to assess and respond to allegations regarding the culture of the program, additional work remains to be done," according to the report.
"Specifically, the university should review whether (Pearson's) conduct violates other university policies, including but not limited to Standard Practice Guide 601.90, Protection from Retaliation," investigators concluded. "In addition, the athletic department should take steps to address a number of issues discussed in this report, including (1) the mistreatment of female staff members by Mr. Bancroft; (2) (Pearson's) inability or unwillingness to hold Mr. Bancroft accountable for his conduct; (3) pervasive fears among both student athletes and staff members of retaliation by (Pearson) for raising issues; and (4) inconsistencies in (Pearson's) recollection, perception, and/or characterization of key incidents and issues as compared with other participants."
There's been no decision made on a replacement for Pearson, though there has been chatter that former Wolverine Brian Wiseman could be in the mix. Wiseman left his job as a New York Islanders assistant after only a month, fueling speculation he'd be next. However, sources at Michigan have said that was "coincidental."
Watch for more on this development in the hours and days to come.