Michigan basketball: Could package deal get 2023 recruiting rolling?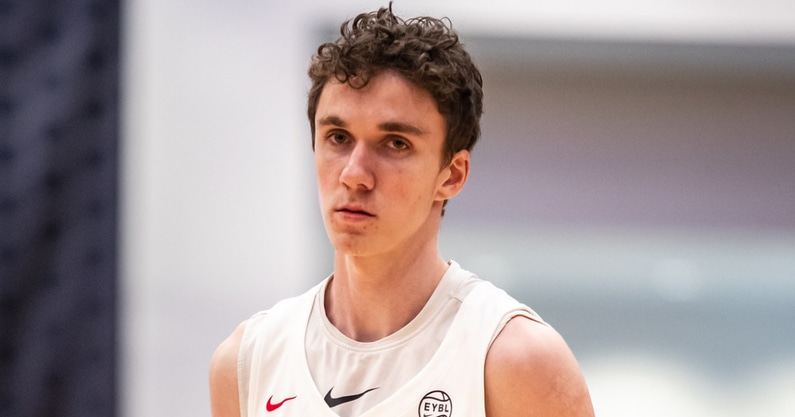 Michigan coach Juwan Howard and his staff might still have to hit the transfer portal for 2022 recruits, depending on what happens with freshmen Moussa Diabate and Caleb Houstan. Both entered the NBA Draft and have until June 1 to pull out, and each seems to be considering leaving U-M after a year. 
RELATED: Dug McDaniel is a Zavier Simpson type — & more
Until they know what they need, then, it's hard to really go after the 2023 recruits. 
They've made some offers, though, and there are some certainties. They'll need a big man and a wing for sure in the 2023 class, and it just so happens that two are visiting together June 14. 
Papa Kante and Gavin Griffiths also happen to be close friends, and the two have discussed playign together at the next level. 
Though package deals don't often play out, no matter how close kids get on the AAU circuit, this one is intriguing. 
"Every time I talk to Gavin — and every time I talk to Papa, too — they both bring each other up in their interviews," On3.com's Jamie Shaw said. "They have talked about [playing together]. They haven't talked about it with Michigan, but in the past Providence and some of those other schools over there.
"But every time I talk to Gavin, Michigan is the first school he brings up. Papa, I haven't talked to since February or so, so I'm not entirely sure."
When he did, Kante told him Howard texted him words of encouragement after every game he played. Michigan was recruiting him harder than anyone, the big man said, noting, "he loves my playing style and how hard I play. He wants me to look at Moussa Diabate and Hunter Dickinson and how they play them.
"They are looking at me as a four and a five," he added. "He lets his freshman play and make mistakes. They also play through their bigs and throw the ball inside. He was also a four and a five, played in the NBA."
Kante has since told reporters everywhere he's enamored with Michigan, to the point that some believe U-M might be a leader. 
The South Kent (Conn.) School 6-10, 225-pounder is ON3.com's No. 85 player in his class, and like Diabate, he hasn't been playing the game long. Also like the Michigan frosh, he never takes a play off and is eager to improve. 
That's where the comparisons stop, Shaw said. Diabate has more upside, he insisted. At the same time, while Kante's ceiling isn't as high, he's got a very high floor. 
"He's just a guy that will come in and you know what you'll get from him. There's very little 'bust factor' with Papa Kante, if that makes sense," Shaw continued. "He works his butt off, plays hard … great motor. He's a good rebounder, a keen defender and very vocal at that end of the floor. He'll be out there diving for 50-50 balls …
"He plays great [at center], and he's starting to shoot it a little bit. He probably needs to tighten up a bit. But he's got legit size, legit strength, and length. He's just a good big." 
Griffiths (6-7, 185), meanwhile, is a "stud," Shaw said. The West Hartford (Conn.) Kingswood-Oxford School wing is No. 15 in the On3 rankings — dozens of spots higher than most services — and it's because "he's really got some stuff to him," Shaw said.
"He's like Nik Stauskas," he said of the former Michigan Big Ten player of the year. "He's got that type of mentality to him that Stauskas had — that 'it' factor. He might not be the most athletic, but it's 'just give me the ball and I'll make something happen.'
"He shoots the heck out of it. He's two or three inches taller than Nik, though. Nik had a little more wiggle to him and more off the bounce. But Gavin has some stuff off the bounce, too. He just plays a little bit upright."
He's a solid passer and "the type of guy that will grab a rebound and pull up on a fast break from 30 feet, bury it and talk [crap] to you."
Just like … Nik Stauskas. 
Ever since Michigan offered, Shaw said, U-M has been the first school Griffiths has brought up in talking to him. He and Kante both visited Rutgers recently, but Michigan could be tough to beat. 
"He'll say, 'I want to get out and see them, want to do this, want to see this,'" he said. "You never know what might happen if a Duke or Kentucky came along — that's always, for almost every kid — but I think Michigan has real staying power with Griffith. Since he got the offer, he's been infatuated with them."
The June 14 could be telling for both. For now, though, the Wolverines seem to be in an enviable position for a pair of players at positions of major need.