Michigan basketball implements new rotations that may change the season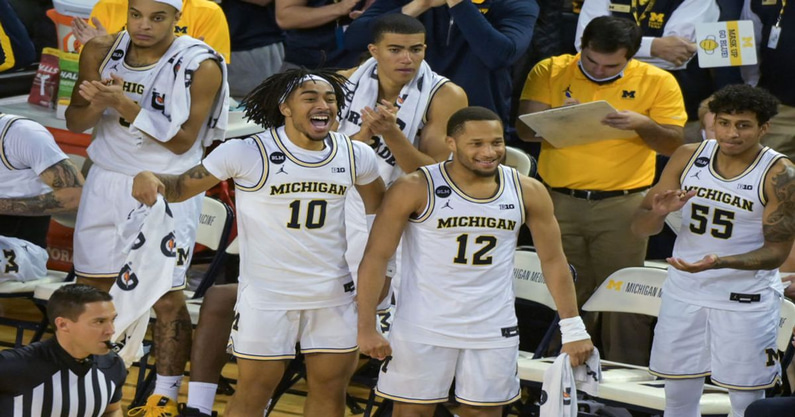 Michigan basketball has struggled early. A big part of the rough start is their spacing on the offensive end, and their lack of consistency to have back to back good games. Michigan is now 7-4 with only two more nonconference games on the horizon. PFW should be a blow out win tomorrow night, and then Michigan travels for a Quad 1 matchup at Central Florida on December 30th. The Wolverines can take a lot from their game against Southern Utah moving forward.
Southern Utah came into Crisler Center with hopes of stealing a game against a Michigan team who has had a roller coaster season. The Thunderbirds had two overtime losses, one was a Double OT loss to Cal, and were on a six game winning streak. They expected to come into this game, keep it close, and come away at the end. That did not happen, the game was over in the first 15 minutes.
Substitute Rotations
Michigan played ten games, and they were 6-4. Advanced analytics start to make sense and start showing a true pattern of what works and what does not work. Moussa Diabate is fun to watch. He has high energy, talent, length, a team player. For some reason the team struggled when he was in the game without Hunter Dickinson. Moussa was not the problem, but analytics revealed the lineup he was playing with was the issue.
Starting Lineup: Hunter, Moussa, Caleb Houstan, Eli Brooks, and DeVante' Jones started the game. In my opinion, these five guys are who Juwan and the coaching staff trust the most right now. The strength of this lineup is that it gives size and length to help with defense and rebounding to start out games. Veteran backcourt should be able to limit turnovers and execute offense at a high level.
1st Rotation: Hunter, Brandon Johns, Caleb, Eli, and Frankie Collins. This lineup is similar to the starting lineup but offers some subtle changes. Frankie has a tighter handle than DeVante', a bit quicker, and more athletic. Brandon is a better shooter than Moussa, and at 6'8″ he offers some versatility. This is a lineup we have seen plenty of in the past.
2nd Rotation: Moussa, Brandon, Kobe Bufkin, Frankie, and DeVante'. This lineup was different than what we have seen in the past. Eli gets a breather, Hunter is still out of the game. Usually, Juwan would have three forwards in the game but now he has three guards playing alongside Moussa and Johns. This gives Moussa more spacing, it gives the lineup another legit ballhandler, more creating off the dribble. Putting more creation around Moussa when Hunter is out is something we talked about before the game on the podcast.
3rd Rotation: Hunter, Terrance Williams, Kobe, Eli, and DeVante'. This was also a different 1st half lineup we have not seen yet. I like Terrance at the power forward spot in his natural position. In the future I could see Caleb here at the power forward, offering the best shooting lineup for Hunter to give him the most spacing.
Michigan utilizing the three guards is what can make them a better, more consistent team. They have to do what's best for your best player, and that is Hunter Dickinson. If changes are being made, they have to be made with Hunter as Priority #1.
They have to take these same rotations, tweak a few things, and implement them again in the very next game against Purdue-Fort Wayne (PFW) to form some consistency and comradery. PFW comes in losing four of their last six games, rated 300th on the NET rating. To compare, Prairie View is 304th on the NET ratings.
#1 Jarred Godfrey is PFW's main scorer. He averages almost 18 points, over four rebounds, and four assists per game. Godfrey is 6'5″ 190 pounds, and will most likely be guarded by Eli Brooks. I hope they let Kobe Bufkin or Zeb Jackson guard him at times. This gives Eli a break as the team's top guard scorer. He will be able to use his energy offensively, and not burn it out on the defensive side of the ball.
#50 Jalon Pipkins is their 2nd threat in the backcourt. Pipkins is 6'4″ 200 pounds and puts up over 14 points per game. He's basically a less efficient version of Godfrey.
#3 Ra Kpedi is 6'9″ 245 pounds, and Hunter Dickinson's matchup. Hunter should have a great day. Kpedi has less than one block per game, and is overmatched with size, so I expect a lot of double teams. The surrounding guards and forwards have to continue moving around the post entry, be ready to shoot and finish.