Michigan basketball notebook: Hunter Dickinson, Olivier Nkamhoua, backcourt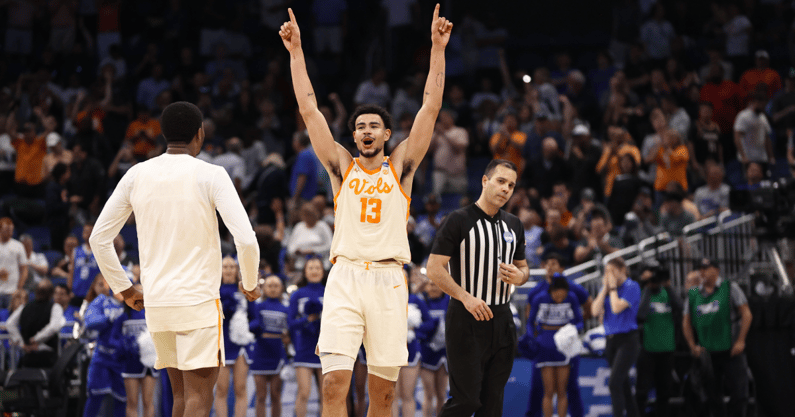 Michigan Wolverines basketball has had a busy offseason so far, with more movement to come. The Wolverines are hoping to retain a key player, pursuing a transfer prospect and just got some positive news late this week. Here are a few notes on Michigan hoops this weekend.
RELATED
• Michigan guard Jaelin Llewellyn receives medical hardship waiver, will return for 2023-24 season
• Michigan basketball rising sophomore class will be key to resurgence
Hunter Dickinson visits Villanova
There's reportedly a chance center Hunter Dickinson — who entered the transfer portal March 31 — returns to Michigan. But he's certainly exploring his options, as expected. Dickinson took unofficial visits to Maryland and Georgetown (both are near his hometown of Alexandria, Virginia) and official trips to Kentucky and Kansas. Now, he's on one to Villanova, where his former high school teammate, guard Justin Moore, is a star.
"There was seven-figure buzz regarding Dickinson's NIL ask down in Atlanta for EYBL Session I," wrote Jack Pilgrim of Kentucky Sports Radio, and that's where the recruitment gets complicated. Kansas and Kentucky, based on historical precedent, appear to be best-positioned to compete in that area. Dickinson isn't considered an NBA prospect, so he may try to get his pay day in college. As college players have seen over the last two offseasons, their value sometimes goes up substantially once on the open market that is the portal.
The Villanova visit may be the three-time all-Big Ten Michigan center's last — he said three official visits is the likely number, with a possible fourth — meaning a decision could come soon.
The Wolverines only have one true center remaining on the roster in sophomore Tarris Reed Jr., but depth is lacking. They've targeted some '5's in the portal, but most have already committed elsewhere, and all has been quiet on that front in the last week-plus.
What's the delay with Olivier Nkamhoua?
Michigan was trending toward landing former Tennessee forward Olivier Nkamhoua weeks ago, but there hasn't been much movement at all lately. As expected, Nkahmoua is going through the NBA Draft process. His name popped up on the list of early entrants, and he's reportedly earned an invite to the G League Elite Camp. The camp will be held May 13-14, and some attendees will be invited to the NBA Combine, held May 15-21.
Michigan, Tennessee and other college suitors may have to wait up to a month to know Nkamhoua's decision. He and other underclassmen have until May 31 to withdraw from the NBA Draft process — and Nkamhoua has a strong desire to be a pro. The Helsinki, Finland, native is also expected to have options overseas, too.
"Olivier has told us from day one that his No. 1 objective is to be a pro basketball player," Barnes told reporters April 20. "He has told us that is his pursuit. He told us that his dad wanted him to put his name in the portal, which is a decision they have to make. From day one, our conversation with him has been that his ultimate goal was to try and put himself in a position to be a professional athlete next year."
Nkamhoua averaged 10.8 points, 5 rebounds and 2 assists per game last season, shooting 51.3 percent overall and 33.9 percent from three-point range. He put up 27 points in just 22 minutes in an NCAA Tournament win over Duke, the team's final victory of the season.
Jaelin Llewellyn steadies the backcourt
Michigan has two scholarship spots remaining after forward Gregg Glenn III entered the transfer portal, and the program received positive news with graduate guard Jaelin Llewellyn being granted his medical hardship waiver. He'll return to play his final collegiate season this winter.
Michigan could still use another big man or wing/forward, but the backcourt looks solid, assuming transfer commits Caleb Love (North Carolina) and Nimari Burnett (Alabama) do indeed join the team (Michigan hasn't announced any transfer additions yet).
Llewellyn and sophomore-to-be Dug McDaniel can battle for the starting point guard job, but both are projected to play significant roles. Either way, Llewellyn can back up at the '2' spot — he played off the ball at times during his career at Princeton — and Burnett can play the '3.' That's much more reliable depth than Michigan had last season, with McDaniel and Kobe Bufkin playing almost all of the minutes at the '1' and '2' after Llewellyn's injury.
Llewellyn's return also gives Michigan another veteran piece. Suddenly, the Wolverines have five seniors and a redshirt junior slated to be on the roster. That's a big difference from last year's squad that ranked 310th nationally in Division-I experience.
There are still more moves for the Michigan staff to make this offseason, but the Wolverines are on the right track.