Michigan basketball players saw Virginia loss as a step forward, but was it?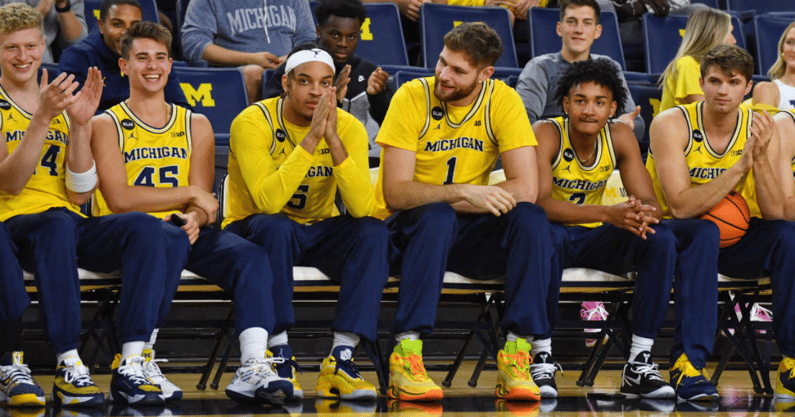 Michigan basketball fell 70-68 to No. 3 Virginia on Tuesday night in Ann Arbor and had a chance to at least tie on the final possession of the game. It did not come to fruition, and instead of a signature victory in the early stages of the season, it was an opportunity squandered.
Michigan hit its shots at a clip in the 1st half that we have rarely seen this year. The Wolverines went into the locker room up 45-34 on 7-for-13 shooting from beyond the arc. The defensive effort was commendable against a program that makes a living putting you in a box.
But, as championship contenders do, Virginia stayed poised and outscored the Wolverines 36-23 in the 2nd half. Michigan and head coach Juwan Howard could not come up with enough plays late to seal a victory.
"We just didn't execute down the stretch," junior forward Terrance Williams II said. "We turned the ball over a couple of times down the stretch. We just didn't execute what we drew up and the ball just didn't fall our way today in the last couple of minutes."
Junior center Hunter Dickinson took it a step further, saying that the evening proved Michigan belongs in the conversation with some of the best teams in college hoops.
"Today was a really big step for us," Dickinson said. "I think it means that we obviously are one of the top teams in the country."
Michigan, when it is locked in on both ends of the floor and hits its shots, has the potential to compete with anyone it plays. But through 7 games, effort and execution has been inconsistent. Slow starts to games – they went down 9-2 early to the Cavaliers – have been a trademark of this group. Poor finishes and boneheaded mistakes down the stretch have also happened too often, even in victories. This is going to happen with a young team that has a plethora of new faces.
Head coach Juwan Howard is still figuring out what he has to work with. Lineups are still a work in progress, but there probably should not be any that do not feature at least one of Dickinson and freshman wing Jett Howard. In a 2nd half sequence when both were off the floor on Tuesday night, the bench unit was -8.
That's your ballgame.
Freshmen are making freshmen mistakes. They will grow through that and improve. The hope is also the same from graduate point guard Jaelin Llewellyn, who is still going through it. He has struggled to transition the most of any of Howard's transfer point guards. He did not attempt a shot in the 2nd half of Tuesday night's game and had a turnover with under a minute to go that helped kill Michigan's chances at a comeback.
Howard is a steady hand, but the decision to call a timeout between two Virginia foul shots with seconds remaining instead of after to get a final play drawn up is questionable. Jett Howard had a look at the buzzer where he may have been fouled, but it was still a clunky sequence. Both can be better executed.
There have been times this season when Michigan has looked disengaged, but to their credit, Tuesday was a step forward. They competed for 40 minutes but did not do enough to close the deal. It felt like an NCAA Tournament game and they played with a sense of urgency. The effort needs to be the same against the Central Michigans and Jackson States of the world as it is against a national power in Virginia.
Big Ten season will provide plenty of opportunities for resume wins and measuring stick games. The Wolverines are going to need every one of them. They now head to London to play Kentucky on Sunday and have a date with North Carolina looming in December. There is a lot of growth for Michigan to still do.
Following Tuesday night's loss, KenPom has Michigan as the No. 49 team in the country (26th on offense, 90th on defense) and a projected 16-15 on the season. Obviously, things are going to be better than that to go dancing.
Michigan is a program that has made 5-straight Sweet 16s in a number of different circumstances and configurations. The team will ultimately be judged by what they do in March, but they have to keep finding ways to get themselves there. The Big Ten is unforgiving and cares not about your scuffles. But every night is a chance for a resume win.
Tuesday night showed they can compete. What comes next will determine whether or not they contend.