Michigan basketball releases 2022-23 roster: Weight gains, new numbers, more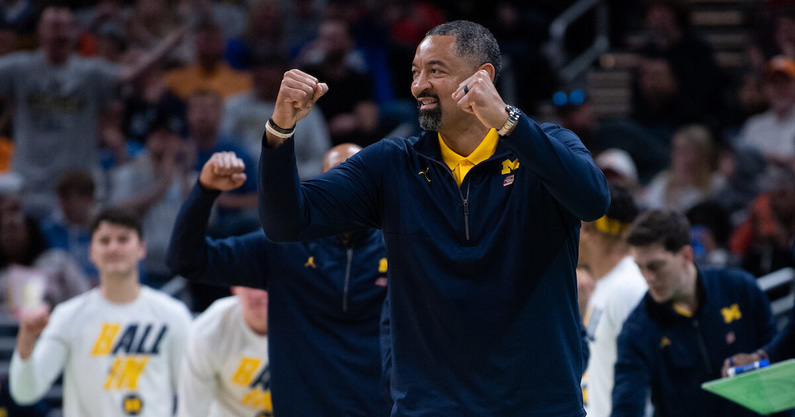 Michigan men's basketball has released its official roster ahead of the 2022-23 season with a multitude of developments. The list sent out on Wednesday afternoon provided a look at returning players making gains in the weight room, numbers for fresh faces and much more.
Chief among the developments is sophomore guard Kobe Bufkin, who has bulked up to 195 pounds – a 20-pound gain from his freshman season. He still stands at 6-4 and is expected to push for a starting job during training camp.
Other sophomores that made the leap under strength coach Jon Sanderson include guard/forward Isaiah Barnes, who is up to 6-7, 200 pounds (up from 185 as a freshman) and forward Will Tschetter, who now stands at 6-8, 240 pounds (230 during freshman year).
Junior forward Terrance Williams lost five pounds, standing now at 6-7, 225. Jace Howard, another junior forward, grew an inch and put on five pounds, measuring in at 6-8, 225. Junior center Hunter Dickinson is listed at 7-1, 260, the same measurables from before last season.
Michigan basketball's new faces
Michigan has seven new scholarship players on the roster this year. Five of them are freshmen: guard Dug McDaniel (No. 0 – 5-11, 160), guard/forward Jett Howard (No. 13 – 6-8, 215), forward Gregg Glenn (No. 23 – 6-7, 230), forward Youssef Khayat (No. 24 – 6-9, 195) and forward Tarris Reed (No. 32 – 6-10, 260). Two transfers enter in the program in senior guards Jaelin Llewellyn (No. 3 – 6-2, 190) and Joey Baker (No. 15 – 6-7, 205).
The walk-ons
Sophomore guard Ian Burns (No. 4 – 6-6, 205)
Senior forward Jackson Selvala (No. 34 – 6-7, 215)
Sophomore guard Cooper Smith (No. 45 – 6-1, 175)
Kobe Bufkin spoke on gains earlier this summer
Bufkin's development is among the most notable for Michigan. He spoke on the Defend The Block podcast earlier this summer about the steps forward he has taken.
"I felt myself coming around, kind of catching up with everybody toward the end of my freshman season," the Michigan sophomore said. "Obviously, I didn't get to display it because we were already in flow, and our guys were doing very well. But I felt like I was coming around at the end in practice. This year, I'm looking to make that jump."
His work with Sanderson paid off with his weight gain being among one of the biggest factors in getting him more playing time at Michigan this year.
"The game was a bit different, but it's definitely starting to slow down for me this year. I notice it every time I play basketball now," he said. "I put on nearly 20, 25 pounds since I've been here, at the beginning of my freshman year, a lot of that being from this spring. And I notice the difference every time I step on the court."