Michigan basketball resumes play at AP Top 25 Illinois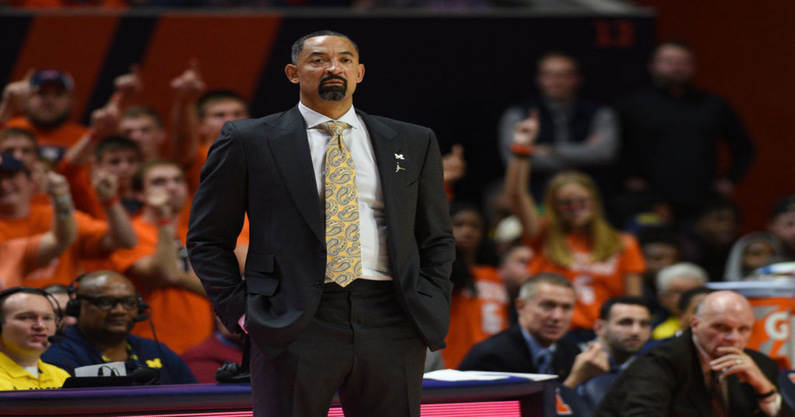 Michigan basketball is 7-6 overall, and 1-2 in Big Ten play. They head to Champaign, Illinois coming off of a brief COVID pause, losing three of their last four. In their last game, the Wolverines went into Piscataway short handed. Michigan ended up playing their starters 171 of the 200 available minutes in an eight point loss.
#25 Illinois is 12-3 overall, and 5-0 in the Big Ten. In my opinion, Illinois is one of the most underrated and overlooked teams at the national level. A lot of that has to do with being written off early, starting the season 2-2, including a 20 point loss on a neutral court to Cincinnati. This is not the same team, they're not playing the same players. Some guys have had roles expand, and some have had roles minimized. Head Coach Brad Underwood has once again found a winning formula. The team Michigan faces tomorrow has won nine of their last ten games, the one loss to national championship contending Arizona by four points.
Michigan vs Illinois Overview
Illinois is a very good basketball team. They have the rare combination of star power and balance, making them hard to scout. Illinois is top tier nationally in several categories.
Points Per Game: Illinois is ranked 23rd in the country in points per game, averaging 80.5 points per contest.
Field Goal %: Illinois is ranked 55th nationally in FG%, shooting 47% from the field as a team. That has a lot to do with their 3pt shooting prowess and elite interior scoring.
3pt FG%: There are six players who are shooting at least 36% from 3pt range, five of the six average at least 1.5 3pt attempts per game. Illinois ranks 17th in the country in 3pt FG% at 38.7%.
Rebounding: Illinois is one of the elite rebounding teams in the country, averaging 43.5 rebounds, ranking 2nd in the nation.
Assists: The ball moves and pops within the Illinois offense. Whether hitting shooters, or driving and dishing to their big men. They rank 39th in the nation with 16.2 assists per game.
Defense: There are two way players who are efficient on both ends of the court. Illinois is what you would call a two way team. On the defensive end they rank 18th nationally in opponent eFG% and 49th in the country in defensive efficiency. Illinois is 7th in the country in opponent 2pt%.
Illinois Backcourt Personnel
#11 Alfonso Plummer: Plummer is a 6'1″ 180 pound transfer guard from Utah. Andre Curbelo has been out for an extended period of time, and Plummer has stepped up and been a lightning rod for the Illinois offense. He is averaging 16 points per game while shooting around 41% from 3pt range. Lopsided ratio with his shot attempts, shooting 75-80% of his shots from distance. He has the ultra green light, Michigan has to close out and force him to use his dribble. If he hits a shot, he's coming right back for a heat check. Plummer will shoot from deep, so Michigan defenders should not be surprised with his shot attempts after made baskets. Plummer has struggled a bit in the last three games, putting up ten points while shooting 11/34 from the field (32.3%) and 3/16 from 3pt (18.7%). Michigan can not allow this game to be the one where Plummer gets hot and gets back on track.
#1 Trent Frazier: Frazier is a 6'2″ 180 pound Super Senior guard out of Florida. He has stepped up to handle point guard duties while being aggressive, averaging a little over three assists per game. Frazier has 13 points per game this season while giving the team balance. He gives the team whatever they need that day. If they need scoring, he'll be more aggressive. If they need more gritty play, he'll provide more steals and big rebounds. In the last two games he has averaged 22.5 points per game, shooting 46.8% from the floor and over 41% from 3pt range. He is also a menace defensively, finding ways to force the opposing offense into uncomfortable situations. Whoever runs the offense, Trent Frazier is going to be in his pocket causing chaos for 40 minutes.
Frontcourt Personnel
#21 Kofi Cockburn: Kofi is a 7'0″ 290 pound Center out of Jamaica. Kofi is an early candidate for not only Big Ten player of the year, but also National player of the year. He comes into this game averaging 22 points, 12.5 rebounds with nine straight double doubles. He ranks Top 5 in the country in double doubles, 5th in the nation in scoring, 20th in the nation in FG%, and 3rd in the nation in rebounding. Kofi is one of the more improved players in the conference, especially with his ability to pass out of the post and hit shooters for assists. In the 2020-21 season, Kofi had five assists in 31 games. In the 12 games played, he already has 13 assists. He likes to bury himself deep in the post, dunk, and finish everything through contact. Teams cannot trap him or shrink the floor due to so much spacing and shooters on the floor.
#3 Jacob Grandison: Grandison is a 6'6″ 210 pound wing former transfer out of Holy Cross. He has quietly been one of the more important pieces on this Illinois team. He's usually the 3rd or 4th option on the offense but finds a way to impact the game behind the scenes. Grandison has shot a blistering 48% from the 3pt line while taking four to five attempts per game. He has hit teams for 21 points, 18 points, and 16 points this season. Illinois does not have any players to hide defenders on, all of them can get buckets on any given day. Michigan must keep him off the glass, and hard contest every shot from distance. Grandison does a great job taking advantage of mental lapses.