Michigan basketball travels to Rutgers in a pivotal matchup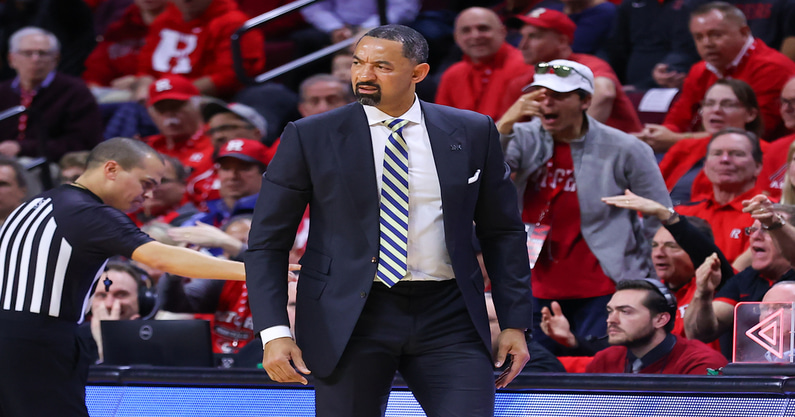 Michigan basketball is 7-5 and is already in "must win" territory. Forget winning the Big Ten at this point, if this team wants to get to the NCAA tournament, they can not afford bad losses. In the UCF breakdown, I defined a Quad 1 game and why they are important. This game against Rutgers is labeled as a Quad 3.
What constitutes a Quad 3? Remember, the Quad system cares about three things.
Where was the game played?
Who are you playing?
What is their NET ranking?
In this case, Michigan is playing AWAY on the road at RUTGERS who is NET RANKED #142. A Quad 3 loss tonight when you play Top 10 Michigan State and Purdue, then on the road at a hot Illinois team who weirdly hates Michigan more than any other team, would be detrimental. The season is already in a fragile place but these next ten days will make or break the season.
COVID Issues
There has been a daily theme of 30-50% of college basketball games getting postponed due to the pandemic. Unfortunately it seems the pandemic has hit the Michigan basketball team for a second straight year. As of now, it seems like they will have enough players to play the game, but it's still up in the air. The unfortunate domino effect could impact future games whether multiple guys are playing rusty or postponing altogether. I am making zero excuses, but for a team who has not been consistent and is still trying to find itself, this situation does not help at all.
Rutgers Overview
I am a huge fan of Steve Pikiell and how he has turned around the Rutgers basketball program. This season, they had pretty high expectations. Rutgers returned six of their nine top scorers from a team who was close to a Sweet 16 berth just several months ago. They have suffered early bad losses to Lafayette (2-8) and at UMass (7-5). Despite being 7-5, they are a solid 7-1 at home with wins against Clemson (9-4) and then #1 Purdue (12-2).
As a team, Rutgers is best at distributing and taking care of the basketball. Rutgers averages 16 assists per game which ranks 49th nationally. They also average a pretty low 11.3 turnovers per game which is 51st nationally. It only makes sense they are Top 30 at #29 nationally in assist/turnover ratio per game. Rutgers is also a pretty good rebounding team, ranking #99 nationally. Michigan will need to do a good job keeping them off the boards, and force Rutgers to play isolation basketball.
Rutgers Main Personnel
#24 Ron Harper Jr: Harper is a 6'6″ 245 pound forward who averages almost 15 points per game on 42% shooting, and 39% from 3pt range. He brings in 7.4 rebounds per game which leads the team. In tight situations, Rutgers likes to have the ball in his hands whether from an ISO on the perimeter or in the mid-post. The last two instances he struggled and hit a season low in points, he has hit a season high the very next game against a high major opponent. He had 11 points against UMass, then dropped 23 points on Clemson. He had five points against Illinois, then dropped 30 points on Purdue. Why does this matter? Harper had a season low two points last game on 1 for 7 shooting. Michigan has to make sure he has high volume, low efficiency.
#11 Cliff Omoruyi: Omoruyi is a 6'11" 240 pound center who averages over 12 points per game and leads the team with a 61.5 FG%. Cliff is an athletic and long athlete who rebounds at a high level and rim protects. In the last few games he has been more aggressive, taking more shots, and hi scoring has gone up because of it. He's scoring over 15 per game over the last three games on almost 68% shooting. He is their only real post presence to worry about.
#0 Geo Baker: Baker is a 6'4″ 185 pound combo guard. Honestly, he is so scary to go up against because you never know which Geo will show up. Some games, he acts like he doesn't care. Other games, he looks like one of the best guards in the Big Ten. He's averaging almost 11 points per game this year while shooting 39% from 3pt range. It is imperative to keep him out of a rhythm. When Geo goes into takeover mode, he is a different animal.
The Supporting Cast
#22 Caleb McConnell: McConnell is a 6'7″ 200 pound wing. He is usually the 3rd option on the perimeter, averaging 7.2 points per game on 35.4% shooting. McConnell shows up for the bigger games, with 16 points vs Clemson, 12 points vs Purdue, and 13 points at Seton hall. In those games he shot 56.5% from the field. He has good size, likes to crash the boards, slash, and finish at the rim. Michigan needs to know where he is at all times.
#4 Paul Mulcahy: Mulcahy is a 6'6″ 210 pound guard. He likes to initiate the offense and run the team. Mulcahy is 89th in the country in assists, averaging over four per game. He's a player who like the basketball in his hand to make decisions. He's a good shooter even though he has struggled a bit this year from long range. Rutgers is not afraid of putting him in positions to take advantage of smaller guards.