Michigan basketball: Youssef Khayat is making strides — can he help the team in 2023?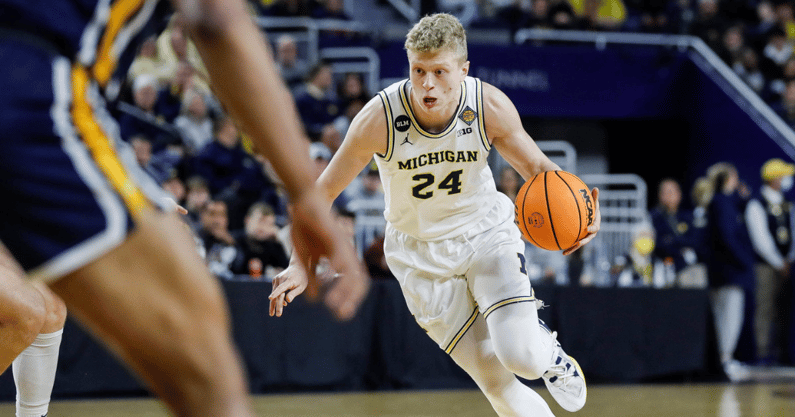 College basketball players progress differently, at Michigan and everywhere else. Some guys considered projects (Jordan Morgan at U-M, for example) blossom into key components as they progress — others don't. 
RELATED: Thursday thoughts – Michigan basketball's sign of the times
Many, though, get written off far too early. Fans tend to do that, forgetting that improvement is real, and it often happens in year two. 
That's the hope for sophomore Youssef Khayat. The wing from Lebanon is determined to make an impact this year, and he's got the potential. 
"I think this is the jump, freshman to sophomore year," Michigan assistant Phil Martelli said when asked about Khayat's progress. "He certainly has the desire … but I think everybody has to help. Call it the way it is. You have two guys that are going to go in the draft and you have an All-Big Ten player that is not here. So, everybody has to help. 
"For YoYo, it's about speed of the game; speed of the teaching. The strength of the competition you're playing against. I'm a big believer in him — I'm a believer in all of them, but I'm a big believer in YoYo. I'm anxious to see what he does with the opportunity, because the opportunity will present itself. It's time for him to seize it."
Michigan needs shooters at the position, and Khayat has that potential at 6-9 to be the shooting '4' they've been lacking. He still has work there, too, Martelli added.
"I would say he's a little below consistent and a little closer to streaky as a shooter, but not wildly streaky," the Michigan associate head caoch said. "His shot is not broken, you know? 
"I think it's more how many reps. There's a difference between being a practice shooter where you're shooting for three straight minutes, and being a game shooter where maybe you're going to get six or seven cracks at it. Can he be a plus shooter with fewer reps than you get in practice? … if that makes sense."
That's where it starts. But he's coming along, and his defense is getting better, too.
Khayat had some foul trouble in the games in which he appeared last year, but he's made huge strides, Martelli insisted. 
"Absolutely, especially with the terminology," the Michigan assistant said. "The number one thing here is you have to have the athletic ability and strength to play in this league, of course. But in this program, you have to have a basketball IQ. And that doesn't stop at the offensive end of the floor. You have to have it defensively, too."
He has it, Martelli said, and now it's time to show it. His Michigan teammates and coaches are depending on it.