Michigan center Hunter Dickinson hits the transfer portal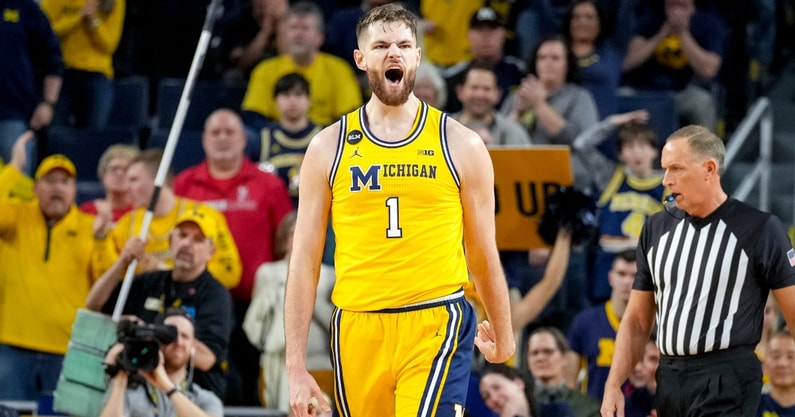 In a surprising move, Michigan junior center Hunter Dickinson has decided to enter the transfer portal. Dickinson is the third Wolverine to leave the program, joining Jett Howard (NBA) and Isaiah Barnes (transfer) in the offseason.
RELATED: Michigan basketball transfer target board – March 31
Dickinson admitted last week he was facing a tough decision.
"Everything's settled in," Dickinson said on his podcast, Roundball, of how he's processing the Michigan season being over. "It's great being able to take a couple days, relax. The NCAA season is a grind. Everybody's so sore by the end of the season. Something's hurting on your body. Being able to take a couple days and just not do anything and just sleep in until like 1 or 2 p.m. on some days is great. 
"Just trying to enjoy the relaxation as much as I can, because in a little bit you've got to put your head back in the dirt and start grinding again."
College basketball players with remaining eligibility have three options: to return to school, declare for the NBA Draft, or enter the transfer portal. Michigan hoped to get him back, and as of yesterday some close to the program indicated rumors (that had been tweeted) of him potentially leaving were "not true."
While he could still choose to return to Michigan, it appears he may well have played his last game in maize and blue. There have been rumblings he's been talking to players at other schools and former high school teammates about playing at another school next season, but nothing confirmed.
"It's obviously a hard decision on whether I want to stay or if I want to go to the professional ranks or something like that," Dickinson said last week. "I'm just trying to talk it over with my family. I don't have too many people that I go to for advice and stuff like that."
Dickinson started in 89 of 94 games at Michigan in his three years, averaging 17.2 points, 8.4 rebounds, and 1.6 assists along with 149 career blocks. He was the eighth Michigan player to put up 1,500-plus points and 750-plus rebounds in his career. 
Some speculated that the last regular season home game, a win over Wisconsin, could be his last at Crisler Center in Ann Arbor. His buzzer-beating shot forced overtime and an eventual victory, the latest incredible moment in his career. He helped lead Michigan to the Elite 8 as a freshman and the Sweet 16 last year.
Our Clayton Sayfie asked Dickinson if he thought it might have been his final home game at Michigan. It caught him by surprise.
"Wasn't expecting that one," he said. "I don't think so. I don't have the crystal ball. But if it was, it was a good way to end it. That's for sure. But right now, I'm focused on trying to beat Illinois."
They didn't, of course, losing to both Illinois and Indiana. They fell in the first round of the Big Ten Tournament, as well losing to Rutgers, and failed to make the NCAA Tournament.
Watch for more on this development in the hours to come …