Michigan coach Jim Harbaugh: 'It's just money ... I'd do this job for free'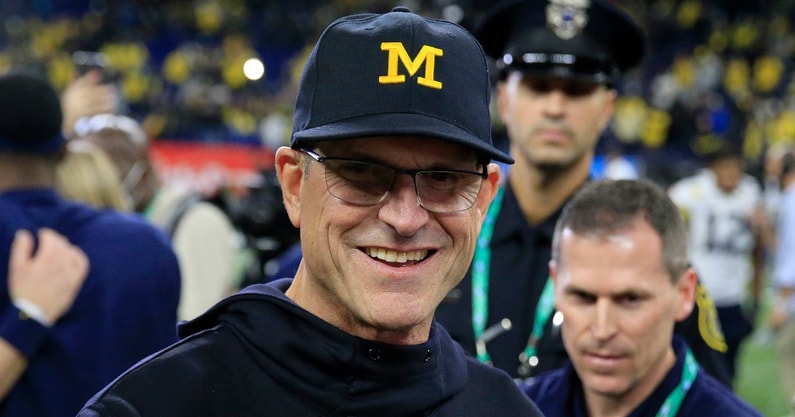 FORT LAUDERDALE, Fla. — Michigan coach Jim Harbaugh took a significant pay cut at the beginning of the year — or, at least, what might have been. He's made up a lot of lost salary in incentives for winning the Big Ten, etc., after which he donated his bonus money to others in the athletic department. 
RELATED
• Michigan safety Daxton Hill 'questionable' for Orange Bowl
• Wolverine TV podcast: What to watch for, predictions — Michigan vs. Georgia
He stands to make even more if Michigan beats Georgia in the Orange Bowl and either Alabama or Cincinnati Jan. 10 in the National Championship game.
But money is the furthest thing from his mind, and he made that clear Thursday in a joint press conference with Georgia coach Kirby Smart. He was happy to learn, though, that his donations to employees affected by COVID were appreciated. 
"I was really happy to be blessed to be in a position to be able to do that," Harbaugh said. "It really resonated with me, something our coach — my coach and a lot of our coach … Bo Schembechler has a saying here at Michigan. It says, 'those who stay will be champions,' and it's always resonated with me from day one.
"Those that stayed through the pandemic when there were voluntary pay cuts, mandatory pay cuts, that kind of thing. Just to be able to reward those that stayed in that way was something that Sarah, my wife, and I wanted to do."
Some might have sulked at the initial pay cut, which without bonuses was about half his initial contract. The Michigan coach, though, put his head down and said, "I'm betting on myself."
The result has been nothing short of amazing. The culture was restored, and a young Michigan coaching staff motivated by a head coach who got back to his roots winning the way he knows how. He built an outstanding and physical running game and a great defense, and the players did the work.
"I reacted [like it was] no big deal, attacking each day with an enthusiasm unknown to mankind, as always," Harbaugh said of the pay cut. "It didn't really mean anything to me. It's just money. Big deal."
It wasn't going to change his approach at Michigan one way or the other, he insisted. It's "every day matters," and the games are the ones that count. 
"We're going into our 14th game that counts," he said. "Our guys have done a tremendous job each day, making each day matter, and then when they get to the games, they've made those days count. They've been quite successful doing it.
"We'll continue the same formula, which is to strive to have great days. And we're going to do that today, have great meetings. We'll have a really good walk-through, strive to have that, and then get the energy … 
" … It doesn't matter what day it is. It's enjoyable to be working on football. It's great to be out there. It could be a practice day and you're just out there on the field, under the sky, on the turf. It's a wonderful thing."
There was nowhere else he'd rather be than here with his Michigan team, he insisted. 
"You asked me before about [money]. I'd do it for free," he said. "I would do this job for free. I just love it.
"Whether it's the first day, first game … for me, it's been great. I enjoy the heck out of it. There's no downside. I'm just really honored to be the coach here [at Michigan]."