Michigan coach Jim Harbaugh: 'First rule of champions — do not let up'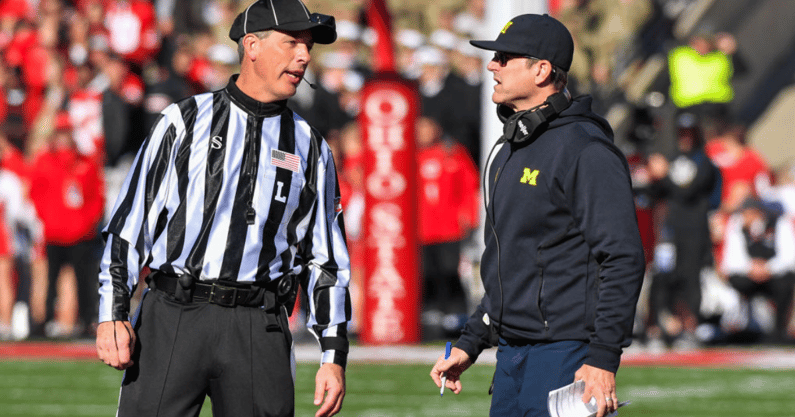 Michigan Wolverines football built toward the Ohio State game all season long. The Maize and Blue crescendoed in the final regular season game, blowing the Buckeyes out, 45-23, in Columbus.
"So much appreciation for everybody in the program — players, coaches, staff, fans, family, everybody," Michigan head coach Jim Harbaugh said on the Inside Michigan Football radio show Monday night. "Just a wonderful feeling. The great thrill of victory, the wonderful, wonderful feeling of winning."
Michigan celebrated long into the night after a "happy flight" home, even wearing Big Ten East championship hats and shirts.
"Great. Just as great as you could imagine," Harbaugh said of the celebration." It was really happy. It was a super happy flight home. And it was spiritual. Guys were giving thanks and gratitude to God. It was, on so many levels, just really, really awesome."
But the season isn't over just yet … in fact, it feels like the beginning in a certain respect.
The Wolverines will take on Purdue for the Big Ten championship Saturday in Indianapolis. They're likely a lock for the College Football Playoff at 12-0 and either No. 1 or No. 2 in the CFP rankings that will be released Tuesday night. There's still a lot more out there to achieve.
"First rule of champions — it's not even a principle … the first rule of champions: Do not let up. So there's a risk, but you just gotta follow that rule No. 1," Harbaugh said when asked how his team will refocus."
RELATED
• Doug Karsch: From the broadcast booth
• Big, bad Michigan proves it's the class of the Big Ten by pummeling Ohio State in Columbus
That starts with beating the Boilermakers — or, the 'Spoilermakers,' as they've been dubbed throughout the years. Purdue has mounted some upsets in the past and, while it back-doored into the title game, can do so again this season.
Purdue is set for their first ever Big Ten title game appearance, something Michigan experienced a season ago. The Wolverines used their momentum from a 42-27 win over Ohio State in 2021 to blow out Iowa, 42-3, in Indianapolis.
"Well, first of all, it's the team that's playing for the championship," the Michigan coach said of Purdue. "That invigorates a team. There's hope to this game and all the work you've done, all the sweat, blood, enthusiasm, everything that's gone into it. You're 60 minutes away from being crowned champion. There's no better accolade than being a champion.
"We know how that felt last year. Nobody expected us to be there, and then we were there. That gave us a tremendous boost in that situation, and I know they're feeling the same. That makes them dangerous. That makes us dangerous, because it's invigorating us, as well. We have two dangerous teams that are gonna be going at it."
Purdue ranks 21st nationally in passing offense, averaging 280.7 yards on 41.2 attempts per game. Quarterback Aidan O'Connell leads the Big Ten with 284 passing yards per contest, and has thrown for 22 touchdowns with 11 interceptions.
"Tremendous passing game, and they've incorporated the run," Harbaugh said of the Boilermakers, who average just 3.8 yards per carry. "They've gotten good at that. That's been a huge part of their success.
"Thirdly, I've been watching them. We haven't played them since 2017, but we watch them either on TV or we watch them in the film exchange. They beat a lot a really good teams, a lot of really good football teams in the [head coach] Jeff Brohm era. We've seen them all, and we know we gotta get really prepared. It'll be a big task for us. And get ready."