Best NFL team fits for Michigan football's top 2022 draft prospects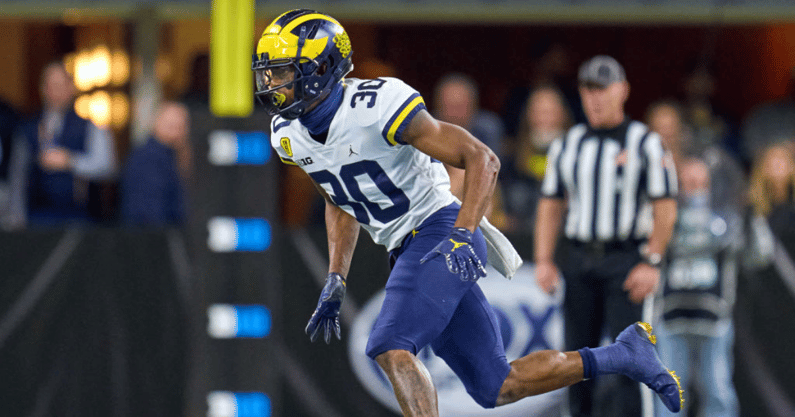 Michigan will send a healthy helping of prospects to the 2022 NFL Draft, headlined by potential No. 1 overall pick Aidan Hutchinson. The Wolverines seem a safe bet to have at least two first-round picks and others that wind up in contributing roles elsewhere.
With the draft just over two weeks away, here is a look at where Michigan's top prospects might have the best chance of succeeding. Considerations include team situation, role projection and franchise direction.
Aidan Hutchinson, EDGE: Jacksonville Jaguars
The best fit for Hutchinson might just be the one at the top of the board. Michigan fans would love for him to stay home and play for the Detroit Lions, but the buzz for weeks has been linking him to the Jags. It could wind up being an ideal situation for him, though.
Hutchinson would be parked on the other side of a pass rush that already includes Josh Allen, the No. 7 overall pick in 2019. Allen has 20.5 career sacks through three seasons. Jacksonville has a franchise quarterback in Trevor Lawrence, solidified its offensive line in free agency and hired a Super Bowl-winning head coach in Doug Pederson. On top of all of that, Florida does not collect income tax.
Daxton Hill, safety: Dallas Cowboys
Daxton Hill is a versatile chess piece on the back end of a defense that might be valued more in league circles than online draft boards. There seems to be some legitimate buzz that the Michigan product could land somewhere inside the top 20 selections. However, we think the Dallas Cowboys at No. 24 overall might provide a chance for him to star at the next level.
The Cowboys do not have much to boast about on the backend of the defense aside from cornerback Trevon Diggs. Hill projects to playing free safety at the next level with the ability to also slide down and play inside the slot. He also fits the run well and plays with smarts and toughness to go with his athleticism. He would have a quick path to potential stardom down in Dallas.
David Ojabo, EDGE: New York Jets
The Jets are well-positioned to be one of the teams that benefit the most from a deep talent pool during this cycle. They have a pair of picks inside the top ten (No. 4, No. 10 overall). This gives them the flexibility to package and move up or take advantage of a team looking to add a premium player and accrue more assets. New York already has a quarterback in place, so the hard part is taken care of.
Where does Michigan's David Ojabo factor into this? His pro day injury is likely going to knock him out of the first round, putting a potential top 15 talent in play for teams when the second round begins. He might not be ready to go this season, but the Jets might still be a year or so away from making noise in the AFC East themselves. Head coach Robert Saleh groomed a ton of EDGE talent when he was in San Francisco. This paring gives Ojabo a chance to learn from one of the best while also being a long-term play for a team that can afford to take a shot given the assets available.
Hassan Haskins, running back: Baltimore Ravens
Once the conversation turns to mid-round prospects, the possibilities are endless. No talent evaluator will mistake Hassan Haskins as a generational running back prospect or a bell cow at the next level. What he is, however, is someone who can do the dirty work in short-yardage situations and be a solid No. 2 back in the NFL. He should also provide tremendous value on special teams.
So why the Baltimore Ravens? There is always a Michigan pipeline between Jim and John Harbaugh. To say a Wolverine could wind up there is always a safe bet. Haskins is a culture guy and a great teammate willing to do what it takes to help win. Players like that are why the Ravens routinely stay in the playoff hunt. Baltimore's backfield includes J.K. Dobbins and Gus Edwards, but neither played in 2021 with injuries. Haskins could be great depth here with a chance to catch on and do more.
Andrew Stueber, offensive line: Detroit Lions
Andrew Stueber is a versatile offensive line prospect that mostly played right tackle at Michigan. He also has experience as a guard, which could be where he winds up at the next level. The ability to swing between both positions is coveted by front offices. He also worked at center during this year's Senior Bowl, so this could work in Stueber's favor somewhere in the middle rounds.
The Detroit Lions' coaching staff saw Stueber down in Mobile and it is not difficult to see a fit here. He is a cerebral player that loves football and has a mean streak to him on the field. Detroit's offensive line is fairly set for the future, but there is not a ton of depth there. Stueber would have a chance to work where needed and potentially set himself up as the team's right guard of the future.
When Michigan players will be drafted
The 2022 NFL Draft will be held from April 28-30 in Las Vegas, Nevada. The first round is set for Thursday night with second and third rounds taking place Friday. The event concludes on Saturday with rounds four through seven. The event will be broadcast via ESPN and NFL Network.