Where Michigan prospects landed in latest 2022 NFL mock draft simulation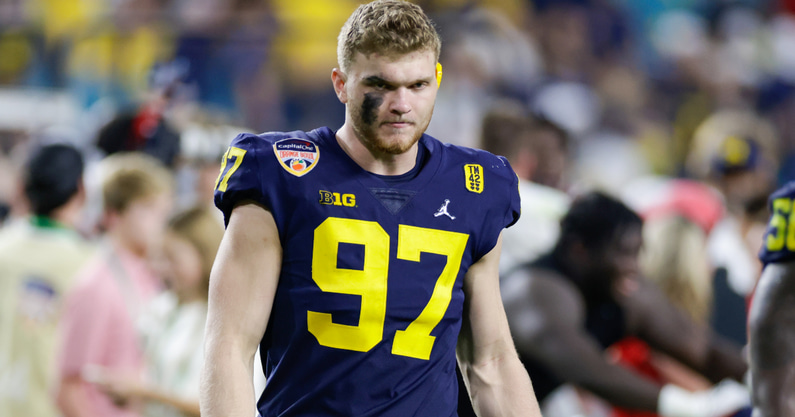 Pro days and the pre-draft process are mostly in the rearview mirror for the Michigan Wolverines. The 2022 NFL Draft should see another healthy helping of Maize and Blue prospects
Seven Wolverines appeared in the latest mock draft simulation we ran on The Draft Network. Here is a rundown of Michigan's NFL talent in our latest dip into the 2022 draft.
Aidan Hutchinson, EDGE (First round, No. 1 overall –Jacksonville Jaguars)
No surprises here, as the draft process has been trending this way since the combine ended. The Michigan pass rusher should be the first player off the board to Jacksonville. If he is not, the theory is that the Detroit Lions would sprint to the podium to make him the second overall pick. He may not wind up being a perennial All-Pro, but Hutchinson is the draft's best prospect and one of its highest-floor players.
David Ojabo, EDGE (First round, No. 28 overall – Green Bay Packers)
Ojabo tore his Achilles during his pro day workout, which will have an adverse effect on his draft stock. The simulation has him hanging on by a thread to first-round status and landing with fellow Michigan alum Rashan Gary. It remains to be seen if he will be healthy enough to play this year, but most in league circles believe he is in for a redshirt year anyways.
Daxton Hill, safety (First round, No. 30 overall –Kansas City Chiefs)
Hill continues to bounce between the first and second round depending on the analyst's mock. It seems he has a better shot than not going in the first round. This would be a tremendous fit on a Super Bowl contender and the Chiefs could certainly use a safety with Tyrann Mathieu off to free agency.
Andrew Stueber, offensive tackle (Fourth round, No. 119 overall – Baltimore Ravens)
It would not be an NFL Draft without Jim Harbaugh sending a player to his older brother, John. Stueber is a steady prospect with starter upside but may have to kick inside to guard at the next level. He got reps there and at center during Senior Bowl week this winter.
Hassan Haskins, running back (Fifth round, No. 161 overall –New Orleans Saints)
Haskins has not done much in the pre-draft process in terms of working out on the field. He did bench press 28 reps at the NFL Combine, which led all running backs. Haskins has been taking things slow working his way back from an ankle injury suffered in the Orange Bowl loss to Georgia.
Joshua Ross, linebacker (Sixth round, No. 207 overall –Houston Texans)
Ross could have returned for a sixth season at Michigan, but decided it was time to move on and take his talents to the next level. He projects as a depth linebacker and special teamer in the NFL, though his lack of size could be a hindrance in carving out a long-term role.
Christopher Hinton, interior defensive line (Seventh round, No. 234 overall – Detroit Lions)
Hinton surprised everyone by declaring after his junior season. He was solid on the interior of Michigan's defense but still looks like a late-round/undrafted prospect. NFL scouts are concerned that he may have already maxed out physically and is not that scheme versatile.
Other Michigan prospects
Defensive backs Brad Hawkins and Vincent Gray went undrafted, but it would not be a surprise to see one or both of them come off the board late. Wide receiver Daylen Baldwin declared for the draft but his only extended looks from scouts came at Michigan's pro day. The total number of Michigan players drafted this year should be around seven if the above scenario plays out.