Michigan football: 4 potential unsung heroes of the CFP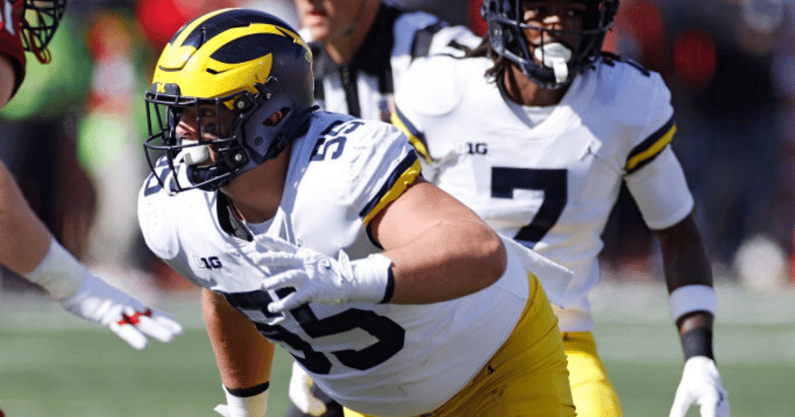 Michigan football is preparing for its College Football Playoff semifinal against TCU in the Fiesta Bowl on Dec. 31. In order to close things out and win a national title, the Wolverines are going to need contributions from all areas of the roster.
Every title team has its share of guys that come up big in moments they were not expected to. It can happen from someone in the starting lineup, or someone on the lower depths of the roster that comes in and takes advantage of an opportunity.
With that in mind, here are four candidates for Michigan players that could play a bigger-than-expected role when the College Football Playoff comes around.
Junior RB/LB Kalel Mullings
Michigan was toying with throwing junior Kalel Mullings at running back in spring football, but it put a pin in those plans ahead of the 2022 regular season. With injuries at the position, the battle for No. 2 running back behind Donovan Edwards was opened back up. Mullings received some more run at RB in the Ohio State game and had a jump pass completion on a trick play. Then, he had a pair of touchdown runs in the Big Ten Championship game.
Mullings now has a full month to work at running back and looks like he will be a guy to handle short-yardage situations. The Wolverines will lean on Edwards in the CFP, but Mullings will have his chances to impact their national title run in spot duty.
Freshman WR Tyler Morris
Tyler Morris has 3 catches for 25 yards this season and has not gotten a ton of playing time. But J.J. McCarthy's high school teammate feels like the type of guy that could make a clutch grab in a "gotta have it" situation. He is likely looking at a future where he works out of the slot for the Michigan offense. His opportunities will again likely be limited the rest of this year, but he is sure-handed and has built-in chemistry with Michigan's starting quarterback. Do not be surprised to see him get worked in with a few extra weeks of practice under his belt.
Freshman DT Mason Graham
We have probably passed where Mason Graham would be considered an unsung hero, but it still feels like his impact has gone under the radar on Michigan's "no-star defense." Graham is technically advanced for a true freshman and has started all season in the Wolverines' base package. What stood out most about his game early on was his bull rush, but we have started to see him add more moves to his repertoire, namely a swim move and some other finesse elements to his game.
The physicality will hit a little bit different in the CFP, but Graham has a chance to keep building on his strong freshman campaign. He has a chance to be one of Michigan's greats at defensive tackle, at least in the Jim Harbaugh era.
Junior EDGE Braiden McGregor
The Wolverines replaced the production lost from Aidan Hutchinson and David Ojabo with a group effort that goes 5-6 players deep at the EDGE position. Lost in that shuffle at times has been Braiden McGregor, but he finally looks the healthiest he has at Michigan and has started to generate more consistent pressure. The key now is finishing plays. There is no better time than with a national title on the line.
What's next for Michigan
Michigan football takes on TCU in the Fiesta Bowl semifinal of the College Football Playoff on Dec. 31. Kickoff from State Farm Stadium in Glendale, Arizona is set for 4 p.m. ET on ESPN.