Wolverine TV: 5 players that have outperformed expectations so far this year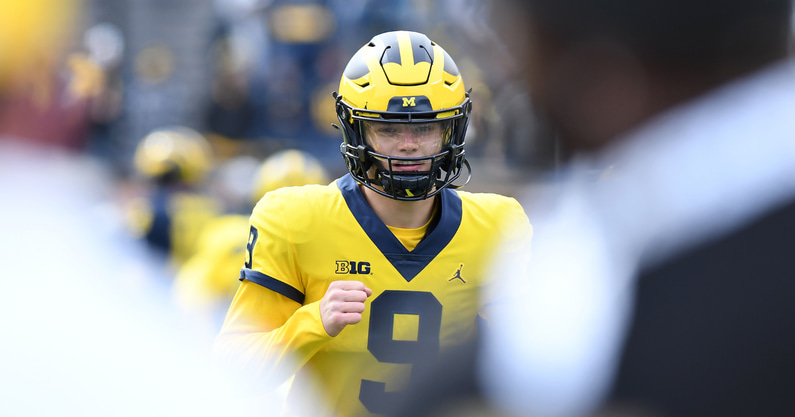 The Wolverine talks the five most impressive players so far in 2022! Who on Michigan football's roster impressed you so far this season? Our Anthony Broome discusses who has drawn the most eyeballs through three games.
Sophomore quarterback J.J. McCarthy stands above all others given his dual-threat ability and star power at the most important position in the sport.
"By far the biggest development of the early going is the idea that Michigan may finally have a star at quarterback," we said in the video. "McCarthy was going to earn his way on the field by smoothly operating the offense and doing the little things well. We have seen the arm talent and dual-threat ability for over a year. The challenges get tougher moving forward for the Michigan signal-caller, but the offense's ceiling is unlimited with him under center."
Here are the other four players that stood out the most in non-conference play.
Follow along with The Wolverine's media content
The Fort is a vibrant community and one of the most active message boards in college sports. You can be a part of that if you are not already for $1 for an entire year subscription. The best insider content and a massive Michigan community await.
All of our shows on The Wolverine are available on Apple Podcasts, Spotify and Google. Be sure to subscribe and leave us a five-star review!
Subscribe to our YouTube channel for live podcasts, content from the entirety of our staff, Michigan football and recruiting and more.
The Wolverine's video schedule
The Wolverine will be enhancing its video footprint with the season now underway. Here is the full schedule of programs each week on our YouTube channel. They will also appear in our podcast feed after broadcast.
All times listed are eastern.
Mondays at 6 p.m. – Chris Balas, Clayton Sayfie, Anthony Broome
Tuesdays at 5:30 p.m. – John Borton
Wednesdays at 7 p.m. – EJ Holland's recruiting show
Thursdays (pre-recorded) at 6 p.m. – Chris Balas, Clayton Sayfie, Anthony Broome
Football postgame show (Live ASAP after game) – Anthony Broome and Ryan Van Bergen
Sundays at 7 p.m. – Chris Balas and Doug Skene
What's next for Michigan?
Michigan football opens Big Ten play on Saturday afternoon against Maryland. Kickoff is scheduled for 12 p.m. ET on FOX.