Michigan football adds huge 2022 pickup in Virginia center Olu Oluwatimi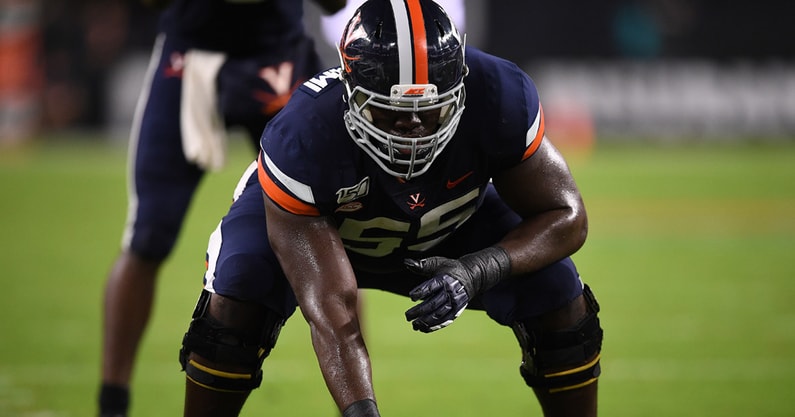 Michigan football's offensive line took a huge step forward in 2021 under offensive line coach Sherrone Moore. Next season's line might be just as good after adding 2022 transfer center Olu Oluwatimi.
RELATED
• Michigan football: Who's staying, who's going for 2022
• Previewing Michigan vs. Georgia with a Bulldog insider
Oluwatimi, one of three finalists for the 2021 Rimington Award given to the nation's top center, chose Michigan as his transfer destination over Clemson and others Monday. He announced his decision on twitter.
Virginia had hoped to keep him, but the standout enjoyed a great visit to U-M last month. New UVa head coach Tony Elliott did his best to retain him.
"I'm in a stressful time. I've got to make a decision coming up, see what's happening next year," Oluwatimi said. "I've got to respect Coach Elliott's time, and then I've got to respect other schools' time and their scholarship situations."
He ended the speculation Monday and is expected to replace Andrew Vastardis in the middle of the Michigan line.
Oluwatimi (6-3, 310) earned Football Writers Association of America, Action Sports Network, Phil Steele and Pro Football Network Second Team All-America honors this year. He was only the second Virginia center ever to earn All-America honors. Oluwatimi also captured All-ACC honors from Phil Steele and second team from Pro Football Focus and the Associated Press .
"There was a lot that went into that [transfer] decision, and I just kind of felt it was the right decision for me," he told the Augusta Free Press. "I spoke to Coach TJ [Cavaliers offensive line coach Garett Tujague] and I spoke to [former UVa coach Bronco] Mendenhall, and they were all for it."
Oluwatimi started all 12 games for Virginia in 2021 and has started 32 straight since the 2019 season. He graded out at 79.4 by Pro Football Focus, allowing three sacks and a total of 20 QB pressures on a team-high 910 offensive line snaps in 2021.
PFF.com also had him the No. 2 center in the nation in run blocking, and No. 1 in the ACC.
Watch for more on this Michigan football development in the days to come.