Live updates: Michigan football at Indiana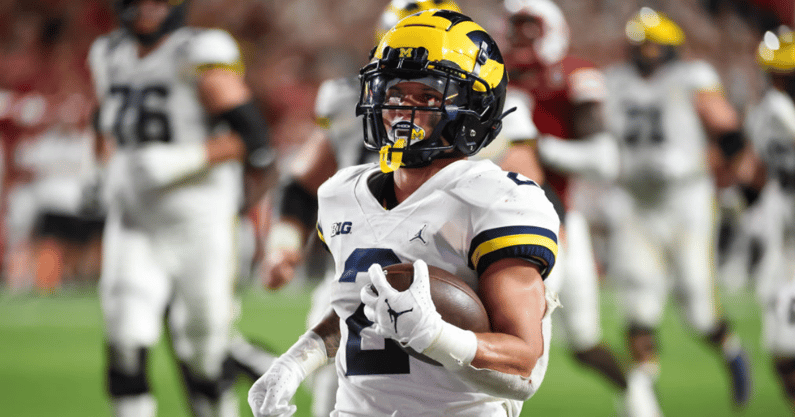 Michigan football plays its 2nd road game of the season on Saturday at 12 p.m. ET against the Indiana Hoosiers. Follow along for live updates throughout the contest.
RELATED:
• Gameday Central: Michigan at Indiana
• Michigan football and Big Ten odds: Gambling picks for Week 6
Live updates: Michigan at Indiana
FINAL: Michigan 31, Indiana 10
3:37 p.m. – The Wolverines put a stamp on the performance with a 10-play, 60-yard drive capped off by a 6-yard touchdown reception from Cornelius Johnson. Michigan lead 31-10 with 2:54 left in the contest.
3:14 p.m. – Michigan's offense extended the lead to 24-10 with 9:43 to play after a 7-play, 56-yard drive that was closed out by a 9-yard touchdown reception from graduate tight end Luke Schoonmaker.
3:07 p.m. – The U-M defense stood tall on its next possession, forcing a 3-and-out on a drive closed out by an Eyabi Okie sack on 3rd down. After the Indiana punt, Michigan took over on its own 44-yard like with 12:36 to play.
2:57 p.m. – Michigan's offense was unable to get much going on its following drive, going 26 yards in 5 plays before Robbins punted, returned to the U-M 19-yard line with 13:24 to left in the game.
END OF 3RD QUARTER: Michigan 17, Indiana 10
2:45 p.m. – Indiana's offense was unable to generate much, but punted down to Michigan's 5-yard line with 1:51 left in the 3rd.
2:40 p.m. – Michigan was driving after a 35-yard punt return from junior AJ Henning, but McCarthy threw his first interception of the season in the endzone on a pass intended for Ronnie Bell. Indiana took over at its 20-yard line with 3:30 to go in the 3rd quarter.
2:27 p.m. – The Wolverines responded with the drive of the day, going 98 yards in 11 plays to take a 17-10 lead with 7:39 to go in the 3rd quarter. The touchdown came on a 29-yard pass from sophomore J.J. McCarthy to senior wideout Cornelius Johnson.
2:16 p.m. – Indiana started the 2nd half on offense and went 7 plays for 26 yards before punting the ball down to the 2-yard line. Michigan takes over with 12:16 left in the 3rd quarter.
END OF 2ND QUARTER: Michigan 10, Indiana 10
1:38 p.m.– Senior right tackle Trente Jones was carted off the field after suffering a left foot injury. He was replaced by senior Karsen Barnhart.
1:33 p.m. – Indiana's offense decided to match Michigan, driving down the field into scoring territory to set up a 24-yard field goal. The kick was blocked, leaving the score at 10-10 with 3:17 to go in the half.
1:24 p.m. – After an interception from Rod Moore, Michigan's offense stalled out in the redzone to set up a 26-yard field goal from Jake Moody. The attempt was blocked, leaving the score at 10-10 with 6:54 left in the first half.
1:06 p.m. – A 12-play, 52-yard Hoosier drive – which was aided by an unsportsmanlike conduct penalty by EDGE Jaylen Harrell – ended in a 41-yard field goal from Charles Campbell. Indiana tied the game at 10-10 with 12:08 left in the 2nd quarter.
END OF 1ST QUARTER: Michigan 10, Indiana 7
12:45 p.m. – After play resumed, Michigan's offense took the field and ended with a 43-yard field goal from Moody to give Michigan a 10-7 lead with less than a minute to play in the 1st quarter.
12:37 p.m. – Play was halted for a few moments after a medical situation on the Michigan sideline. Running backs coach Mike Hart collapsed and the cart was brought out for him to be medically evaluated. He gave a thumbs up on his way off the field and was responsive, but Wolverine players were huddled around him and emotional.
12:33 p.m. – Indiana answered with a 10-play, 76-yard drive that ended in an 11-yard touchdown pass from quarterback Connor Bazelak to running back Josh Henderson. The extra point tied the game at 7-7 with 4:54 to go in the 1st quarter.
12:24 p.m. – Michigan's offense went 17 yards in 5 plays on the next drive before a Brad Robbins punt down to the IU 24-yard line with 7:40 left in the 1st quarter.
12:15 p.m. – U-M's defense got off the field in 6 plays on IU's first offensive drive of the game, headlined by a sack by graduate linebacker Michael Barrett on 3rd down. Hoosiers would punt with Wolverines taking over at the 20-yard line after a block in the back penalty.
12:09 p.m. – Michigan started out on its own 23-yard line and then put together a 5-play, 77-yard drive capped off by a touchdown run from junior Blake Corum from 1-yard out. On the previous play, he ripped off a 50-yard run to set up the score. Jake Moody's extra point was good, putting U-M up 7-0 at 12:32 of the 1st quarter.
12:03 p.m. – Indiana won the coin toss and elected to defer to the 2nd half. Michigan's offense starts the game on offense.
Kickoff is scheduled for 12:05 p.m. ET.
Game time, TV channel, how to watch: Michigan football vs. Indiana Hoosiers
Venue: Memorial Stadium (Bloomington, Ind.)
Kickoff: 12:05 p.m. ET
TV: FOX
Stream: Fox Sports or the Fox Sports app
On The Call: Gus Johnson (play-by-play), Joel Klatt (color), Jenny Taft (sideline)
Radio: LEARFIELD Michigan Sports Network, anchored by WWJ 950 AM in the Detroit area, with Doug Karsch (play-by-play), Jon Jansen (color) and Jason Avant (sideline) on the call. Karsch and Jansen are regular contributors to TheWolverine.com. Click here for the full list of radio affiliates to find the station in your area. The radio broadcast can also be streamed through MGoBlue.com.
Series Facts: This will be the 71st meeting between U-M and Indiana, and the Wolverines have a 60-10 advantage in the all-time series. Michigan has won 25 of the last 26 meetings against IU and 40 of the last 42. The only setbacks in that period came in 1987 and 2020, both on the road. U-M is 19-2 all time at Memorial Stadium. Michigan won last year's meeting 29-7.
Betting line: Michigan at Indiana
Michigan is a 22.5-point favorite over Indiana with the over/under set at 59 points.
The Wolverines are 3-2 against the spread this year, while Indiana is 1-4. The total has gone under in five of U-M's last six games. The over has hit in three of Indiana's five games this season and five of its last seven outings.
TheWolverine.com predictions
Chris Balas: U-M 41, Indiana 19 (IU +22.5, o59)
John Borton: U-M 38, Indiana 13 (U-M -22.5, u59)
Clayton Sayfie: U-M 45, Indiana 16 (U-M -22.5, o59)
Anthony Broome: U-M 45, Indiana 13 (U-M -22.5, u59)
Doug Skene: U-M 38, Indiana 14 (U-M -22.5, u59)
Click here for our full staff predictions article.
Weather report: Bloomington forecast
Weather.com projects it to be 54 degrees and mostly cloudy with a zero-percent chance of precipitation and winds out of the northwest at 6 MPH at kickoff. It's expected to rise to 58 degrees with sunny skies by 4 p.m. ET.
For tailgating purposes, it'll be 42 degrees and mostly sunny at 9 a.m. ET.
Michigan pregame reading
• INSIDE THE FORT: U-M football, NIL, hoops intel, more
• Previewing U-M vs. Indiana with a Hoosiers insider
• Michigan football injury report, depth chart heading into Indiana
• Staff predictions: Michigan football at Indiana
• Five burning questions for Michigan football ahead of Indiana
• Tale of the tape: Sizing up Michigan football vs. Indiana
• Five impact players to watch: Michigan football vs. Indiana