Michigan football's best win over in Columbus? Jim Brandstatter weighs in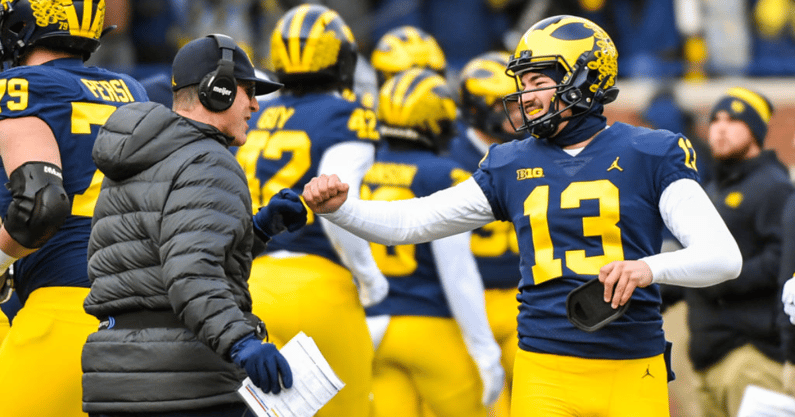 Michigan football is off to the Big Ten Championship game again after another win over Ohio State, ushering in a new golden age of the program. There is plenty to sift through and discuss after another huge weekend for the Wolverines.
Each Tuesday night at 5:30 p.m. ET, John Borton of The Wolverine and a rotating cast of guests will discuss the biggest storylines from the weekend and take your questions live on our YouTube channel. Borton is joined this week by guest Tom Crawford and former Michigan radio voice Jim Brandstatter to discuss the OSU win and what's next.
Watch or listen to the full Michigan discussion below
Follow along with The Wolverine's media content
The Fort is a vibrant community and one of the most active message boards in college sports. You can be a part of that if you are not already for 7 days free and $10 through the start of next football season. The best insider content and a massive Michigan community await.
All of our shows on The Wolverine are available on Apple Podcasts, Spotify and Google. Be sure to subscribe and leave us a five-star review!
Subscribe to our YouTube channel for live podcasts, content from the entirety of our staff, Michigan football and recruiting and more.
The Wolverine's video schedule
The Wolverine will be enhancing its video footprint with the season now underway. Here is the full schedule of programs each week on our YouTube channel. They will also appear in our podcast feed after the broadcast.
All times listed are eastern.
Mondays at 6 p.m. – Chris Balas, Clayton Sayfie, Anthony Broome
Tuesdays at 5:30 p.m. – John Borton
Wednesdays at 7 p.m. – EJ Holland's recruiting show
Thursdays (pre-recorded) at 6 p.m. – Chris Balas, Clayton Sayfie, Anthony Broome
Football postgame show (Live ASAP after game) – Anthony Broome and Ryan Van Bergen
Sundays at 7 p.m. – Chris Balas and Doug Skene
What's next for Michigan
Michigan will play for its 2nd-consecutive Big Ten Championship on Saturday night against Purdue in Indianapolis. The Wolverines currently sit at 16.5-point favorites for a game that kicks off at 8:17 p.m. on FOX.