Blake Corum is ready for the rigors of Big Ten competition: 'Everyone's going to be gunning for us'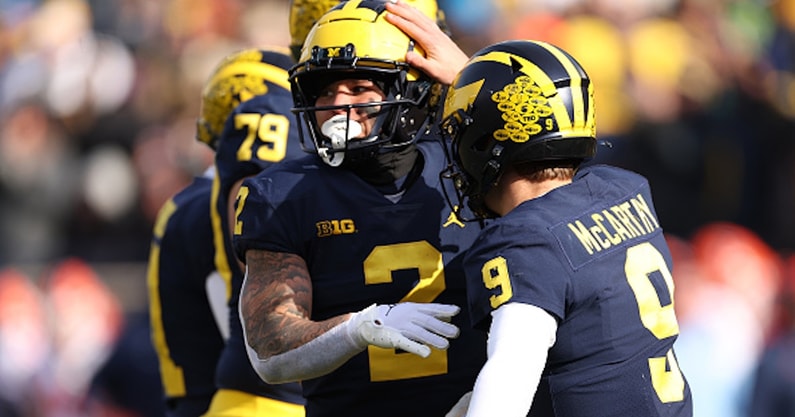 The Michigan Wolverines are 3-0 and out of the non-conference slate, meaning the real season starts now. The games already mattered, but now the Big Ten race is on, and there is not much margin for error at the top of the conference.
For senior running back Blake Corum, that's a welcome development. He and his Michigan teammates have played some of their best ball with a target on their backs. And even with Rutgers coming in this weekend as a three-score underdog, Corum and the Wolverines are focused on getting back to their typical routine.
"It's a hard conference," Corum said on Monday afternoon. "A smash-mouth conference [where] people like hitting people and running. I expect nothing but the best each and every week, especially with us being where we're at right now coming off of back-to-back Big Ten championships. Everyone's going to be gunning for us.
"Right now the focus is just on Rutgers. Rutgers always plays us pretty hard. They have ever since I've been here. We're going to prepare like we like we do. Just lock into the finer details, watch the film this evening and see what we need to fix. And fix it and then go out Saturday and ball out."
If Michigan handles its business against the Scarlet Knights, it could be another game where the starters are sidelined sometime in the second half to make way for the reserves. But Rutgers and head coach Greg Schiano have given the Wolverines hell for 10 of the last 12 quarters (plus overtime) between these two squads.
Corum wants to play the entire game but also knows that Michigan's preparation and execution has to be flawless whenever they are out there.
"Whether it be one-quarter, two-quarter, three-quarter or four-quarters, we all just need to attack it the same way," Corum said. "Obviously, these first three games and none of u in terms of starters have played all four quarters. Maybe some nights out we only play three. We're still going to attack it each the same. It might allow us to click a little more, and get more in the rhythm, maybe. But it doesn't really matter, to be honest. I think we're still just going to do what we need to do each and every quarter. It doesn't matter. Like I said, whether we play one or four, we're just going to play our ball and dominate how we know to.
"I think we're already getting the rhythm and I don't think playing the extra quarter is going to unlock that. I think, it just gives you the opportunity to maybe put up more stats. But we're right where we need to be, man.
"I love playing football, so hopefully I do get to play four quarters this week and best believe I'm going to take every advantage of it. I'm super excited about Big Ten play and being able to prepare for Rutgers this week. Getting back into Big Ten play means a lot. So it's gonna be fun."
Also notable this week is the return of Michigan head coach Jim Harbaugh, which is the final piece of normalcy back to a group with title aspirations.
"I'm super excited to have Coach Harbaugh back, and you best believe he's fired up too," Corum said. "Iit's going to be exciting going back down the tunnel with Coach Harbaugh, having him on the sidelines. I'm amped up, I'm fired up, but I'm fired up for every game.
"But it's going to mean something [more] having Coach Harbaugh back on the sidelines."
Saturday's Michigan football game against Rutgers kicks off at 12 p.m. ET and will be televised Big Ten Network.