By the numbers: Michigan and Ohio State set for the rivalry's 12th top-five matchup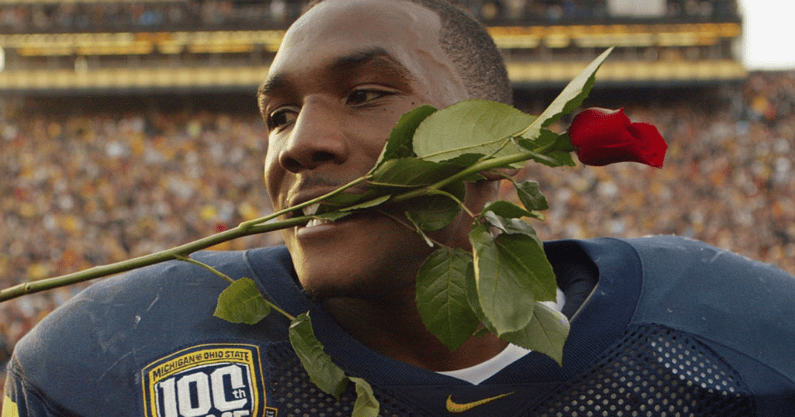 After not playing last season for the first time since 1917, Michigan and Ohio State will do battle on the final week of the regular season once again. The Wolverines and Buckeyes squaring off has been like clockwork throughout college football history, but the two teams being ranked in the top five hasn't been. In fact, it's occurred only 11 times in the past, with this weekend set to be the 12th top-five showdown, per the new CFP rankings, in series history.
It's all on the line for both teams — the Big Ten East title, and a chance at the conference crown and the national championship — and despite the rich history of 'The Game,' that hasn't always been the case.
RELATED
• Aidan Hutchinson on The Game: 'I really think we are ready for this'
• A Look At Five Ohio Recruits Michigan Fans Need To Know
The Buckeyes have gotten the better of the Wolverines in top-five games, winning seven to Michigan's three and infamously tying once in 1973. They've won the last two — in 2006 and 2016 — which both took place at Ohio Stadium.
But this one will be held in Ann Arbor, where the Maize and Blue have come out the victor in each of their last three top-five tilts with the Buckeyes and have a 3-1-1 record overall.
It's actually rare for the Wolverines to have a top-five game, regardless of opponent, inside The Big House, with the last occurrence being the 2003 clash between the Wolverines and Buckeyes in which Michigan came out on top, 35-21, and earned a trip to the Rose Bowl.
"Looking forward to playing in front of a wildly supportive Michigan crowd base," Michigan head coach Jim Harbaugh said this week.
Here is a look at every top-five game between Michigan and Ohio State.
| | | |
| --- | --- | --- |
| Year | Location | Result |
| 1942 | Columbus | No. 5 Ohio State 21, No. 4 Michigan 7 |
| 1968 | Columbus | No. 2 Ohio State 50, No. 4 Michigan 14 |
| 1970 | Columbus | No. 5 Ohio State 20, No. 4 Michigan 9 |
| 1973 | Ann Arbor | No. 4 Michigan 10, No. 1 Ohio State 10 |
| 1974 | Columbus | No. 4 Ohio State 12, No. 3 Michigan 10 |
| 1975 | Ann Arbor | No. 1 Ohio State 21, No. 4 Michigan 14 |
| 1977 | Ann Arbor | No. 5 Michigan 14, No. 4 Ohio State 6 |
| 1997 | Ann Arbor | No. 1 Michigan 20, No. 4 Ohio State 14 |
| 2003 | Ann Arbor | No. 5 Michigan 35, No. 4 Ohio State 21 |
| 2006 | Columbus | No. 1 Ohio State 42, No. 2 Michigan 39 |
| 2016 | Columbus | No. 2 Ohio State 30, No. 3 Michigan 27 |
By The Numbers: Michigan vs. Ohio State
3 Sacks allowed on the season for Ohio State's starting tackles — Nicholas Petit-Frere (left) and Dawand Jones (right) — according to Pro Football Focus (PFF). The Buckeyes have allowed just 13 sacks on the year, while Michigan has brought down opposing quarterbacks in the backfield on 29 occasions, including 10 sacks apiece for junior defensive end Aidan Hutchinson and redshirt freshman outside linebacker David Ojabo.
7 Michigan players hail from the state of Ohio: Sophomore tight end Erick All (Fairfield), redshirt junior tight end Joel Honigford (Sugarcreek), redshirt freshman safety Caden Kolesar (Westlake), freshman safety Rod Moore, redshirt freshman defensive end Gabe Newburg (Clayton), redshirt junior punter Brad Robbins (Westerville), and redshirt freshman linebacker Joey Velazquez (Columbus).
9 Different Michigan receivers have caught touchdown passes this season, and redshirt freshman signal-caller Cade McNamara has a 14:2 touchdown to interception ratio.
10 Consecutive games with a turnover forced for Michigan, with multiple takeaways in five games. Ten different players have at least one interception or fumble recovery on defense, while sophomore safety Daxton Hill (two interceptions, one fumble recovery) is the only player with at least one of each.
10.0 Points per game for Michigan junior kicker Jake Moody, which ranks eighth in the country and fourth among kickers. Moody has 110 total points on the season, making his 2021 campaign tied for the sixth-best single-season scoring campaign in program history. He would take the No. 2 spot with 11 more points.
10-10 Is the record between the Wolverines and Buckeyes in the last 20 meetings at Michigan Stadium.
20-20 Is the record between Michigan and Ohio State when 'The Game' is decided by one score.
23-0 Is Ohio State head coach Ryan Day's record in conference games during his tenure.
Top-25 Is where Michigan slots in the following offensive categories: Total offense (23rd) and scoring offense (15th). The Wolverines are top-10 in total defense (ninth) and scoring defense (seventh). Michigan is one of three teams (Georgia and Cincinnati) ranked among the top 15 in scoring offense and scoring defense.
Top-30 Is where Michigan's defense stands in six major categories, including top-10 in five: rushing defense (30th), first-down defense (tied for 10th), third-down conversion percentage allowed (10th), pass efficiency defense (ninth), pass defense (eighth), total defense (ninth) and scoring defense (seventh).
187 Combined catches for Ohio State's trio of starting wide receivers, sophomore Jaxon Smith-Njigba (69), junior Garrett Wilson (60) and senior Chris Olave (58). They have 1,132, 939 and 848 receiving yards, respectively, and have caught a combined 30 touchdown passes.
252.1 Are how many passing yards Ohio State allows per game. The Buckeyes have yielded 248-plus passing yards in five of their 11 outings but have won all of those contests.
3,468 Passing yards for Ohio State redshirt freshman quarterback C.J. Stroud, which is the second-most in a single season at Ohio State. He's completing 71.1 percent of his passes and has tossed 36 touchdowns.