Wolverine TV podcast: Jim Harbaugh situation, Mike Elston hire, roster thoughts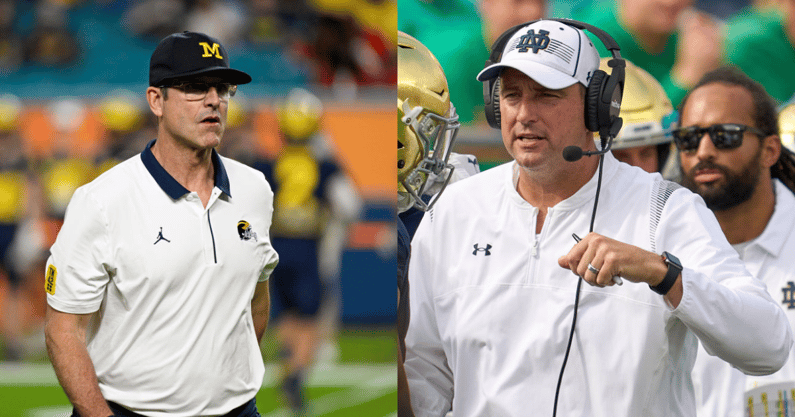 TheWolverine.com's Clayton Sayfie and Anthony Broome break down the latest surrounding head coach Jim Harbaugh's status at Michigan amidst NFL rumors, discuss the Wolverines hiring new defensive line coach Mike Elston from Notre Dame and give thoughts on the roster.
In this episode, the guys discussed how the Elston hire is just another indication that Harbaugh will likely stick around at Michigan.
"Elston was an outside linebacker at Michigan from 1993-96, was a student assistant in 1997, a video coordinator in 1998 and a grad assistant the next two years," Sayfie said.
"He cut his teeth at Michigan and then with Brian Kelly, moving up the ranks from Central Michigan to Cincinnati to Notre Dame for the last 12 years. He's been an integral part of Brian Kelly's staff. Word on the street is he had an offer to come be the defensive line coach at LSU, decided to stay in South Bend, worked under Marcus Freeman, who he gets along with really well, was the interim defensive coordinator for the Fiesta Bowl. Then, it was revealed he's not going to get the full-time defensive coordinator job, but he still said he wants to be in South Bend, he likes his family there and all of that."
"So despite that, Michigan had a good enough offer, and all of that lends more credence to the theory that Jim Harbaugh is staying. He wanted to come home, to become the fourth member of the Michigan coaching staff that played at Michigan."
The news of Elston's hiring sent shockwaves through the Notre Dame community, and had Michigan fans fired up at the same time.
"Man, I think this hire has Michigan fans excited," Sayfie said. "I was talking to Mike Singer, our colleague at BlueAndGold.com. He said it really stings for Notre Dame players, who have expressed some disbelief, from fans that were ripping Michigan fans, saying they're delusional for thinking they even had a shot of poaching Elston. It's really put a shock in the Notre Dame community."
"Typically, when you have these types of reactions from fan bases, especially when a guy's on the way out the door, you can tell a lot about how guys are viewed based on what the fans are saying about them," Broome added. "And when they're shocked, and when they resort to taking shots at Michigan or taking shots … this one stings for them."
For more on the situation, watch or listen below.
RELATED
• Running down players new Michigan DL coach Mike Elston has sent to the NFL
• Analysis: New Michigan DL coach Mike Elston's 'track record speaks for itself'
All of our shows on The Wolverine are available on Apple Podcasts, Spotify, Google and Podbean. Be sure to subscribe and leave us a five-star review!
Subscribe to our YouTube channel for press conferences, live podcasts, In The Trenches with Chris Balas and Doug Skene, Michigan football and recruiting content and more.