Mazi Smith on turning page from OSU game: 'We don't ride emotional highs over here'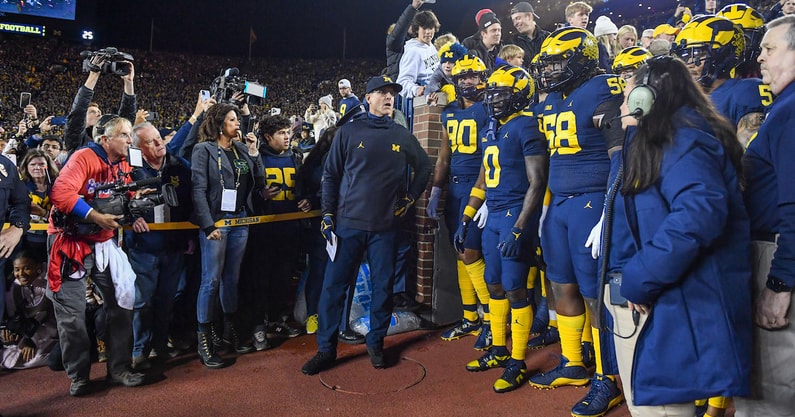 Michigan football has now won a pair of games against Ohio State over the last two years. In any other program, that could set the team up for a letdown the following week. But these Wolverines have championship DNA and have quickly refocused to the Big Ten title game against Purdue this weekend.
A driving force in turning the page is senior defensive tackle Mazi Smith, who had a simple message for why Michigan keeps moving onto the next challenge.
"We don't ride emotional highs over here," Smith said. "When it comes to resetting after a game like that, it's a game we prepared to win, a game we expected to win and a game we wouldn't expect anything less. So it wasn't a big surprise to us winning that game."
Last year there were natural fears among the fanbase about a letdown after such a euphoric and paradigm-shifting victory over OSU. They found a way to get the job done in Indianapolis and the expectation remains the same this week.
"This is a great feeling to beat Ohio State twice and make it to the championship game to have the opportunity to get some hardware as long as we take care of business," Smith said. "It's a good feeling."
How the Michigan captain has managed asthma
What many fans might not know is that Smith has dealt with asthma his whole life. Michigan's conditioning has helped him transform his body and better deal with some of the difficulties he has had breathing.
It clearly worked, given he played a career-high 61 snaps in Saturday's win over Ohio State.
"Very proud of that," Smith said. "Happy with that. If I ever have had a problem, come out real quick, get it solved, and go right back in. You've just got to be a soldier. You can't be soft."
"Sticking to the plan and trusting the process, all those things everybody mentions all the time when you're dealing with adversity," Smith said. "I've had asthma my whole life. It's always been a factor. It's always been something I've had to overcome.
"Sometimes it was [an issue] during the course of the first two, three games of the season since I've been here. I've solved that problem in summer conditioning. It's something you have to stay on top of, something that you know if you want to have an edge on everybody else you want to beat or if you want to keep up with everybody else, you've gotta work a little bit harder."
Smith and the Wolverines keep their 2022 season rolling on Saturday in the Big Ten Championship game against Purdue. Kickoff is scheduled for 8:17 p.m. ET on FOX.